Starlux Eyes San Francisco, Agrees Alaska Airlines Partnership
After launching LAX service, Starlux Airlines is targeting further transpacific growth and has signed up Alaska Airlines as its first airline partner.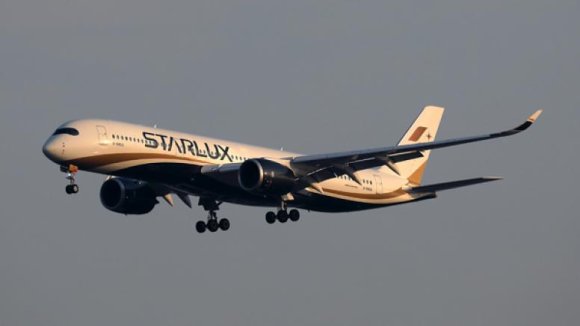 Taiwanese carrier Starlux Airlines has launched its inaugural transpacific service to Los Angeles and identified San Francisco as its next U.S. destination. The airline has also secured its first partner.
Taipei-Los Angeles is initially operating five times per week with an Airbus A350-900 aircraft featuring four first-class seats, 26 seats in business class, 36 in premium economy and 240 in economy. Frequencies are set to rise to daily in June.
Starlux, which began commercial operations in 2020, had been seeking to start long-haul flights to the U.S. from Taipei Taoyuan International (TPE) for more than two years after securing a foreign air carrier permit from the U.S. Transportation Department in April 2021.
Following the launch of the Los Angeles International (LAX) route, the carrier has outlined that San Francisco will be its next destination in the U.S. and hopes to begin operations to the city during the fourth quarter of the year. The Taipei-San Francisco market is served double-daily by EVA Air at the present time, while China Airlines and United Airlines also offer a daily flight.
Alongside the LAX entry, Starlux has confirmed that Alaska Airlines will become its first airline partner. The agreement will enable customers to book itineraries that include travel on both airlines and includes loyalty benefits.
"Alaska Airlines, the fifth largest airline in the U.S. with a wide network covering over 100 cities across the country, is partnering with Starlux Airlines to deliver more convenient flights for travelers journeying between North America and Asia," Starlux CEO Glenn Chai said.
Starlux added the move, along with the TPE-LAX launch, "symbolizes a major milestone in the opening of the North American-Asian transit market."
The carrier put its first A350-900 into service in January on routes from Taipei to Bangkok Suvarnabhumi and Macau. It has since added service to Tokyo Narita and Okinawa Naha.
Taipei-Los Angeles is already served by EVA Air twice a day with Boeing 777-300ERs and by China Airlines 12 times per week using a mix of 777-300ERs and A350-900s.
Starlux's entry to the 10,919-km (5,896-nm) sector will see it offer almost 4,300 two-way weekly seats once frequencies become daily. By early July, data provided by OAG Schedules Analyser shows that Starlux will have a 17.2% capacity share of the market, behind EVA on 55.2% and China Airlines on 27.6%.
This article was originally published on aviationweek.com.