Breeze Airways Adds Seats In West Virginia After Robust Sales
Breeze says demand is strong for planned service from West Virginia International Yeager Airport to Orlando.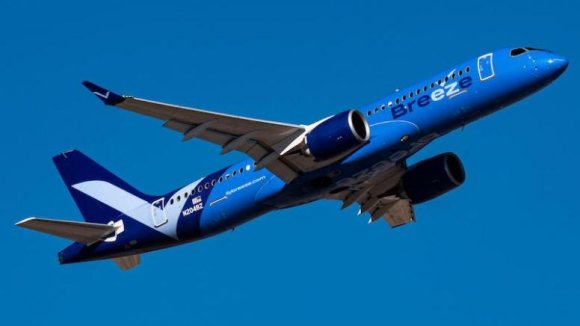 Breeze Airways is ramping up capacity on a new route between West Virginia and Orlando (MCO) before it even launches the service, citing robust advance sales.
West Virginia Gov. Jim Justice last month revealed Breeze would begin serving West Virginia International Yeager Airport (CRW) in Charleston, West Virginia, with flights to both MCO and Charleston (CHS), South Carolina.
The routes were slated to be launched May 31, each operated 2X-weekly using Embraer E195 aircraft. Breeze says it will now launch the CRW-MCO service with a larger Airbus A220-300 aircraft configured with 137 seats and operate 4X-weekly flights through Aug. 15, after which frequencies will drop to 2X-weekly.
Flight ticket sales on the Yeager-Orlando route "have been one of the company's strongest route launches to date," Breeze says in a statement, pointing to "stronger than expected sales."
The CRW-CHS route will still be flown 2X-weekly with an E195.
Startup Breeze was launched in 2021 by Azul Brazilian Airlines and JetBlue Airways founder David Neeleman, who says the fast ramp up at CRW shows how quickly the airline responds to demand. "As flights fill up, Breeze always looks to grow, adding flights and destinations whenever possible," Neeleman notes.
Breeze decided to begin serving CRW after reaching an incentives and marketing agreement with the State of West Virginia, Kanawha County and the City of Charleston. The local newspaper Charleston Gazette-Mail reported West Virginia International's governing board on April 26 approved waiving Breeze's landing fees for two years.
Breeze has committed to further expansion at the airport "with at least three more destinations" to be added, including a New York airport, over the next two years, according to the carrier.
"The fact that the Breeze is already seeing strong demand and adding frequency means that our passengers are excited" about the airline's arrival, CRW Director Dominique Ranieri says.
Spirit Airlines has been serving MCO 4X-weekly from CRW, but the Florida ULCC will pull out of the West Virginia airport in May. According to OAG data, Yeager Airport is also served by American Airlines, Delta Air Lines and United Airlines.
This article was originally published on aviationweek.com.