Norse Atlantic Broadens Network With First Caribbean And Asia Routes
Norwegian LCC Norse Atlantic Airways will make its debut in the Caribbean and Asia later this year.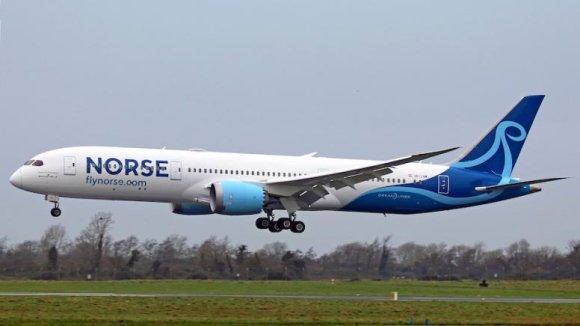 Norse Atlantic Airways has outlined plans to expand beyond the U.S. market by introducing new flights to destinations in the Caribbean and Asia.
The startup, which serves three cities in the U.S. at present, intends to launch winter sun routes from London Gatwick to Barbados and the Jamaican cities Kingston and Montego Bay. Additionally, the LCC will debut its first Asian route, connecting Oslo with Thailand's capital Bangkok.
Starting Oct. 29, daily flights from London Gatwick to Barbados will commence, followed by a 4X-weekly service to Montego Bay. A route to Kingston's Norman Manley International Airport will begin two days later, operating 3X-weekly.
Norse currently offers one route from the UK airport, flying daily to New York John F Kennedy using Boeing 787-9s. However, operations are scheduled to ramp up over the coming months with the addition of six more U.S. cities.
Services to Fort Lauderdale and Orlando are scheduled to start later this month, followed by flights to Los Angeles and Washington Dulles in June. In July, a service to San Francisco will be launched, with flights to Boston beginning in September.
By early October, according to data from OAG Schedules Analyser, Norse plans to offer 34 departures per week from London Gatwick, providing around 23,000 two-way seats between the airport and the seven U.S. destinations.
In the London-Barbados market, the airline will provide direct competition for British Airways (BA) and TUI, which will each fly to the island nation from London Gatwick during the forthcoming winter season. Additionally, BA and Virgin Atlantic are also scheduled to serve Barbados from London Heathrow.
Norse will also compete on the London Gatwick-Montego Bay sector with TUI and on London Gatwick-Kingston with BA. Further competition to Montego Bay will be provided by Virgin Atlantic, which serves the destination from London Heathrow.
Alongside the Caribbean routes, Norse has scheduled the launch of its first flights to Asia, linking Norway's capital Oslo and Bangkok. The route will operate twice a week from Nov. 2 during the winter season.
Oslo currently lacks nonstop service to Asia, although South Korea's Air Premia will this month begin a summer seasonal route from Seoul Incheon. The airline will begin flying to Oslo from May 11, restoring a link between Norway and South Korea for the first time in almost five years. Flights will be operated weekly using 787-9s until Aug. 17, primarily catering to South Korean tourists.

The Oslo-Bangkok market was last served by Thai Airways International and Norwegian before the pandemic. However, Thai Airways is yet to return, and Norwegian has ended all long-haul services.
Norse becomes the second Scandinavian airline to announce plans to serve Bangkok in as many days. SAS Scandinavian Airlines has also confirmed the introduction of a seasonal service from Copenhagen, offering three weekly flights utilizing Airbus A350 aircraft. Pending government approval, the flights are scheduled to commence on Oct. 30.
This article was originally published on aviationweek.com.