DFW Airport Signs On Menzies, Dnata For Cargo Upgrade
The warehouses are part of a wider redevelopment of Dallas/Fort Worth International Airport 's cargo facilities.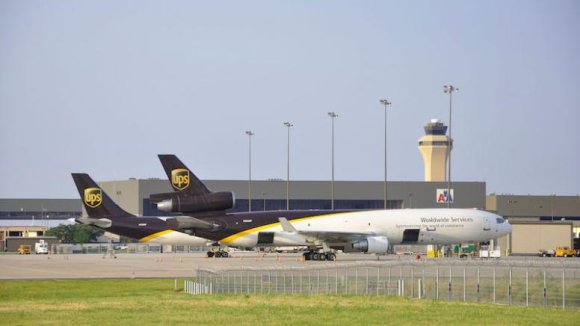 Dallas/Fort Worth International Airport (DFW) has tentatively selected Menzies Aviation and dnata USA to operate new cargo warehouses to be built at the airport as part of a cargo facilities redevelopment project.
DFW plans to add around 350,000 ft.2 of cargo warehouse space plus seven new aircraft parking spaces for freighters. The cargo redevelopment project is underway and is scheduled to be completed by late 2024, according to the Texas airport.
"DFW will take an end-to-end leadership role throughout the life of the project, enabling the airport to curate tenants that align with its long-term strategy and vision," the airport says in a statement, adding that Menzies and dnata were chosen following an "exhaustive search for forward-looking tenants that value innovation, automation and other emerging technologies."
The cargo handling contracts awarded to the two companies are subject to final approval by DFW's board of directors, the airport says. Edinburgh-based Menzies does ground/cargo handling work at more than 250 airports globally in 58 countries, while Dubai-based dnata operates in 38 countries. Both companies already have a presence at DFW.
"We selected these tenants for their commitment to excellence in cargo handling and their long-term business strategy, which supports our business priorities in developing DFW as a transit hub in the global supply chain connecting Asia and Latin America," DFW Executive VP of Global Strategy and Development John Ackerman says. "This will also support our goal of being a hub for the fastest growing markets, including pharma and other perishables, as well as cross-border e-commerce."
Menzies Executive VP of Cargo Robert Fordee says operating the new warehouse "will allow us to showcase our investment in innovation and make the new DFW cargo facility one of the most technologically advanced in North America."
Dnata CEO Americas David Barker noted the company is already using "innovative autonomous drones in our existing warehouses at DFW" and plans to bring further innovation to the new warehouse.
DFW handled 901.5 million tons of cargo in 2022, down 10.2% from 2021.
This article was originally published on aviationweek.com.