Emirates, Etihad Seek To Boost UAE Tourism With Interline Pact
Emirates Airline and Etihad Airways have signed an interline agreement designed to boost inbound tourism to the UAE from Europe and China.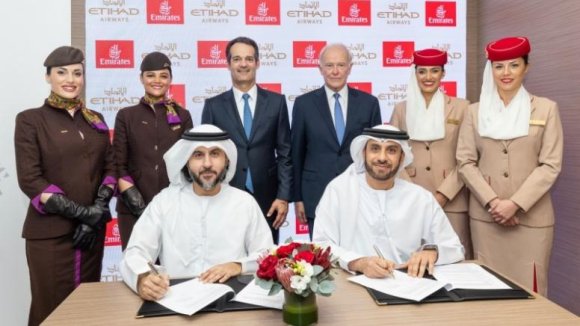 Emirates and Etihad Airways are expanding their interline agreement as part of efforts to increase tourism to the United Arab Emirates (UAE), initially focusing on inbound traffic from "key source markets" in Europe and China.
Under the memorandum of understanding (MOU), passengers will be able to purchase a single ticket allowing inbound flight into either Dubai International or Abu Dhabi International, with an outbound flight from the other airport.
By adopting an "open jaw" approach, the airlines say tourists can efficiently cover more ground and explore various emirates, including Abu Dhabi and Dubai, without the need to return to their arrival airport for departure.
Additionally, travelers heading to the UAE will have the option of "multi-city flights," allowing them to depart from one city on either Emirates or Etihad and return to another destination served by either airline.
"We believe this new agreement provides a strong foundation to develop further opportunities between both airlines and is an example of our commitment to the UAE's vision for continued economic diversification," Emirates president Sir Tim Clark says.
Etihad CEO Antonoaldo Neves adds that the agreement, which is set to take effect later this summer, was a "win-win proposition" for passengers and would support further growth of the UAE's tourism sector.
Figures from the Emirates Tourism Council show the tourism industry is projected to contribute 5.4% of the country's total GDP, equivalent to AED116.1 billion ($32 billion), and support more than 1 million jobs by 2027.
This is the second collaboration announced between Emirates and Etihad. In 2018, Emirates Group Security and Etihad Aviation Group signed a partnership to enhance aviation security by sharing information and intelligence in operational areas within and outside the UAE. Additionally, Emirates last year signed an MOU with Abu Dhabi's Department of Culture and Tourism, aiming to boost tourist numbers.
The latest pact signing took place at the Arabian Travel Market trade show organized annually in Dubai.
Earlier this week, Aviation Week reported that Etihad has made a strategic shift in its future plans, opting to concentrate on medium- and long-haul routes, rather than ultra-long-haul services.
The airline aims to establish stronger connections from the UAE and Gulf Cooperation Council countries, which include six Arab nations along the western side of the Gulf. The new focus is on linking these regions to key destinations in China, Europe, India and the eastern coast of the U.S.
This article was originally published on aviationweek.com.