Delta Petitions DOT For Flexibility On Tokyo Haneda Routes
Delta Air Lines says the demand environment to Japan has changed since Haneda slot pairs were allocated by the U.S. Transportation Department in 2019.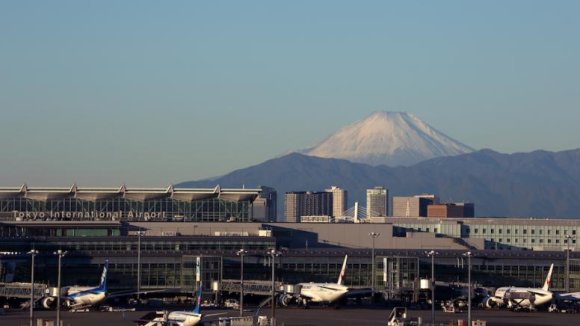 Delta Air Lines has asked the Transportation Department to allow it to use up to two of its five Tokyo Haneda (HND) slot pairs to fly from any U.S. airport rather than from the U.S. cities designated by the department in 2019.
The airline says the other U.S. airlines serving HND—American Airlines (two slot pairs), United Airlines (four) and Hawaiian Airlines (one)—should have the same option. Delta's filing cites changing market conditions since the slot pairs were allocated and cities designated for HND service.
"Today's air travel environment between the United States and Asia is starkly different from the landscape that existed in the region in August 2019, when the department awarded the 12 newly available U.S.-Haneda slot pairs," Delta says in the filing.
The department in February extended a slot waiver for carriers serving Haneda and other slot-controlled Asian airports—in place since 2020—through Oct. 28, meaning the airlines with HND slots do not have to operate at least 80% of their scheduled flights to the Tokyo airport to maintain their slots.
The department in 2019 cleared Delta to use its five slot pairs to fly to HND from any of seven cities: Atlanta (ATL); Detroit (DTW); Honolulu (HNL); Los Angeles (LAX); Minneapolis (MSP); Portland (PDX), Oregon; and Seattle (SEA).
But Delta says those routes are slow to recover, with demand from HNL, for example, at just 18% of 2019 levels. PDX and MSP are also below 50% of 2019 HND demand levels, with ATL—the leader in demand recovery to HND—at 64%, according to the carrier.
Delta is currently flying to HND from ATL, DTW, LAX and SEA.
Delta says it should be able to use two slot pairs to fly from any U.S. city so it can "respond more nimbly to the evolving demand environment in Asia following the COVID-19 pandemic."
The flexible gateway plan for up to two HND slot pairs should be trialed under a three-year pilot program, the Atlanta-based airline suggests.
The SkyTeam carrier says the department's selection of cities from which airlines could serve Haneda was "predicated on demand modeling and other commercial and operational assumptions that existed at that time, including assumptions about corporate demand."
The airline added: "Due to COVID-19, some of those demand assumptions are no longer valid. They need to be reassessed and refined to align capacity to actual demand as it exists post-2019. Grants of the limited flexibility sought in this motion would allow airlines to tailor a subset of their U.S.-Haneda frequencies to actual (and projected) demand, rather than historical demand."
Delta says that "maintaining the gateway-specific U.S.-Haneda slot regime for all current slot pairs under the present circumstances would be antithetical to open skies principles. The slot limits coupled with the gateway restrictions serve as a double handcuff on U.S. carriers."
The carrier emphasizes that it remains committed to Japan, which it said is "key to Delta's strategic focus in Asia," adding that "no destination in Japan is more vital to Delta's global network strategy than Tokyo. Service to Haneda in particular is essential to Delta's long-term viability and relevance in Japan."
This article was originally published on aviationweek.com.