RwandAir, Qatar Airways Partner On Kigali Cargo Hub
Qatar Airways has launched a freighter service between Doha and Rwanda's capital Kigali.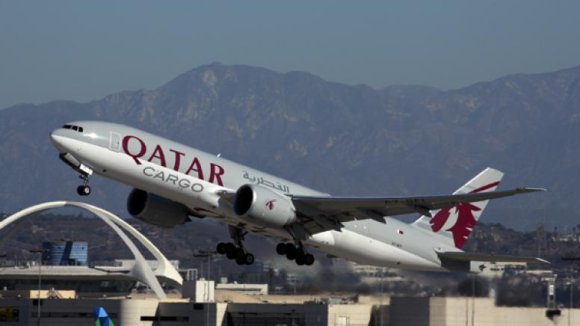 RwandAir and Qatar Airways will jointly operate a cargo hub at Kigali International Airport (KGL) as the African carrier begins flights with its first freighter aircraft.
RwandAir says a Boeing 737-800 converted freighter has joined its fleet and "enabled the launch of new freighter services to the airline's key destinations across Africa and the Middle East."
Meanwhile, Qatar Airways on May 3 commenced a 2X-weekly 777 freighter service between its Doha (DOH) base and KGL. According to the airlines, the aircraft will fly on to Entebbe in Uganda, Nairobi in Kenya, and then stop in Liege, Belgium, and either Oslo or Lyon, France, before returning to DOH.
The airlines say in a joint statement that since March 13, Qatar Airways has been using a wet-leased Airbus A310-200 freighter to fly from Kigali to both Johannesburg and Lagos. Both routes are operated 3X-weekly. In addition, the A310-200F is flying a 1X-weekly Doha-Kigali-Istanbul routing.
Qatar Airways says the joint cargo hub with RwandAir "creates a strong foundation on which to expand a future-oriented African air cargo network," adding: "More African destinations are due to be added to the joint airline network at a later stage."
RwandAir CEO Yvonne Makolo adds: "Africa is home to a hugely diverse economy, with businesses and entrepreneurs looking for better connections to create new markets and expand inward investment. Together, we have created a fantastic new facility to meet this growing demand across Africa."
Guillaume Halleux, Qatar Airways' chief officer for cargo, says Africa "is one of the world's fastest-growing economies, yet for it to develop to its full potential requires investment in logistics and infrastructures."
He adds: "Our customers will benefit from both a reliable intra-African network through our Kigali hub, as well as enhanced service levels and cost synergies."
This article was originally published on aviationweek.com.