DFW, AT&T Reach Tentative Deal To Modernize Airport's Wireless Network
Telecoms provider AT&T plans to upgrade and expand WiFi connectivity at Dallas/Fort Worth International Airport.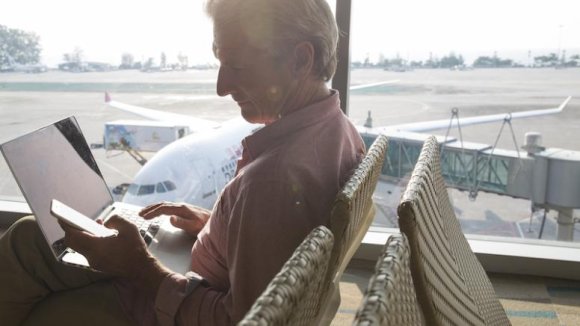 Dallas/Fort Worth International Airport (DFW) and AT&T have reached a tentative agreement under which the telecommunications giant will install a "comprehensive wireless platform" at the Texas airport.
The parties are describing the accord as a "proposed agreement...contingent upon a final contract between AT&T and DFW."
The tentative agreement calls for AT&T to invest $10 million in upgrading and expanding the airport's WiFi network to provide high-speed, free service throughout the airport. In addition, AT&T will install "a private 5G network for the airport's internal use" as DFW moves toward the "digitization of airport operations," according to a DFW statement.
The enhanced WiFi network will provide "better coverage and faster speeds," DFW adds.
"We know that being connected to the internet is an absolute must-have service for our [passengers]," DFW VP-Information Technology Services Mike Youngs says. "This proposed agreement signifies our commitment to ensure our customers will always remain connected at DFW Airport, so they can reliably stay online for work or entertainment while traveling."
DFW says the enhanced WiFi network will be available to passengers in indoor and outdoor spaces, parking lots and runways. The airport notes better connectivity will enable the airport to provide faster automated services, such as check-in and baggage tracking.
Regarding the internal 5G network, the airport says it "will offer more reliability and security, lower latency and greater capacity, providing operations teams with optimal connectivity that can be used for future use cases such as real-time data analytics and enhanced communication with critical airport systems."
The plan, if a final contract is reached, is for AT&T to begin the work this summer with the upgraded WiFi network to go online in the fall.
Youngs tells Aviation Week Network that the airport "will fund the build out of the private wireless network [and] will also pay AT&T an annual maintenance fee for hardware, software and onsite support to maintain the" airport's wireless network for passengers.
DFW is expected to invest $10.2 million over the six years. "This will be offset by the $10 million capital investment AT&T is making as well as the $750,000 annual revenue AT&T will pay DFW," he says.
This article was originally published on aviationweek.com.