Porter Airlines To Up Service On E195-E2 Routes From Toronto Pearson
The Canadian carrier says more expansion at Toronto Pearson Airport will be announced in coming months.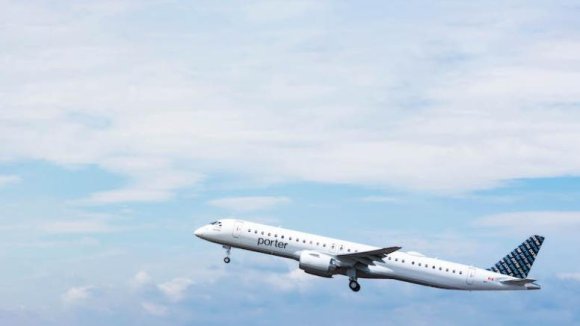 Canada's Porter Airlines revealed its summer plans for Embraer E195-E2 services from Toronto Pearson International Airport (YYZ), flying six domestic routes.
Porter, which is based at Toronto Billy Bishop Airport (YTZ), began taking delivery of E195-E2s in December 2022, and the airline—formerly an all-De Havilland Dash 8-400 operator—continues to build a network with the Embraer aircraft. The initial emphasis is on domestic routes from Pearson, including its first forays into western Canada.
Porter operates to the six destinations already from YYZ, but the airline says it will be adding frequencies and tweaking the daily schedule of flight times from June 1.
Porter has a total of 50 firm E195-E2 orders with two aircraft arriving each month well into 2025 (the airline also has options on another 50 E195-E2). The carrier's E195-E2s feature 132 seats in an all-economy, two-by-two configuration.
From June 1, Porter will fly 5X-daily between Pearson and Vancouver (YVR). It will also operate 3X-daily service from YYZ to Calgary (YYC), Edmonton (YEG) and Ottawa (YOW). Additionally, the carrier will operate 2X-daily flights between YYZ and Halifax (YHZ), and 4X-daily service between Pearson and Montreal Trudeau (YUL).
The airline notes in a statement that "certain routes will see a further increase in flights by August," adding, "A greater number of coast-to-coast connecting flight options via Porter's YYZ hub are also created with this new schedule."
Porter CCO Kevin Jackson says: "Porter is known to provide high-frequency, daily service on its core routes. Consistent with this approach, we're continuing our planned growth at Toronto Pearson and investing to provide passengers with the travel options they value." Jackson adds that "even more flights" will be added to the six markets being served from YYZ, "as well as entirely new destinations being announced in the coming months."
This article was originally published on aviationweek.com.