United Slams Delta's 'Self-Serving' Tokyo Haneda Slot Proposal
United, Delta clash over how much demand to Japan has recovered as the airlines submit competing filings to the U.S. Transportation Department.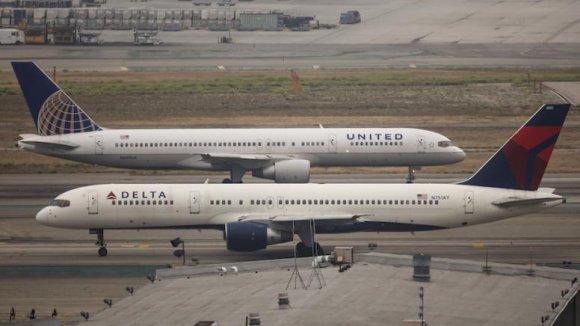 United Airlines has accused Delta Air Lines of "gaming the system" by asking the U.S. Transportation Department to allow for flexibility on how Tokyo Haneda (HND) slot pairs are utilized while at the same time charging high fares to dampen demand on at least one HND route Delta wants to drop.
Delta recently asked the department to revisit 2019 allocations of 12 additional HND daily slot pairs that became available to U.S. carriers. The SkyTeam airline has petitioned the department to give carriers operating to HND the flexibility to use up to two slot pairs to fly to the Tokyo airport from any U.S. market rather than the cities assigned to each airline.
Per Delta's proposal, this flexibility (which would last for three years on a trial basis) would apply to all four U.S. airlines flying to HND: American Airlines, Delta, Hawaiian Airlines and United.
But United filed an objection with the Transportation Department on May 8, "strongly" opposing Delta's proposed gateway HND flexibility plan, which it describes as a "self-serving scheme." In particular, the Star Alliance member alleged Delta is intentionally charging extremely high fares to suppress demand on the Portland (PDX)-HND route, which the carrier would be forced to start flying again in November once COVID-19-related slot waivers expire on Oct. 28.
In the filing, United pointed to a round-trip fare on the PDX-HND route being advertised on Delta's website for $10,667 for a Nov. 15 departure—the cheapest-available main cabin seat. A search of Delta's website found that on other days in November, the carrier is offering lowest fares of around $6,200 on the PDX-HND route.
Delta has argued that demand for service to Japan remains depressed and the environment has changed since the slot pairs were awarded in 2019 before the pandemic. United counters that Delta is seeking to dampen demand with high fares to convince the Transportation Department to allow it to switch away from U.S. gateways with low demand.
Further, United tells the department that it would add flights to HND from Guam and Bush Intercontinental in Houston if Delta declines to use two of its slot pairs.
"It's clear they're gaming the system," United chief communications officer Josh Earnest told reporters on a May 8 conference call regarding Delta's PDX-HND fares.
United regulatory and policy vice-president Steve Morrissey, also on the call, says that for Delta to retain the PDX-HND slot pair, "at some point they're going to have to sell these tickets," adding: "It appears to us [Delta's PDX-HND fares are] probably a tactic [to] sell the fewest number of tickets."
Earnest says that if Delta "somehow succeeds in this Hail Mary to switch gateways, that's fewer customers [who purchased PDX-HND tickets] they have to deal with who've been totally disrupted. You could also see a world where they're going to use this as evidence that there's a lack of demand."
Earnest continues: "They can say, 'See, nobody's buying our $10,000 tickets from Portland to Haneda. So, because nobody wants to buy those tickets, you should allow us to fly from somewhere else.' Delta should not be able to undo [the 2019 HND slot pair allocations] four years later."
Prior to the 2019 allocation, Delta had slot pairs to fly to HND from Los Angeles (LAX) and Minneapolis, which it currently continues to use. Of the 12 new HND slot pairs granted in 2019, Delta was awarded five for service from Atlanta, Detroit, Honolulu (HNL), PDX and Seattle. It currently is not flying to HND from PDX or HNL, taking advantage of the slot waivers. Delta says HNL-HND demand is just 18% recovered compared to pre-pandemic levels and PDX-HND demand remains below 50% of 2019 levels.
In response to United's filing, a Delta spokesperson told Aviation Week Network: "Delta stands by our well-reasoned petition to [the department] and we look forward to a constructive dialogue to ensure Haneda access is consistent with open skies policy and benefits the U.S. traveling public."
United currently operates to Haneda from Chicago O'Hare, LAX, Newark, San Francisco and Washington Dulles, utilizing all of its HND slot pairs.
United says demand between the U.S. and Japan is strong and growing, which the airline believes undermines Delta's argument that the demand environment is different than in 2019.
"Demand has recovered," Earnest says. "We're actually flying more to Haneda than we were before the pandemic. So, that would be an argument for [Delta] actually flying the routes that [Delta was] awarded. We're flying [to Japan] more than ever."
United alleges Delta painted a misleading picture to the Transportation Department of U.S.-Japan demand. "Delta's depiction of the current demand recovery environment is not entirely accurate," United's May 8 filing states.
United's filing continues: "In reality, U.S. carriers tend to carry U.S. originating customers more often and this subset of demand is 73% recovered, which is above an average long-haul flight demand recovery of 67%. Delta obscures this fact by including data in its pleading that includes U.S. and Japan originating customers. Naturally, Japan origin traffic remains lower than that of U.S. travelers, but Japan in late April just fully opened with the final draw-down of its COVID protocols."
The filing adds: "The reason Delta decided to hide this segregation of demand data, likely, is to mislead the department into thinking the demand environment Delta faces is less robust than it actually is...We can reasonably expect the upward trend of demand recovery in Japan to continue and accelerate."
This article was originally published on aviationweek.com.