'Bullish' Dubai Airport Inches Closer To 2019 Traffic Levels
Dubai International Airport saw passenger levels in the first quarter of 2023 at 95% of 2019 levels.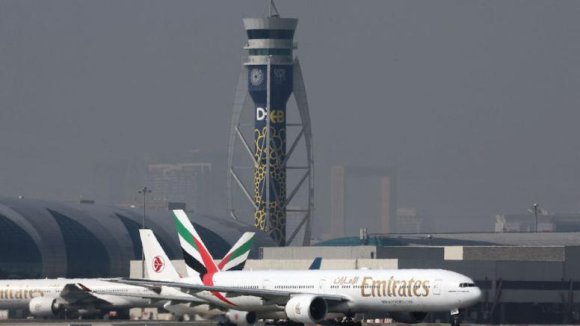 Dubai International Airport (DXB), which handled more international passengers than any airport in the world in 2022, reached 95.6% of 2019 first-quarter passenger levels in the first three months of 2023, with India remaining the top country for traffic to and from DXB.
The airport, which serves as Emirates' global hub, exceeded equivalent 2019 total aircraft movements by 1.6% during the quarter, and the airport says it is "bullish" about the rest of the year.
DXB handled 21.3 million passengers in the first quarter, up 55.8% year-over-year. In March, according to the airport, average passenger load factors reached 80%. March, in which the airport handled 7.3 million passengers, was the busiest month for DXB since January 2020, when it handled 7.8 million passengers.
Total first-quarter flight movements reached 100,840, up 23% versus the first quarter of 2022.
India was DXB's top destination country in the first quarter with traffic to and from the country totaling 3 million passengers. Saudi Arabia followed at 1.6 million passengers. Then came the UK at 1.4m, Pakistan at 1 million and the U.S. at 840,000.
The top city for DXB traffic in the first quarter was London (890,000 passengers), where Emirates serves Heathrow, Gatwick and Stansted. Mumbai (645,000) came in next, followed by Jeddah (641,000) and Riyadh (604,000).
According to the airport, 234 destinations in 99 countries are served from DXB by 89 airlines.
"DXB's performance in the first quarter has exceeded our expectations and reflects the strong growth in demand that we are continuing to see across our key markets," Dubai Airports CEO Paul Griffiths says in a statement.
Griffiths adds: "With important developments in the international travel sector, such as the further easing of travel protocols in China, and the upcoming local annual seasonal peaks and festive holidays, our outlook for the second quarter and the remainder of the year remains bullish."
This article was originally published on aviationweek.com.