Finnair: Pandemic A 'Walk In The Park' Compared To Ukraine Impact
Finnair's Aaron McGarvey explains how the airline has restructured its operations from Helsinki International since the closure of Russian airspace.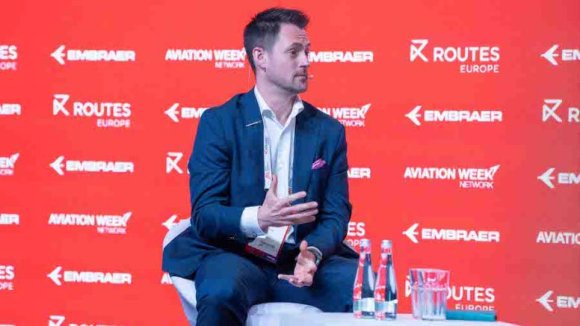 LODZ, Poland—Coping with the impact of the pandemic was "a walk in the park" for Finnair compared with the obstacles it has faced since Moscow's invasion of Ukraine and subsequent Russian airspace restrictions, says Aaron McGarvey, Finnair's head of network strategy and development.
Speaking at Routes Europe 2023 in Lodz, Poland, McGarvey explains how the Oneworld alliance member had to restructure its Asia-focused network—and at one stage even considered operating a hub out of Anchorage, Alaska.
"One of my favorite quotes is 'our biggest asset became our biggest liability overnight,'" McGarvey says, in reference to the airline's Helsinki hub.
Prior to the pandemic, Finnair's business model focused on connecting Europe and Asia using the shorter northern route over Russia.
The carrier temporarily altered the strategy in response to COVID travel restrictions, instead focusing on North America, but Russia's invasion of Ukraine and the closure of Russian airspace rendered many Asian routes financially unviable.
Since then, Finnair has restructured its network and added capacity to the Middle East, launching daily Airbus A330 services from Helsinki, Stockholm Arlanda and Copenhagen to Doha—linking the markets with connecting flights on Oneworld partner Qatar Airways.
McGarvey describes the routes to Doha as "the perfect holding ground" at present given the challenges associated with flying to some secondary Asian markets.
However, speaking about the potential for further routes to points in the Middle East, he says: "It is an interesting market for us to look into, but I don't believe we have the correct fleet to make it work right now."
Elsewhere, McGarvey adds that Finnair sees the potential to bolster connecting services between the U.S. and India via Helsinki given the strong traffic flows between the countries. He also says the carrier is looking to add flights to markets in Scandinavia and the Baltics to help balance the seasonality of its network.
Asked about his main learnings from the pandemic and the impact of the war in Ukraine on Finnair's business, McGarvey replies: "There's no handbook on this—and there never will be—as everyone has been guessing."
He continues: "But the main learning for me is agility, and we need to keep that mentality going instead of getting bogged down in the old way of doing things."
This article was originally published on aviationweek.com.