AirBaltic Eyes Further Nordic Base Opportunities Amid Plans To Double A220 Fleet
AirBaltic CEO Martin Gauss plans to double his Airbus A220 fleet to 100 aircraft, creating opportunities for 60 aircraft to be placed outside its home market.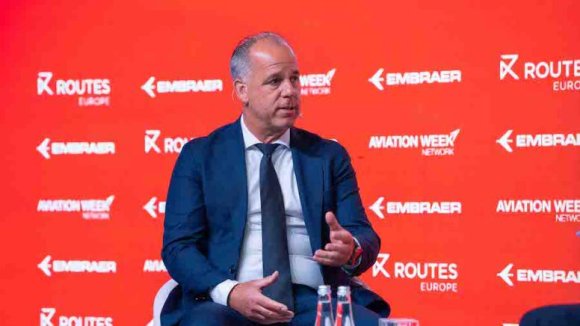 LODZ, Poland—AirBaltic CEO Martin Gauss is ultimately planning to double his Airbus A220 fleet to 100 aircraft, opening up opportunities for 60 aircraft to be placed outside of his carrier's Baltic home market.
Riga-based airBaltic, which already operates 41 A220-300s, is set to grow to 50 aircraft by summer 2024. However, Gauss has set his sights on further fleet development.
"Subject to the successful IPO, which is planned for next year, we will place an order for more A220s," Gauss told delegates at Routes Europe 2023.
Gauss is planning to secure fresh equity and firm up airBaltic's 30 options, taking it to an 80-aircraft fleet. Out of these, 26 will be wet-leased out to other airlines.
Beyond this, airBaltic will take options on 20 more aircraft, giving it scope to grow to 100 A220s.
"If you do the math, we still have more than 40 aircraft in the Baltics. And that means there is a need for us to place aircraft outside, with the assumption that the Baltics cannot take more than 40 aircraft," Gauss says.
AirBaltic already has bases in all three Baltic capitals—Riga, Tallinn and Vilnius—as well as a Finnish base at Tampere.
Gauss adds: "We put an aircraft [in Tampere] and offered the same as we do from all our other airports: We connected to business centers and hubs and added leisure traffic. It worked in the summer. It didn't work well in the winter, so we misjudged the connectivity needs for the winter. Now the second summer is working much better."
While Tampere's winter performance was below expectations, this has not deterred Gauss from eyeing new Nordic bases.
"We see 40 aircraft for the Baltic states, and everything beyond that would be in the Nordics," Gauss says.
"We define the Nordics as a line north of Hamburg to the North Pole. If you look at that line between Hamburg and the North Pole, there are many cities where airBaltic can place future aircraft," the executive adds.
Gauss would not be drawn on specifics, but he jokingly rules out Hamburg and the North Pole.
AirBaltic also plans to be one of the first airlines to return to Ukraine, once conditions stabilize. The CEO adds that when it comes to returning to Russia, "I do not see us going back. At the moment, I can't give any prognosis."
This article was originally published on aviationweek.com.