San Francisco Airport, CDC To Test Aircraft Wastewater For COVID-19
San Francisco International Airport has joined a Centers for Disease Control pilot program testing wastewater samples from international flights for COVID-19.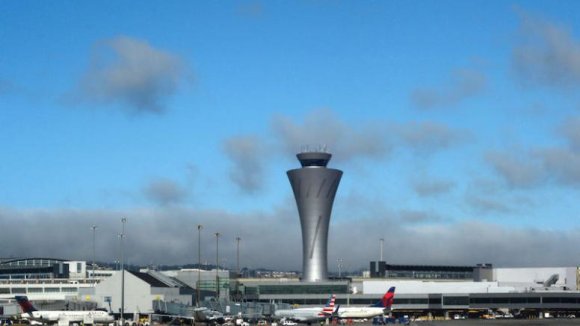 Wastewater samples from international flights arriving at San Francisco International Airport (SFO) will be tested to screen for COVID-19 as part of a program directed by the U.S. Centers for Disease Control and Prevention (CDC).
The program will "continuously monitor airplane wastewater samples...for variants of SARS-CoV-2, the virus that causes COVID-19," SFO says in a statement.
SFO notes it is the first U.S. airport to take part in this CDC pilot program. CDC also conducted an aircraft wastewater collection trial program at New York's John F. Kennedy International Airport (JFK) in 2022.
Boston-based biosecurity firm Ginkgo Bioworks, contracted by CDC, has installed a device at SFO that collects wastewater samples from flights arriving at the airport's international terminal, according to the airport. Samples will be sent to an approved laboratory.
"We are proud to be the first airport to launch this pilot program with CDC," SFO Director Ivar Satero says.
The SFO director adds: "Throughout the pandemic, SFO led the way in enhanced screening, onsite vaccination and surveillance programs. This latest effort represents the most targeted approach to identify, monitor and ultimately mitigate COVID-19 variants."
Ginkgo was also involved in an Aug. 1-Sept. 9, 2022 CDC trial program at JFK.
"Aircraft wastewater samples were collected from selected flights from the United Kingdom, Netherlands and France arriving at [JFK]," CDC reported in a "notes from the field" briefing issued in February.
CDC continued: "Wastewater...was collected from each plane during normal maintenance using a device that attaches to the lavatory service panel port and the lavatory service truck hose."
According to CDC, samples were collected from 88 flights. "Sample collection added approximately 3 min. to normal aircraft maintenance times," CDC said. "Eighty samples were tested for SARS-CoV-2. Overall, 65 samples (81%) were positive; the percentage that were positive was similar among the three flight origin countries sampled."
CDC said the JFK trial "demonstrated the feasibility of aircraft wastewater surveillance as a low-resource approach compared with individual testing to monitor SARS-CoV-2 variants without direct traveler involvement or disruption to airport operations."
However, CDC noted it was difficult to "distinguish travelers with connecting flight itineraries, which lessens precision when ascertaining variant origin."
Additionally, there is "potential carryover of residual SARS-CoV-2 RNA between flights, yielding viral detections unrelated to travelers on the flight."
CDC added: "Stringent genome coverage thresholds might reduce the likelihood of carryover variant identification on subsequent flights."
Regarding the SFO program, Cindy Friedman, chief of CDC's Travelers' Health Branch, says: "As we know from the COVID-19 pandemic, pathogens can spread quickly across the globe, impacting travel and trade."
She continues: "Testing of airplane wastewater can provide early detection of new COVID-19 variants and other pathogens that can cause outbreaks and pandemics."
SFO was previously involved in a wastewater collection program with the University of California-San Francisco Medical Center, to which samples from select flights were sent for testing.
This article was originally published on aviationweek.com.