Frontier Airlines Grows Atlanta Offering With Five New Routes
The Denver-based ULCC is adding three domestic and two international services from Hartsfield-Jackson Atlanta International Airport.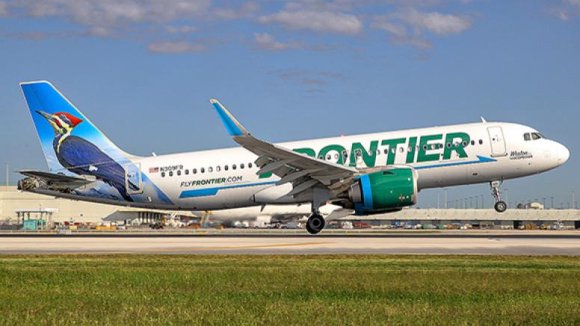 ULCC Frontier Airlines is growing its already strong presence at Hartsfield-Jackson Atlanta International Airport (ATL), opening five new routes, including international flights to the Dominican Republic and Guatemala.
The carrier on May 11 started service from ATL to Ontario International Airport (ONT) in California; Santo Domingo Las Americas International Airport (SDQ) in the Dominican Republic; and San Diego International Airport (SAN). The ONT and SAN routes will be operated daily, while the SDQ service will be flown 2X-weekly.
On May 12, Frontier is launching 2X-weekly service between ATL and Guatemala City's La Aurora International Airport (GUA) and 3X-weekly flights between ATL and Salt Lake City International Airport (SLC).
Atlanta-based Delta Air Lines held a more than 75% market share at the airport in January, while Frontier operated 3.04% of ATL's passenger capacity during the same month. Aside from Delta, that share trailed only Southwest Airlines (7.38%) and Spirit Airlines (3.16%). Frontier, an all-Airbus A320-family aircraft operator, opened a crew base at ATL in 2021 that numbers around 400 employees.
The new Frontier routes, all also flown by Delta, bring the Denver-based carrier's roster of ATL destinations served nonstop to 38.
"Atlanta is one of our fastest-growing markets and serves as a large international gateway for Frontier," Daniel Shurz, Frontier senior vice president for commercial says in a statement. "Connecting Atlanta to Guatemala City and Santo Domingo, while continuing to build out our domestic options, is all part of a major growth push at ATL that represents our strong commitment to Atlanta."
This article was originally published on aviationweek.com.