Bill Pushes For More, Longer Flights At Reagan National Airport
A newly filed bill pushes on federal restrictions at Washington Reagan National Airport (DCA), in a bid to add more and longer flights.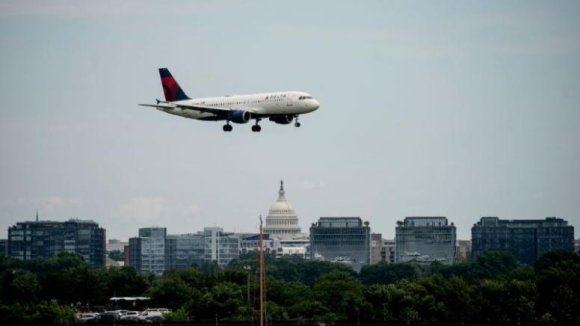 A newly filed bill pushes on federal restrictions at Washington Reagan National Airport (DCA), in a bid to add more and longer flights.
The Direct Capital Access (DCA) Act, introduced May 10 by Reps. Burgess Owens (R-Utah) and Hank Johnson (D-Ga.), seeks to add 28 additional flights in and beyond DCA's mandated maximum flight perimeter of 1,250 mi.
Originally set in the 1960s at 650 mi., the boundary limitation was expanded in the mid-80s, and limited flight exemptions have since been granted through several federal statutes—enabling service to cities including Austin in Texas, Denver, Los Angeles, San Juan in Puerto Rico and Seattle. In the bill, legislators ask for an additional 56 slot exemptions.
"DCA is the only airport in the country stuck with a 60-year-old federal law that restricts the number of nonstop flights beyond a 1,250-mi. perimeter, making our nation's capital one of the most expensive destinations for travelers," Owens said. "Modernizing the perimeter rule will improve access to Washington, D.C., reduce airline ticket prices, and increase tax revenue for the area."
Joining the legislators in support of the legislation is the Capital Access Alliance (CAA), a coalition that counts Delta Air Lines among its members and includes representation from small businesses, economic development organizations and community associations.
"Only seven airlines are currently authorized to operate just 20 daily roundtrips to 10 beyond-perimeter destinations to/from DCA," the CAA says. "Even if 28 additional flights were added per day, and all of them were authorized for beyond-perimeter destinations, only 10% of DCA's daily departures would still go beyond 1,250 mi. The DCA Act provides an equal number of flights to the domestic air carriers that service DCA, which in turn benefits communities in and out of the perimeter."
The local airports authority, operating both DCA and Washington Dulles International Airport, opposes the bill.
"History has shown that relaxing the perimeter and slot rules at Reagan National leads to more noise, delays, congestion and reduction of service to smaller markets," a spokesperson for the Metropolitan Washington Airports Authority (MWAA) told Aviation Week. "In addition, negative impacts at Dulles International have included higher costs and reduction of air service."
MWAA points to DCA constraints it identifies as limited land, runways and terminal capacity and instead suggests future growth at Dulles with access to downtown via the Silver Line Metrorail station. It adds, "We will continue our partner-based approach to reinforcing the importance of maintaining a balanced two-airport system that serves the needs of travelers and the community."
Rep. Jennifer Wexton (D-Va.), whose district contains Dulles and the Washington Air Route Traffic Control Center, called the bill misguided. DCA sits within the district of Rep. Don Beyer (D-Va.), who said the bill would go beyond past attempts to expand slots at the airport and would dangerously overload its operational capacity.
"[The bill] would cripple both DCA and Dulles airports—causing severe congestion and delays as well as canceling service options that make it harder for Americans to come to our nation's capital region," Wexton said. "Changes to the perimeter rule are counterproductive and unnecessary, squandering significant investments of taxpayers' dollars, including in Metro's Silver Line extension."
Beyer added, "National Airport was never intended to be a long-haul airport, which is why Dulles Airport occupies 11,830 acres while National is just 860 acres. The dual airport system was designed with this is mind to accommodate limited land and runways at National."
In November 2020, the U.S. Government Accountability Office (GAO) released a study on the restriction, finding that the beyond-perimeter flights to or from DCA may have had some limited effects such as reducing the airport's landside capacity, but did not contribute to a substantial increase in flight delays. Among its findings, the agency cautioned that several factors should be considered in any decision to modify the perimeter, including existing slot control rules; capacity at DCA; and potential effects on noise, other area airports, passengers, and airline competition.
"The beyond-perimeter flights may have also had other effects, such as drawing a few flights and passengers from Washington Dulles International Airport (Dulles)," the GAO report states.
Among a group of those interviewed for the study—a mix of airlines, airport authorities, academics, associations, community groups and consumer advocates—GAO noted that some supported adding a small number of beyond-perimeter flights for competition's sake, but "No stakeholders supported lifting the perimeter rule, saying it would disadvantage airlines with a small number of flights at Reagan National."
New York LaGuardia Airportalso operates under a perimeter rule, though it is authority-imposed rather than federally.
The DCA Act seeks to have the additional in- and beyond-perimeter flights granted as part of the 2023 Federal Aviation Administration Reauthorization bill.

This article was originally published on aviationweek.com.