Etihad To Launch Inaugural Flights To Osaka
Gulf carrier Etihad intends to open a second nonstop route connecting Abu Dhabi and Japan.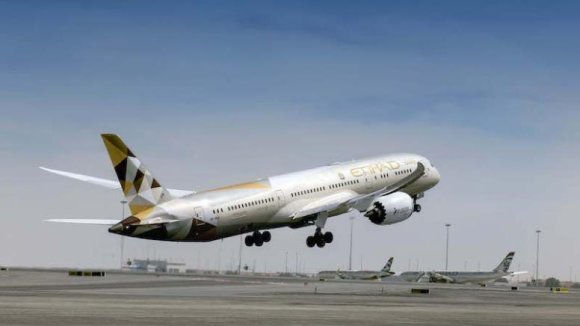 Etihad Airways is to commence flights to Osaka in October, marking the airline's inaugural passenger service to the Japanese city.
Beginning on Oct. 1, the Gulf carrier will operate 5X-weekly from Abu Dhabi International Airport (AUH) to Osaka Kansai International Airport. The route will be served using Boeing 787-9 aircraft, with a flight time of about 9 hr. 15 min. eastbound and 10 hr. 30 min. westbound.
Etihad CEO Antonoaldo Neves said the introduction of the route will support the growing trade and tourism ties between the United Arab Emirates (UAE) and Japan, as well as opening up new one-stop destinations for Japanese passengers traveling via Abu Dhabi.
According to OAG Schedules Analyser data, Etihad serves one destination in Japan at present, flying nonstop daily from its AUH hub to Tokyo Narita.
Flights from Abu Dhabi to Nagoya Chubu Centrair are also set to begin in June, operating 4X-weekly via Beijing Daxing. The airline previously operated a daily Abu Dhabi-Beijing Capital-Nagoya routing, but this service has been suspended since the onset of the pandemic in early 2020.
Etihad's flights to Osaka will become the second nonstop route to the city from the UAE. Emirates Airline currently offers daily flights from Dubai International using 777-300ER aircraft, providing almost 5,000 two-way weekly seats.
Earlier this month, Emirates and Etihad expanded an interline agreement as part of efforts to increase tourism to the UAE, initially focusing on inbound traffic from "key source markets" in Europe and China. The move enables passengers to purchase a single ticket allowing inbound flight into either Dubai or Abu Dhabi, with an outbound flight from the other airport.
Additionally, travelers heading to the UAE will have the option of "multi-city flights," allowing them to depart from one city on either Emirates or Etihad and return to another destination served by either airline.
Speaking at the Arabian Travel Market exhibition in Dubai in early May, Neves also detailed plans to double Etihad's fleet and triple the number of passengers the airline carries by 2030.
Neves hopes that Etihad will grow by 10% annually over the next seven years in terms of passengers carried and available seat kilometers, as well as increasing its fleet from 70 aircraft to 150 by the end of the decade.
This article was originally published on aviationweek.com.