Sofia Airport Plans Solar Farm, New Terminal
Sofia Airport in Bulgaria will invest BGN150 million ($83 million) on capital improvements over the next three years, including a solar farm and new terminal.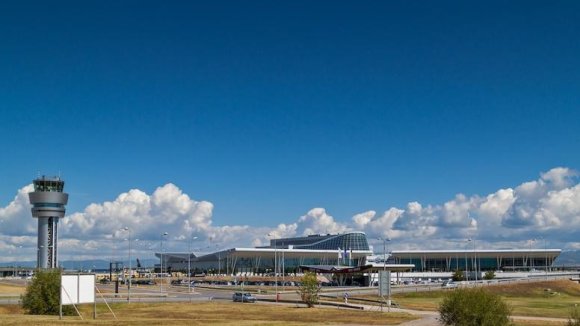 Sofia Airport (SOF) says it will invest BGN150 million ($83 million) on capital improvements over the next three years, including building a solar farm.
The airport is also committed to constructing a third terminal by 2030, according to an SOF statement.
"We are investing in the future of Bulgaria," SOF CEO Jesús Caballero says, adding the funds committed through 2025 are part of a larger capital improvement program that will see BNG1.2 billion invested over the longer term.
Caballero adds: "We are also actively working on improving the air connectivity of the city and the country—more destinations from Sofia Airport mean new businesses and more jobs, as well as promoting the country internationally."
Over the next three years, the airport will build the first 5 megawatts of a planned 20-megawatt solar farm, which will help "meet the energy needs of the airport complex," SOF says.
What's more, SOF's Terminal 2 will undergo "a complete reconstruction," the airport says, noting that three new public automobile parking facilities will also be built.
SOF has contracted Alstef Group to install a new baggage handling system this year. The contract, worth €10 million ($10.8 million), includes the supply, installation and maintenance of the system.
"The baggage management system is key to how the airport operates," Caballero says. "We're buying a state-of-the-art technology solution that will make us faster and more efficient, and that will benefit our millions of passengers."
Other planned projects include building three new widebody-capable jetbridges and making airfield improvements.
SOF handled 614,402 passengers in April, which the airport says was "almost equal" to 2019 levels, but still below.
For the full-year 2022, SOF handled 6 million passengers, down from 7 million in 2019. The top markets in 2022 for the airport were London (all airports), with 400,000 passengers, and Frankfurt International Airport, with 140,000 passengers.
This article was originally published on aviationweek.com.