VietJet Expands Network With Hiroshima, Cochin Links
VietJet is to launch the first nonstop service linking Vietnam with the Japanese city Hiroshima, as well as growing its network in India.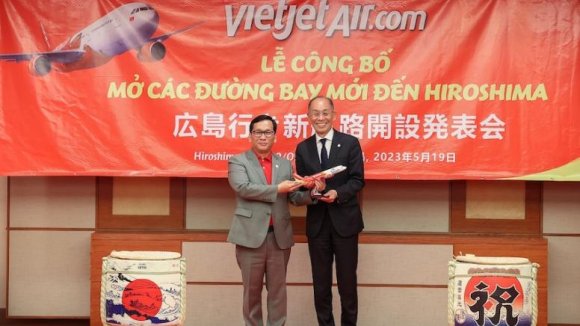 Vietnamese LCC VietJet is set to launch a new route connecting the country's capital Hanoi and Hiroshima, Japan. The announcement coincided with the gathering of world leaders in Hiroshima for the 49th G7 Summit, held from May 19-21.
Scheduled to commence on July 19, the new service will operate twice a week on Wednesdays and Sundays. The flight duration for each leg of the journey is estimated to be approximately 4 hr. and 30 min.
This new route will mark VietJet's eighth connection between Vietnam and Japan.
VietJet CEO Dinh Viet Phuong said the carrier was "firmly committed" to expanding its network between the nations, offering more bilateral and multilateral cooperation opportunities.
"In 2023, VietJet plans to provide 1.5 million seats on flights between the two countries, comprehensively connecting Japan's biggest tourism and economic hubs to attractive destinations in Vietnam and many other regional countries, such as Australia, India, Kazakhstan and more," he added.
VietJet currently operates seven direct routes connecting Hanoi and Ho Chi Minh City to Japanese cities such as Tokyo, Osaka, Nagoya and Fukuoka. The airline also offers charter flights from Vietnam to destinations such as Niigata, Shizuoka, Fukushima and Ehime.
Situated in southwestern Japan, Hiroshima holds strategic significance as a hub connecting the Kansai and Kyushu regions, and it serves as a center for businesses involved in marine economy and heavy industry.
Alongside the new Japanese service, VietJet has also unveiled plans to connect Ho Chi Minh City to Cochin, India. Flights between the destinations will commence on Aug. 12, operating four times per week. Cochin will become the LCC's fourth city in India to be served on a scheduled basis, adding to operations to Ahmedabad, Delhi and Mumbai.
Additionally, the airline on July 1 plans to resume flying from Phu Quoc and Da Nang to Hong Kong, and from Da Nang to Daegu. Phu Quoc-Hong Kong will be 3X-weekly, while Da Da Nang-Hong Kong will be 4X-weekly and Da Nang-Daegu will be daily.
VietJet will also increase the frequency of Da Nang-Singapore to 2X- daily from July 1, and Nha Trang-Seoul Incheon will rise to 3X-daily from July 13.
This article was originally published on aviationweek.com.