ACI Asia-Pacific: Region Slowly Recovering From 'Significant Drop' In Connectivity
Airports Council International Asia-Pacific says the region's governments need to show a "sense of leadership" in restoring air route connectivity post-COVID.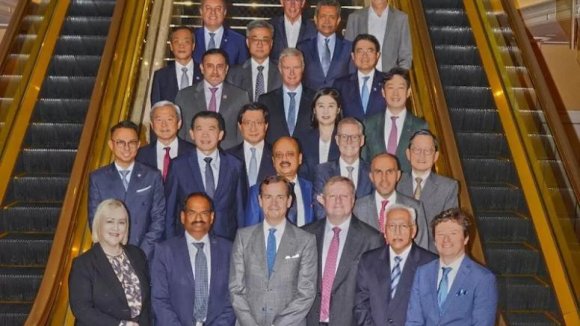 Airports Council International (ACI) Asia-Pacific says the region's governments need to show a "sense of leadership" in restoring air route connectivity, emphasizing that post-COVID Asia-Pacific air travel recovery is lagging behind other global regions.
In a resolution released at the conclusion of the organization's 18th Regional Assembly in Kobe, Japan, ACI Asia-Pacific says "fully restoring and further developing air connectivity in the region" is critical, noting "the essential role that airports, driven by efficient and affordable air connectivity, can play in driving economic growth and social development."
The 2019-22 pandemic period saw "a significant drop in the number of direct routes, flight frequencies and available seat capacity in Asia-Pacific as a result of the full-scale global COVID-19 transportation crisis," ACI Asia-Pacific says.
"On the contrary, airports in the Middle East region have recovered much faster, especially the large, international airports," the group adds.
The organization says medium-large airports in the Asia-Pacific region are more dependent on international traffic than airports in other regions, complicating their recovery as the region eased pandemic-related restrictions more slowly than other areas.
"Connectivity is a critical enabler for social and economic wealth," ACI Asia-Pacific President Emmanuel Menanteau says, adding that "restoring air connectivity in the Asia-Pacific … is essential to support the recovery of [national] economies."
Factors complicating the Asia-Pacific recovery include "increased airfares, reduced [airline] competition and [a reduced] aviation ecosystem workforce," the organization says, calling on the region's governments to devote "significant resources required to finance the necessary modernization of infrastructure."
The organization adds that the "ACI Asia-Pacific Board encourages airport operators to open a new dialogue with national authorities and industry stakeholders to modernize the aviation sector."
ACI Asia-Pacific is pushing the region's governments to increase connectivity "by further liberalizing international aviation markets." Also, governments need to "re-think the model of optimizing the use of existing infrastructure" through measures such as slot allocations and instead facilitate the building of new infrastructure, the organization says.
Governments should "incentivize funding and financing of airport infrastructure with a reasonable return on investment," ACI Asia-Pacific says, adding that it also is urging governments "to simplify and streamline [the] visa process for inbound international travelers, where applicable."
While pushing hard for more infrastructure development, the organization says all growth must be environmentally sustainable.
ACI Asia-Pacific Director General Stefano Baronci adds: "Asia-Pacific is re-surging after three complex years. Modernizing the sector means critically assessing what can be done differently."
Baronici says: "We call upon states to implement a more liberalized market and strengthen cooperation and harmonization on safety, security, environmental protection and [air traffic management] optimization."
The director general adds: "This will require a sense of leadership [and] significant investment … At all levels, ACI Asia-Pacific is keen to provide its contribution through this process of transformation."
The organization similarly issued a warning about the region's recovery in April, saying the area's airports remain in "distress" even as passenger traffic returns in the Asia-Pacific region following the widespread easing of COVID-19 restrictions.
This article was originally published on aviationweek.com.