Glasgow Airport Consortium Secures Funding For Hydrogen Innovation Hub Study
The funding will support a feasibility study for a hydrogen production and distribution hub at the Scottish airport.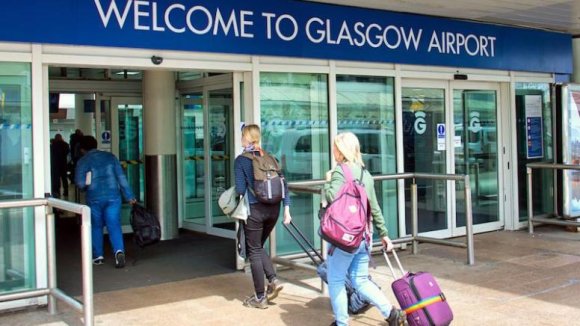 A consortium led by Glasgow Airport that includes net-zero consulting co-developer Ikigai has obtained funding from the Scottish government to initiate a feasibility study for a hydrogen production, storage and distribution hub.
The project aims to facilitate zero-emission flights at the airport and is part of the Scottish government's £7 million ($8.7 million) Hydrogen Innovation Scheme, dedicated to advancing renewable hydrogen technologies.
"Hydrogen-powered aircraft have the potential to completely revolutionise aviation, particularly on regional and short-haul routes," says Jon Matthews, group head of capital investment at Glasgow Airport owner AGS Airports.
"Airline manufacturers are making tangible progress on zero-emission flight, and as an airport operator, it is important we start to plan for the delivery, storage and generation of hydrogen."
Alongside the airport and Ikigai, the consortium comprises easyJet, Loganair, H2GO Power, ZeroAvia, Ricardo, Altrad Babcock, OG Clean Fuels, the University of Glasgow and Scottish Water Horizons.
The feasibility study plans to leverage an artificial intelligence software solution developed by H2GO Power to compare the efficiency of different electrolyser and storage solutions. It will also integrate the optimal modular electrolyser technology with an existing solar microgrid at Glasgow Airport.
In addition, the study will explore the potential of solid-state storage, deploying it at the airport's fuel farm and a public service station. Lastly, the project will design the infrastructure and processes required to deliver hydrogen from solid-state storage to a mobile storage and dispensing unit for use by hydrogen aircraft and ground-handling equipment.
Helena Anderson, co-founder of Ikigai, said the proposed hub would ensure Glasgow Airport has "a safe, secure and cost-efficient green fuel supply." The project is slated for completion by early 2024, and it is hoped the concept can be extended to other regional airports owned by AGS, including Aberdeen and Southampton.
This article was originally published on aviationweek.com.