Where Does The Airbus A380 Fly? May 2023 Update
An update on the global operations of the Airbus A380.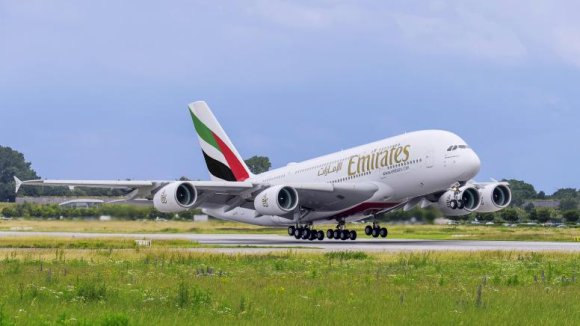 Eight airlines are operating the Airbus A380 during May 2023, collectively offering about 3.2 million seats during the course of the month.
Emirates Airline accounts for about 72% of the total capacity offered with 2.3 million seats across almost 4,500 flights. British Airways (BA) ranks second with 245,000 seats and Singapore Airlines third with 229,000.
The latest figures provided by OAG Schedules Analyser show that Dubai-based Emirates' A380 capacity has now exceeded the total available in May 2019.
Dubai International (DXB) unsurprisingly tops the list when it comes to the top 10 airports worldwide, ranked by the most A380 departure seats during May 2023. In total, there are more than 1.1 million departure seats from DXB, marking a rise of 1.3% on May 2019.
All other airports in the top 10 have witnessed a drop in capacity compared with pre-pandemic levels, apart from Johannesburg, which is up by almost 99% thanks to double-daily service from both BA and Emirates.
Looking at the biggest airport pairs, Dubai features in the top six by A380 capacity this month. The schedules data shows that Dubai-London Heathrow has the largest volume of available A380 seats, totaling over 205,000.
The biggest A380 route not to touch Dubai is London Heathrow-Singapore with 88,500 monthly seats. Overall, 73 airport pairs worldwide have received A380 flights during May 2023.
The total A380 capacity available worldwide now exceeds 3.2 million monthly seats, although the figure represents a drop of some 31% on pre-pandemic levels. However, capacity will rise further in June and July as Etihad Airways and Lufthansa are poised to return the aircraft to commercial service.
This article was originally published on aviationweek.com.