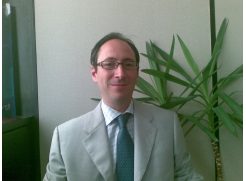 In a state-backed rescue effort, private consortium Compagnia Aerea Italiana (CAI) led the merger of ailing Alitalia and its former rival Air One in February 2008. Before its bankruptcy, Milan Malpensa and Rome Fiumicino were once intercontinental gateways in Alitalia's troublesome dual hub strategy.
Today, Alitalia has been given a new lease of life with a repositioned network. It shares the same colours with Air One under the Alitalia Group but they operate as separate brands.
Antongiulio Zecchini, network planning manager
How are Alitalia and Air One optimising the Italian network?
A new dual strategy has been launched in Milan. Alitalia is now hubbing at Rome Fiumicino and optimising Milan operations to serve the main local markets. It also serves premium flows in Linate, taking care of the time-sensitive flyers from/to (Milan) Linate city airport and long-haul operations.
While Air One is the 'smart carrier' dedicated to short and medium-haul price-sensitive travellers from/to Milan Malpensa and competes with low-fare carriers.
Alitalia's integration with Air One also brought a legacy of bases in the Italian province. As well as feeding the long-haul network, priority has extended to covering routes bypassing Rome and Milan, to better serve customers along the Italian peninsula.
As of summer 2010, the Alitalia-Air One network totals 2494 weekly frequencies to 28 domestic, 40 international and 14 intercontinental destinations.
How is Air One holding up against Milan Malpensa's fiercely competitive low-cost sector?
Air One has a simplified product and a cost-driven schedule. It optimises crew utilisation, airport gates and airplanes, with a single aircraft type and an all-economy high-density configuration. These factors allow Air One to compete with the low-fare carriers in Malpensa.
On the other hand, Alitalia reaffirms its positioning as the premium Milan carrier from Linate. Rome FCO is Alitalia's single hub, serving all the intercontinental destinations. The carrier has four feeding banks that reach deep into the Italian province: Naples, Turin, Catania and Venice and other bases will soon follow.
Where are there synergies and overlaps in the Alitalia-Air One network?
Alitalia codeshares on all Air One operated flights, which sustains a wide range of short and medium-haul connections to its intercontinental services from Malpensa.
The relationship between the two companies is symbiotic, as Alitalia can improve its coverage of the Milan area through the Air One network, while Air One can enjoy all the scope and scale synergies thanks to belonging to a wider airline group.
Alitalia and Air One routes overlap on large city-pair flows, such as Milan to Naples, Bari, Catania and Palermo.
Which markets are Alitalia and Air One focused on?
Air One is connecting Malpensa with five previously unserved international destinations from Linate. Cairo, Tunis and Tirana opened for the summer schedule, while Palma and Ibiza will start up later this month.
Plus, from Malpensa, Alitalia has retained the link to its Fiumicino hub and Moscow in cooperation with SkyTeam partner Aeroflot.
Alitalia has further consolidated its leadership of the domestic market by developing regional marketing initiatives to Turin, Alghero, Puglia and Veneto and launching codeshare arrangements.
What are the latest codeshares?
Thanks to codesharing, in particular with strategic partners Air France-KLM and SkyTeam, Alitalia can offer its customers an extended global network.
In March, Alitalia and Etihad also implemented a reciprocal code-sharing agreement, with Alitalia marketing Etihad's services between Milan Malpensa and Abu Dhabi and beyond to destinations in the Gulf, Australia, Thailand and South Africa.
On May 3, Alitalia began marketing flights operated by Air Italy from Milan Orio Al Serio, Verona, Turin, Genoa and Olbia, adding new north to south routes to Alitalia's domestic network.
And on May 24, Alitalia began codesharing with Darwin Airline from Rome to Lugano and Rimini, and from Foggia to Milan Malpensa, Turin and Palermo.
Alitalia is relying on Darwin Airline to cover thin routes requiring regional aircraft with a smaller unit capacity.
Which is the largest unserved market for Alitalia and Air One?
The main Malpensa market not yet served by Air One is Olbia, Sardinia. Flights are planned from July.
The most important unserved Italian intercontinental market is China, which Alitalia currently serves with a codeshare on Air China's Italian operations.
Alitalia has reported narrower losses for 1Q this year. When do you expect Alitalia to break-even?
In 1Q10, the operating result (EBIT) amounted to -€125 ml, a significant improvement compared to the same quarter last year (-€210).
The considerable reduction of losses reinforces the company's ambition towards reaching the operational breakeven point in 2011, bolstered by a reassuring cash liquidity.
Alitalia resumed its Rome-Los Angeles service on June 5 after a two-year break.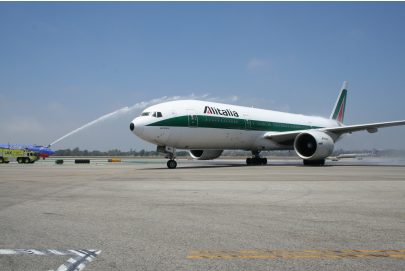 How far is Alitalia into its recovery?
In 1Q 2010, passengers increased to 4.7 million - up 7% versus the same period last year. Taking into consideration the period from 1 to 13 January, in particular intercontinental and international routes show important growth rates of 35% and 17% respectively. Also significant is the rise in load factor from 52% to 64.5%.
Network growth, together with the relevant improvement of KPIs and the outstanding performance of intercontinental flights are strong signs of the health of a renewed Alitalia.
How better-positioned is the Alitalia-Air One in Fleet terms?
The Alitalia Group consists of 154 aircraft, compared to 165 under the old Alitalia.
Turboprop and 40-seat regional jets have left the fleet and long-haul service is provided by 10 Boeing 777s, six Boeing 767s and two Airbus 330s.
Alitalia's 131 narrow body and regional aircraft fly the medium-haul network, including: A319/20/21s, Boeing MD80s and B737s, E170s and Bombardier CRJ900s. Also, Air One operates five A320s with a dense capacity of 180 slim seats. And there are 40 A320s in the network.
Alitalia based two newly configured A330s at Milan Malpensa in June. What's the strategy here?
Alitalia is the top intercontinental carrier from Milan, serving three top point-to-point markets. Two new A330s will be dedicated to Malpensa long-haul flights to Tokyo, as of this month, and to New York JFK and Miami from August.
On long-haul flights a three-class layout will be gradually introduced, including a new premium economy class, targeted at business and leisure customers.
Alitalia Group intends to maintain its dominant position in the Milan market. By 2012 the destinations served by Alitalia from Milan will increase to 47.