Jambojet CEO Allan Kilavuka on LCCs in Africa
Jambojet chief executive Allan Kilavuka explains how the Kenyan LCC hopes to replicate its model in other African countries.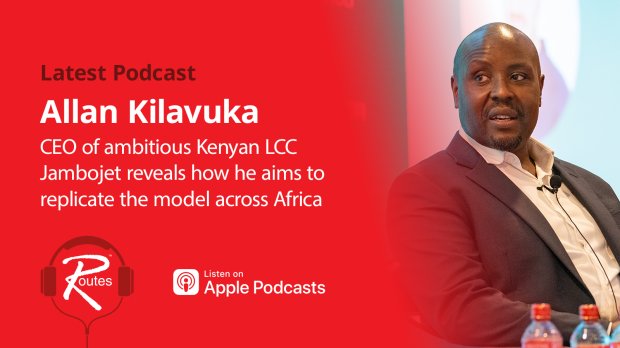 Allan Kilavuka, who has extensive experience in strategy, business development, leadership and start-ups, took over as chief executive and managing director of Kenyan low-cost carrier Jambojet in November 2018.
In its first five years of operation, the airline has grown strongly and now boasts a fleet of six new De Havilland DHC 8 Q400 Next Generation aircraft. Since its inception it has flown more than three million passengers, 30 percent of whom were first-time flyers.
In this interview, which was recorded live at Routes Africa 2019 in Mombasa, Kenya, Kilavuka explains more about Jambojet's growth plans and why he believes the Kenya Airways-owned carrier can replicate its model in other counties across Africa.
He also discusses the potential impact of the Single African Air Transport Market and the conditions needed for an LCC to be successful in Africa.
The Routes Africa 2019 Conference Programme was sponsored by Embraer.