Hawaiian Airlines with Brent Overbeek
Hear Hawaiian Airlines' network and fleet strategy, and how they see potential to grow in the highly competitive Japanese market.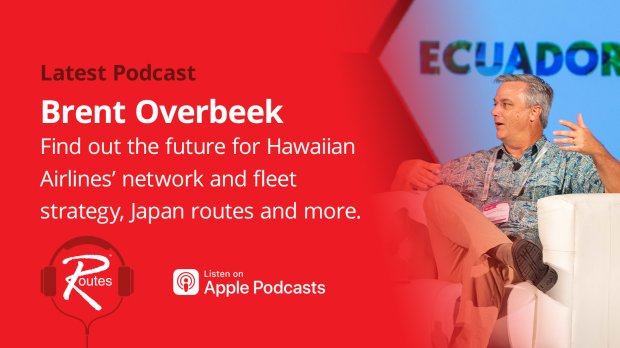 Hawaiian is eyeing a number of destinations for its long-term network growth, says Brent Overbeek, Hawaiian's senior VP for revenue management and network planning, including more Pacific Rim international markets, possibly including Australia and Japan.
In its US homeland, where it already has a strong West Coast presence along with Boston and New York services, Overbeek notes a "void" in the middle of the country between Phoenix and the East Coast which it may look to fill.
Meanwhile the extremely competitive Hawaii-Japan market has six airlines flying routes, with Hawaiian capturing a quarter of this market, with more possibility for growth.
However, Overbeek expects a "bit of a pause" in fleet development between the last of the A321neos and the start of its Boeing 787-9 deliveries. Hawaiian has ten 787-9s on order, with the first due to enter service in mid 2021.
This interview was recorded live during the World Routes 2019, which was sponsored by App in the Air and Ecuador Ministry of Tourism.
Sponsors