What next for the Single African Air Transport Market (SAATM)?
Leaders discuss their views on the implementation of SAATM and what is needed to make the project a success.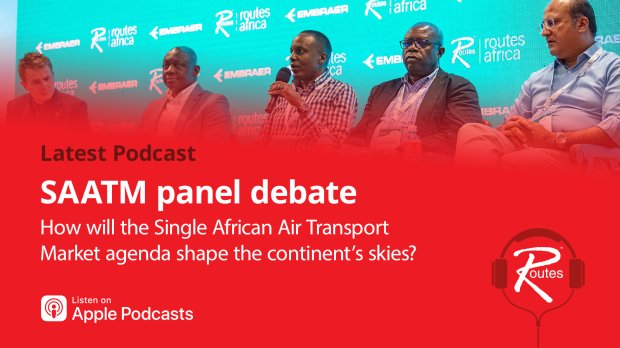 Launched in January 2018, SAATM is a flagship project of African Union's Agenda 2063 that aims to open Africa's skies and improve intra-African air connectivity.
A total of 32 African countries made solemn commitment to implement SAATM. There were 11 countries which signed the pact at the launch in January 2018.
The project builds on the Yamoussoukro Decision from 1999, when African ministers responsible for civil aviation agreed to deregulate air services, put in place mechanisms for fair competition and dispute settlement and liberalise frequencies and tariffs.
It is hoped SAATM will increase aviation's role as an economic driver, supporting social and political integration, as well as boosting trade and tourism.
Recorded live at Routes Africa 2019 in Mombasa, Kenya, this discussion looks at the implementation of SAATM so far and what progress has been made. What more needs to be done to make truly open skies a reality?
The panel features:
Aaron Munetsi, director, governance, legal and industry affairs, AFRAA
Alex Avedi, chief executive, Safarilink Aviation
Raphael Kuuchi, vice president, Africa, IATA
Sanjeev Gadhia, vice chairman of TIACA, vice chairman of AFRAA Cargo committee and CEO of Astral Aviation
The Routes Africa 2019 Conference Programme was sponsored by Embraer.