Air Race 1 World Cup Presented by Chang announces pilots for 2017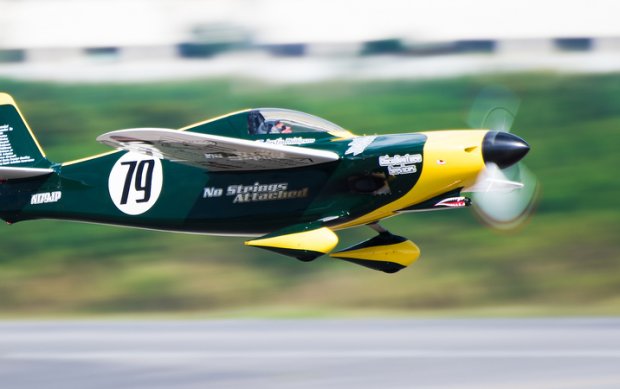 As the countdown to this year's Air Race 1 World Cup Presented by Chang gathers pace, organisers of the world's premier airborne series have announced the 17 race pilots set to go wing to wing at Thailand's U-Tapao Naval Airbase from 17 – 19 November.
Hosted by the Sports Authority of Thailand, part of the Ministry of Tourism and Sport, the world's fastest motorsport and most pure air race challenges pilots in a demanding test of skill. Eight pilots race head-to-head on a tight oval circuit at speeds of over 450 kilometres per hour just metres above the ground to be the first one to cross the finish line.
To ensure a fair competition between pilots, each plane must be built to a specific formula that covers most aspects of the race plane's characteristics, including wing area, weight and engine size.
Such care is taken with the airplanes, each one is given its own unique moniker - this year's roster includes the colourfully named Outlaw, to be raced by 2016 Rookie of the Year Scott Holmes; Yves Clarke's Outrageous and Tim Cone's What Airplane, Honey?.
The class of airplanes, referred to as formula one class, incorporate the most modern materials and cutting-edge technology for those all-important marginal gains.
As in all motorsport, an element of success also comes in the designers, engineering teams and ground crew support in the pits. One racer looking to use that to his advantage is Steve Tumlin, long-time Chief Mechanic turned pilot this year.
This year's intake includes returning pilot Trevor Jarvis (UK), as well as Justin Phillipson (USA), who triumphed in the Thailand round of air racing in a plane he built himself. Philip Goforth (USA) and retired Air Force pilot Steve Temple (USA) round off the list of veteran aviators who have achieved past success.
Many of the pilots and teams design and build their own race plane to capitalise on unique innovations, often designing them around the body of the pilot; pilots such as Philip Goforth (USA) and Justin Meaders (USA).
Jeff Zaltman, CEO of Air Race 1, commented; "We've signed a very strong and diverse pool of race pilots for this year's World Cup. Not many people have the skill or expertise to race an airplane directly against others on the same circuit, so there aren't many of these pilots around. But we'll see the best of the best in Thailand. The title is truly up for grabs. We are really looking forward to returning to Asia after a successful trial race in 2016."
The Air Race 1 World Cup Presented by Chang will be shown live in Thailand, and later screened in as over 100 countries in Europe, Asia and the USA. For more information and to buy tickets, please visit www.airrace1.com
The official list of Air Race 1 World Cup Presented by Chang race pilots:
Race number: 4 Pilot: Jerry Marshall Nationality: USA Aircraft name: Tumble Weed Aircraft type: Cassutt IIIM
Race number: 8 Pilot: Swaid Rahn Nationality: USA Aircraft name: Heat Stroke Aircraft type: Cassutt IIIM
Race number: 9 Pilot: Scott Holmes Nationality: Canada Aircraft name: Outlaw Aircraft type: 1993 Cassutt racer
Race number: 12 Pilot: Yves Clarke Nationality: UK Aircraft name: Outrageous Aircraft type: Cassutt IIIM (modified)
Race number: 15 Pilot: Ryszard Zadow Nationality: USA Aircraft name: Last Lap Player Aircraft type: Cassutt IIIM
Race number: 17 Pilot: Philip Goforth Nationality: USA Aircraft name: Knotty Girl Aircraft type: Stratocaster
Race number: 22 Pilot: Lio Mougel Nationality: France Aircraft name: Hysteria Aircraft type: Boyd Gr-7 Panther
Race number: 23 Pilot: Enrico Castellino Nationality: Italy Aircraft name: Spirit of Turin Aircraft type: Cassutt
Race number: 26 Pilot: Paul Newman Nationality: USA Aircraft name: Fast & Easy Aircraft type: Cassutt IIIM
Race number: 27 Pilot: Kent Jackson Nationality: USA Aircraft name: Once More Aircraft type: Cassutt IIIM
Race number: 34 Pilot: Justin Meaders Nationality: USA Aircraft name: Limitless Aircraft type: SnoShoo
Race number: 40 Pilot: Chip Mapoles Nationality: USA Aircraft name: Miss USA Aircraft type: Slipknot
Race number: 45 Pilot: Steven Temple Nationality: USA Aircraft name: Quadnickel Aircraft type: Cassutt IIIM
Race number: 52 Pilot: Steve Tumlin Nationality: USA Aircraft name: Fiesty Aircraft type: Cassutt IIIM
Race number: 58 Pilot: Trevor Jarvis Nationality: UK Aircraft name: Sonic Zoom Aircraft type: Cassutt
Race number: 79 Pilot: Justin Phillipson Nationality: USA Aircraft name: No Strings Attached Aircraft type: Shoestring
Race number: 81 Pilot: Des Hart Nationality: Scotland Aircraft name: Sleeper Aircraft type: Cassutt IIIM
Race number: 99 Pilot: Tim Cone Nationality: USA Aircraft name: What Airplane, Honey? Aircraft type: Grove Winged Cassutt