Jetstar Boosts Asian Presence
Australian carrier Jetstar Airways has confirmed that it will significantly increase the activities of its Singapore-based division Jetstar Asia with the introduction of five more Airbus A320s and two A330s to add an extra 40 weekly flights, including a new link to Beijing. In addition to Beijing and a new flight to the Chinese city of Ningbo, which we reported last week, the carrier, a subsidiary of Qantas Airways, will introduce flights to Hanoi and increase frequencies to Ho Chi Minh, Hong Kong, Kuala Lumpur, Taipei and the Indonesian cities of Denpasar and Jakarta.
"Jetstar's Pan Asian strategy is supported by the booming economies of the region where a new middle class is fuelling an immense appetite for low fares travel," said Bruce Buchanan, Chief Executive Officer, Jetstar Group. "Last year Jetstar became the largest low cost operator serving Singapore, and with this announcement we plan to extend our lead."
The airline has carried almost 20 million passengers in the past year and by the end of 2011 will have 17 A320s and four A330s based in Singapore with additional capacity also being provided by its Australian business. As a group, by year-end, Jetstar will offer more than 3,000 flights per week to more than 60 destinations, across 17 countries with a fleet of 86 aircraft.
Further network growth is expected to be announced in the coming months, including a rumoured new joint venture with Japan Airlines (JAL) in the Japanese market, but in the meantime it is the latest expansion in Singapore that is generating headlines for the carrier. As the table below illustrates, ahead of its latest expansion Jetstar Asia is currently the fourth largest carrier at Changi International Airport with a 4.5 per cent share of the total seat capacity: this increases to 6.1 per cent if you also include the activity of the whole group and lifts it to third position.
AIR SERVICES FROM SINGAPORE CHANGI INTERNATIONAL AIRPORT (non-stop weekly flights)

Rank

Airline

Weekly Flights

Weekly Seats

% Capacity

1

Singapore Airlines

674

208,080

33.4 %

2

Tiger Airways

254

45,720

7.3 %

3

SilkAir

267

36,446

5.9 %

4

Jetstar Asia

150

27,861

4.5 %

5

Qantas Airways

69

26,219

4.2 %

(Others)

1,334

278,150

44.7 %

TOTAL

2,748

622,476

-

The most notable of its new services will be a daily connection to Beijing, which will commence on November 24. This will actually be flown by Jetstar's Australia division and will represent an extension of its existing Melbourne – Singapore link. The flight will add to Jetstar Asia's existing services to the Chinese cities of Guilin, Haikou, Hangzhou and Shantou and new link to Ningbo which will initially operate on a three times weekly schedule from September 9 and increase to four flights per week from November 3. The airline carried around 88,000 O&D passengers on its Chinese routes in the past year, accounting for just 2.9 per cent of the total market from Singapore and showing what potential there is for growth in China.
Air China and Singapore Airlines already serve this trunk route with two and three daily frequencies, respectively. Around 524,000 O&D passengers travelled on the route in the past year, each paying an average fare of $560 each way and Jetstar Asia will hope to generate traffic from its rivals as well as stimulating the market further when it launches its flights later this year. It is difficult to predict what impact the carrier's arrival will have on the market as the only competition it faces on its Chinese routes is from fellow low-cost operator Tiger Airways to Haikou.
Jetstar Asia's other new route will be to Hanoi, Vietnam, complementing its existing link to Ho Chi Minh City. It will offer a four times weekly rotation between Singapore and Hanoi from December 15, with frequencies to Ho Chi Minh also due to increase from two to three daily flights from August 18. The carrier has already secured a 19 per cent share of the 833,000 O&D passengers on this route and will hope for a similar success with its new launch. Like its existing flight to Ho Chi Minh, it will face competition from Vietnam Airlines (eleven flights per week), Singapore Airlines and Tiger Airways (both offering a daily flight).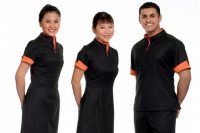 Alongside these new destinations, Jetstar Asia will also be increasing frequencies on some of its existing routes in the region. Its flights to Hong Kong will increase from 17 to 21 a week from August 19 and up to 24 from September 6, while links to Kuala Lumpur will grow from 16 to 19 a week from August 15. The Taiwanese capital Taipei will be served 13 a week from August 5, up from a daily flight and Bali will see capacity tripled from a twice weekly to a six times weekly link from September 7. In Indonesia, Jetstar Asia's Valuair brand will increase Singapore – Denpasar flights from four to six a week from September 7, while a 21st weekly rotation will be added between Singapore and Jakarta from September 10, a route that Valuair provides 19 of the flights.
According to Chong Phit Lian, Chief Executive Officer, Jetstar Asia, the new flights will help support development in both the business and leisure markets with the airline's low fares stimulating demand as it extends its Pan Asian strategy. "Our growing Pan Asian hub in Singapore helps Jetstar customers to connect to 28 destinations from Singapore including Jakarta, Kuala Lumpur, Phuket, Perth, Darwin, Melbourne and Auckland. Singapore is the gateway to a wide variety of destinations across the Jetstar network, and our low fares are making it easier for travellers to reach them," she said.