Routes Europe 2022 took place in Bergen, Norway from 18 - 20 May 2022. Routes Europe 2024 will take place in Aarhus, Denmark from 22 - 24 April 2024. View all our other upcoming route development events.
Routes Europe 2022 will unite decision-makers from airlines, airports, destinations and aviation stakeholders that are invested in the future of European air connectivity.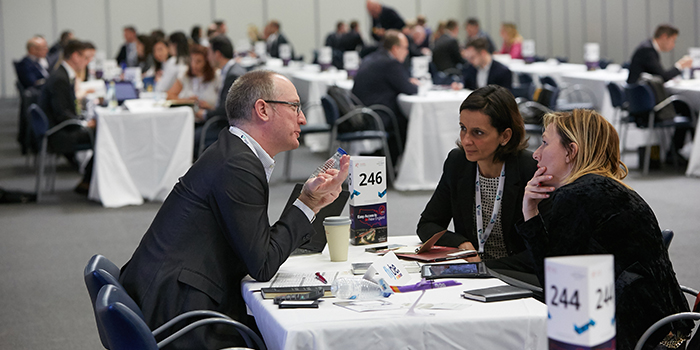 As the region's leading aviation event, uniting senior industry professionals from airlines, airports and destinations, Routes Europe 2022 will provide you with an efficient platform to build high-value relationships with a qualified audience of route development decision-makers from across the region and beyond.

Develop your recovery strategy, gain exclusive insight and discuss new market opportunities with the people who decide where the region's aircraft fly, all under one roof at Routes Europe.
Book your place Download event brochure
What can I expect at Routes Europe?
Over three business days, you will have the opportunity to participate in a comprehensive event programme with face-to-face meetings, unmissable networking opportunities, exclusive industry insight and much more.

Exclusive meetings
Collaborate with your key targets across 45 available meeting slots. Over 1,900 new air services across Europe are connected to meetings at the event.

Unmatched industry insight
Gain exclusive insight from airline CEOs and industry experts as explore the current state of the industry and share their market predictions.

Unmissable networking
Strengthen and develop relationships with decision-makers in a more relaxed and informal setting at our programme of exclusive social events.

Promotional opportunities
Increase brand awareness, promote expanding infrastructure or establish your organisation as an industry leader by taking advantage of our sponsorship packages.
"For Bremen Airport, the Routes conferences are the most important events of the year and a hotspot of the aviation industry. Nowhere else do we have the opportunity to meet so many decision makers of the airline community."

Florian Kruse
CCO
Bremen Airport
Book your place Download event brochure
Latest Routes Europe 2022 News
Posted
The transatlantic startup will offer connections to New York JFK and Los Angeles from the German capital.