Qatar Airways to Fly to Salalah in Oman
Fast-expanding Middle East carrier Qatar Airways has revealed its fifth new destination for 2013 with confirmation it will launch a four times weekly link between Doha and Salalah, the second largest city in Oman and a growing tourist destination on the Gulf Peninsula. The new flights commence on May 22, 2013 and will complement the carrier's existing link to the Omani capital Muscat, a route which is served up to 31 times every week and on which a new codeshare arrangement with Oman Air is due to be implemented.
The carrier say that following on from recent announcements on the launch of flights to Gassim in Saudi Arabia, Najaf in Iraq, the Cambodian capital Phnom Penh and the airline's fourth US gateway of Chicago next year, the addition of Salalah demonstrates the airline's commitment to expand to diverse destinations worldwide that are underserved, yet increasingly popular with holidaymakers and business travellers alike.
An ever-sought after tourism destination, Salalah is particularly popular with leisure travellers from Europe, North America, Africa and the Middle East. It is the capital of Dhofar Governorate, which stretches over a large area in southern Oman and covers a pristine coastal strip of over 550km: an area that includes a distinctive natural diversity.
"Salalah offers passengers travelling from our global network with yet another unique holiday option to experience and at the same time provide the convenience of two gateways within the same country," said Akbar Al Baker, Chief Executive Officer, Qatar Airways. "With this new route, passengers wishing to explore Oman at length will also be able to take advantage of different travel options, booking flights into Muscat and returning from Salalah or vice versa."
Qatar Airways will be one of only a handful of operators to provide direct international flights from Salalah, including Oman Air to Dubai, Air India Express to Kochi and Air Arabia to Shrajah. It plans to utilise an Airbus A320 on its services from its Doha hub providing 48 Business Class and 528 Economy seats a week in each direction.
Airline set for Dreamliner Debut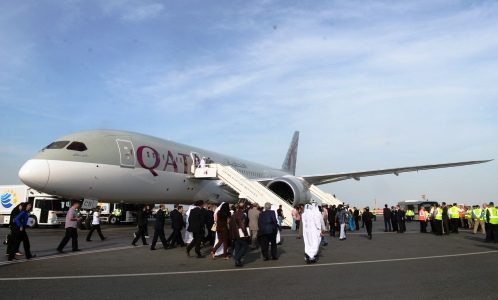 Meanwhile, Qatar Airways has this week finally taken delivery of its first fully completed Boeing 787 Dreamliner and the latest update of its GDS suggests the type will enter scheduled service on November 20, 2012 initially operating up to four daily flights between Doha and Dubai. The airline is the first Middle Eastern customer for the type and has had to revised its entry into service plans on a number of occasions.
It is understood that this is actually the third 787 to be handed over to Qatar Airways but is the first to make its delivery flight to its Doha home. The previous aircraft were officially delivered to Qatar Airways on October 5, 2012 and November 7, 2012 but have remained at the Boeing production facility for internal customisation work. After receiving its third aircraft at a formal delivery ceremony in Seattle on November 12, 2012, senior airline officials confirmed that these two aircraft will be fitted with new improved In-Flight Entertainment (IFE) and connectivity systems at the Boeing plant and will be delivered before the end of the year, as well as an additional two aircraft.
"We are delighted to receive our first Dreamliner, an aircraft which we expect will establish new benchmarks for reliability and comfort, when combined with Qatar Airways' signature passenger experience," said Akbar Al Baker. "Our decision to invest in this game-changing airplane, which represents the future of air travel, reflects our firm belief in its unrivalled capabilities and the value it will add to our fleet and network expansion plans."
After its initial crew familiarisation and training sorties on the Doha – Dubai route, Qatar Airways will put the 787 into operation on its Doha – London Heathrow route from December 1, 2012 with Delhi, Frankfurt and Zurich also set to see the aircraft in the not too distant future. The carrier has configured the 787 with 22 Business Class and 232 Economy seats and has a firm order for 30 of the type.