Wizz Air Agrees New Deal with Liverpool and Doncaster Sheffield Airports
Wizz Air, the largest low-cost, low-fare airline in Central and Eastern Europe has signed a five-year agreement with Liverpool John Lennon Airport and Robin Hood Airport Doncaster Sheffield, both part of Peel Airports, which will see the continuation of Wizz Air's established route networks from both airports for the next five years.
Speaking exclusively to The HUB ahead of the announcement on December 3, 2012, a Wizz Air executive confirmed the use of cost and time efficient airports is "crucial to the carrier", adding that the management at Liverpool John Lennon and Doncaster Sheffield Airports have provided an efficient service combined with the lowest possible cost base to support its activities in the low-cost airline market. "Wizz Air delivers low fares combined with excellent customer service and we prefer to work with airport partners that work by the same philosophy of low costs and good service," said Daniel de Carvalho, Corporate Communications Manager, Wizz Air.
"We have huge a great level of satisfaction from our partnership with Peel Airports. We have seen a high level of professionalism from the company and a clear view that they understand our business. We want to retain our low-fares and need low fees to be able to achieve this," he added.
The budget carrier currently operates to six Eastern European destinations from Liverpool and Doncaster Sheffield airports, comprising Gdansk, Katowice, Poznan, Warsaw and Wroclaw in Poland and more recently to Vilnius in Lithuania. The carrier commenced operations at Liverpool in December 2004 and at Doncaster Sheffield in September 2006 and since then over 2.5 million passengers have travelled with the carrier.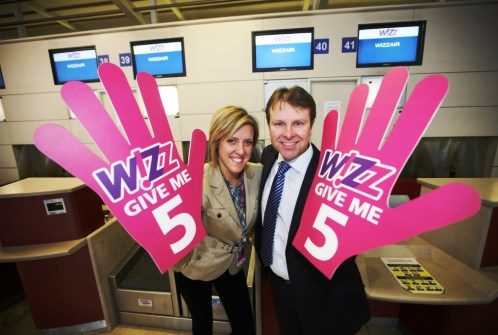 This year Wizz Air accounted for 2.9 per cent of the seat capacity at Liverpool where it was the fourth largest operator behind easyJet, Ryanair and Flybe, and had a 33.2 per cent capacity share at Doncaster Sheffield where it is the second largest carrier after Thomson Airways. Its flights have proved particularly popular with Polish communities across Central and Northern England whilst the success of this year's Euro 2012 football championships co-hosted by Poland is expected to see the numbers of visitors from the UK to Poland increase.
"We have worked closely with Wizz Air since they launched services in the UK market and have been delighted with their performance at both Liverpool and Doncaster Sheffield since our partnership began. In recent months we've worked hard with the airline to understand how best to realise their ambitions for the North of England market," said Chris Harcombe, Aviation Development Manager, Peel Airports.
Speaking to The HUB, Matthew Thomas, Commercial Director, Peel Airports, highlighted the importance of working closely with airline partners. "Our business model is focused on providing our airline partners with industry leading levels of operational efficiency, the lowest possible cost base and excellent customer service, whilst giving access to some of the UK's most densely populated areas outside of London," he said.
"Wizz Air is a partner that has a similar view on the aviation world, where efficiency and service delivery are the key factors. The framework we have agreed with the carrier is recognition of the strength of that proposition and further reinforces the continued partnership between Wizz Air, Liverpool John Lennon Airport and Robin Hood Airport Doncaster Sheffield," he added.
This news comes just a week after Wizz Air celebrated their 50 millionth passengers since beginning operations in 2004, firmly establishing them as one of Europe's leading low fares operators. "Our partnership with Doncaster Sheffield Airport and Liverpool has stimulated low fare air traffic in the regions and we are now set to carry 2 million more passengers between the North of England and six exciting Central and Eastern European cities over the next years," added Daniel de Carvalho.
The details of the revised business partnership have not been revealed, although Matthew Thomas highlighted that it is "a profitable arrangement" for Peel Airports and its parent the Vantage Airport Group. "We know we have the lowest cost base in the UK and offer some of the best deals in the UK market, but these need to be remain profitable otherwise we would never get approval for them.
Matthew Thomas added that the framework does have "the ability for growth in the future," but initially just covers the continuation of Wizz Air's existing network of routes. With fleet growth from 39 to 50 aircraft at Wizz Air up until the end of 2014 there is "a real chance" additional capacity will be brought to these two markets, which share "huge potential", according to Daniel de Carvalho.