Gold and riches brought Europeans to what is now Cartagena and that legacy still plays a central part in its economy and tourism, Routes Americas delegates learnt on a tour of the city today (February 10, 2013).
First stop was the La Candelaria Convent built by the Augustine order in the 17thcentury atop La Popa hill, which was the worth the steep drive for the amazing views of Cartagena's Old Town and port.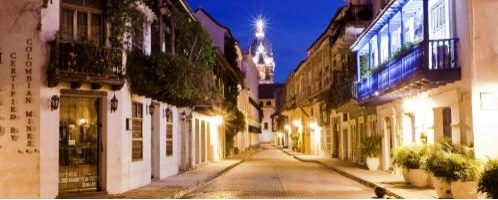 The formidable Castillo de San Felipe de Barajas was an impressive reminder of Cartagena's past importance to its old colonial power Spain. Built using a mixture of coral, limestone and bricks brought over in galleons in the 17th and 18th centuries, the fortress dominates its surroundings and was designed to prevent pirates from attacking the town.
This impressed several delegates who included representatives from Stansted, Philadelphia, Chicago Rockford and Detroit Metro – Willow Run airports. Joe Cambron, Director of Air Service Development for Detroit Metro – Willow Run, said despite researching the history of Cartagena he learned something new about the fortress during the tour: "I didn't realise the fort was built with its guns pointing towards the land where the pirates were coming from rather than the sea," he said.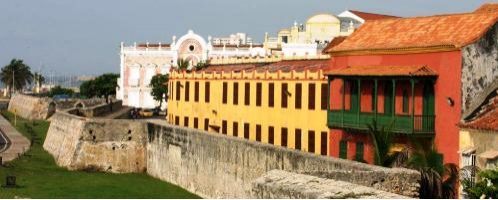 After a quick tour of the fort's many tunnels, the group continued on towards the walled Old Town, on the way the guide told delegates that whereas a few decades ago property prices in the historic district were low, with the recovery in Colombia's economy and rising tourism has led to these sky rocketing to some $5,0000 per metre.
The Old Town affords a chance to see some of Cartagena's exquisite architecture, using a mixture of bold colours combined with white pillars among its colonial and Republican buildings give the town its romantic reputation.
When the Spanish arrived in the area of what is now Cartagena, a key motivation was the pursuit of gold, they may not have known at that point that Colombia is also home to some of the world's finest emerald reserves, but soon these were being mined and exported around the world. This still happens today and the delegates had a chance to find out how emeralds are mined and refined in a tour of the Caribe factory.
A good sign that Cartagena's tourism market must be growing is the number of new hotels going up on the Boccagrande strip, half of the hotels here are less than five years old, our tour guide instructs us. With its tourism market growing, and a mixture of history, exotic cuisine and friendly faces, a key feature of Colombian life our guide tells us, there seems to be plenty of reasons to visit this fascinating town.