Q) What have been the most exciting recent developments at Southwest?
A) "Two growth stories stand out for me: AirTran's international footprint is more than 30% larger since the closing of the acquisition in May 2011. And our work is well under way to develop an international terminal at Houston Hobby in 2015. Each of these developments inform continued international expansion for us once all service is transitioned to Southwest. We've also increased our network access to slot-restricted airports. We have added new service to Ronald Reagan Washington National (DCA) and La Guardia (LGA) from many of our key network cities, including Austin Bergstrom (AUS), Nashville International (BNA), Denver (DEN), Houston (HOU) and Lambert–St Louis (STL)."
Q) You are making a significant investment at Houston Hobby Airport – what is your strategy for the airport?
A) "Hobby is a long-term success story for Southwest Airlines. We've continued to invest domestically there with new routes to Boston, Ronald Reagan Washington National and LaGuardia. Geographically and demographically it is the perfect place for an international gateway to Mexico and Latin America."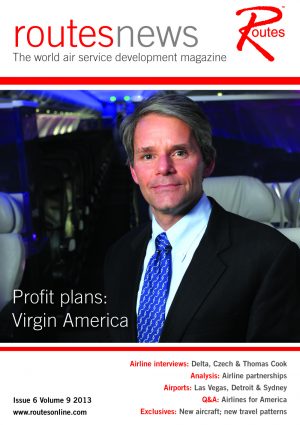 Q) Baltimore has been tipped as a future airport for international expansion for Southwest – can you tell us more?
A) "I can't say too much other than we've been pleased with the results of our current international service in Baltimore, and see opportunities for future expansion. Baltimore/Washington International Thurgood Marshall Airport (BWI) is a convenient gateway for much of the Baltimore/Washington area, as well as the large population north of the airfield between Philadelphia and Baltimore."
Q) How important is Las Vegas to Southwest?
A) "It is clearly one of our key cities, evidenced by only Midway (MDW) having more daily departures in our network. It is also one of the airports where we have invested in scheduling a significant number of our new 737-800s. The icing on the cake is the terrific partnership we enjoy with the airport and the Las Vegas Convention and Visitors Authority."
Q) Has the competitive landscape eased somewhat in the US?
A) "This is a classic yes and no dynamic. Competition is alive and well, but it is more rational than in the past. Many challenges in the past decade were related to bankruptcy and higher, more volatile fuel prices. Some of those factors have become a constant and this has led to more pragmatic and fiscally responsible approaches to competition."
Q) How did you first get into aviation?
A) "I took a job at People Express Airlines in September 1983 when I was still in college, and got hooked."
Q) Why do you enjoy working in route development?
A) "I think it is the strategy and completion element that is unique to network planning. There are so many factors that go into a successful service launch, or a corrective action plan. For planners, there is no greater joy than identifying a route opportunity, and seeing it come to successful fruition."
Q) What was your experience of transitioning from AirTran to Southwest?
A) "The Southwest Family made it easy on me. The Culture here is legendary, and believe me, it is real and at the core of our success. I was warmly accepted here from day one, and I guess I'm doing a good job since my responsibility has increased twice since I joined the company!"
Q) Who do you most admire in the aviation business?
"I've been fortunate to work with so many industry leaders during my 30-year career. If I had to pick one, it would be Bob Fornaro, former CEO and president of AirTran Airways, with whom I've had the pleasure of working for 20 of the last 24 years at three major airlines (Northwest Airlines, US Airways and AirTran). Bob is always a tremendous source of business and airline industry knowledge. He taught me many things – how to not always consider just the obvious, and how to approach challenges from multiple perspectives."
This article was reproduced and edited from an original story that appeared on our sister publication Routes News. The latest bumper World Routes edition of the official air service development magazine is available in your delegate bags or can be read online by clicking here.