World Routes is currently celebrating its first ever visit to the USA this year and will make a second appearance in Chicago in September 2014. Now, it has been revealed that Routes Americas will also make its debut in the US in early 2015 with the Colorado state capital Denver hosting the eighth edition of the forum, completing a hat-trick of Routes events in the USA over three consecutive years.
"The announcement last month and the selection of Denver to host this prestigious event has been the highlight off our year," Kim Day, manager of aviation, Denver International Airport told The HUB at a special photocall at World Routes to celebrate the hosting partnership. "By hosting Routes Americas in 2015 we will be able to showcase all that Denver and Colorado have to offer as airlines look to expand their networks."
The event will take place in February 2015 and alongside being hosted by Denver International Airport, it will be supported by Visit Denver, with the city and county Mayor, Michael B. Hancock, fully backing the event. "We are extremely excited to host Routes Americas in 2015 and provide a 'Mile High' welcome to airlines and airports from across North and South America," he said at the official announcement of the hosting agreement in late September. "Expanding our global connectivity through Denver International Airport is a critical component of our ongoing international outreach efforts."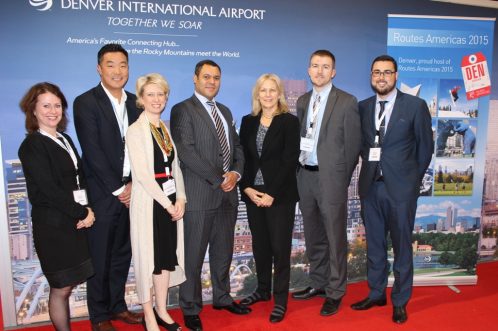 In 2012 Denver International Airport served over 53 million passengers and ranked as the 5th busiest airport in North America and the 13th-busiest airport in the world. 16 passenger airlines provide nearly 1,600 daily flights to more than 180 worldwide destinations non-stop from the facility which is a hub for United Airlines, Southwest Airlines and Frontier Airlines. In addition, it is served by six foreign carriers: Aeromexico, Air Canada, British Airways, Icelandair, Lufthansa and Volaris. In terms of domestic US destinations served, Denver's robust network ranks second only to Atlanta (ATL): passengers today can reach more than 160 US destinations in 45 states non-stop.
Denver International Airport will celebrate its 20th anniversary on February 28, 2015 and, in addition, the first major expansion to Denver International since 1995 is currently underway and will be completed in the first half of 2015. The South Terminal Redevelopment Program (STRP) will include the development of a new hotel and conference centre, public transit centre and public plaza for community programming and events that connects the development to the existing Jeppesen Terminal.
Denver has an iconic skyline located against the stunning backdrop of the Rocky Mountains and the city is located just 340 miles from the exact centre of the continental United States – closer to the centre of the nation than any of city of its size. Coupled with an impressive air service, Denver also has a very strong public ground transportation system that connects the metropolitan area's three million residents.
Routes Americas attracts air service development professionals from North America, Central America, Latin America and the Caribbean and is the only airline/airport networking event that recognises the vital interdependence of these markets and their air links.
Routes Americas will make its US debut in 2015 when it is hosted by Denver International Airport.