Where Does the Airbus A380 Fly? - January 2014 Network Update
Although the Airbus A380 has now been in passenger service for more than six years there remains a lot of interest in the Super Jumbo and new routes are being added to the type's network. Every month The HUB will provide an update on the current Airbus A380 flight schedule and the routes the aircraft is being deployed upon. This list for January 2014 was compiled on December 31, 2013 and changes to planned routes are likely. In the table below we also feature the Airbus A380 network size of each operator and the top destinations served by the aircraft. Our latest analysis shoes that Airbus A380 air capacity will rise 4.9 per cent in January 2014 versus December 2013.
The data is all supplied by OAG Aviation using its OAG Schedules Analyser tool.
---
Air France (AF)
Paris (CDG) – Abidjan (ABJ)
Paris (CDG) – Johannesburg (JNB)
Paris (CDG) – Los Angeles (LAX)
Paris (CDG) – New York (JFK)
Paris (CDG) – Shanghai (PVG)
Paris (CDG) – Tokyo (NRT)
Paris (CDG) – Washington (IAD)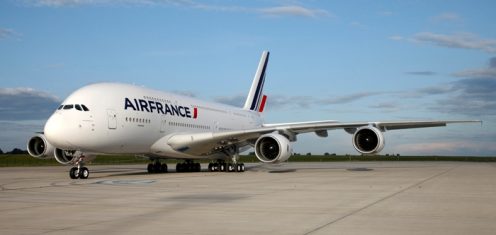 ---
British Airways (BA)
London (LHR) – Hong Kong (HKG)
London (LHR) – Johannesburg (JNB)
London (LHR) – Los Angeles (LAX)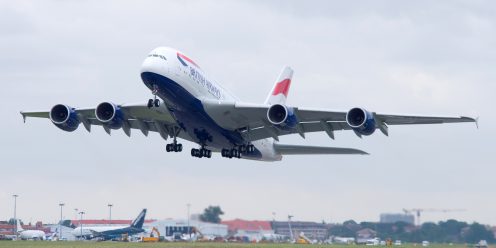 ---
China Southern Airlines (CZ)
Guangzhou (CAN) – Los Angeles (LAX)
Guangzhou (CAN) – Beijing (PEK)
Guangzhou (CAN) – Sydney (SYD)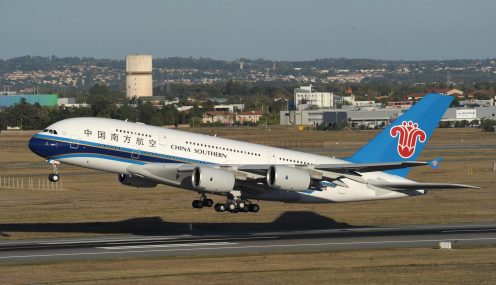 ---
Emirates Airline (EK)
Dubai (DXB) – Amsterdam (AMS)
Dubai (DXB) – Bangkok (BKK)
Dubai (DXB) – Beijing (PEK)
Dubai (DXB) – Brisbane (BNE) – Auckland (AKL)
Dubai (DXB) – Hong Kong (HKG)
Dubai (DXB) – Jeddah (JED)
Dubai (DXB) – Johannesburg (JNB)
Dubai (DXB) – Kuala Lumpur (KUL)
Dubai (DXB) – London (LHR)
Dubai (DXB) – Los Angeles (LAX)
Dubai (DXB) – Manchester (MAN)
Dubai (DXB) – Mauritius (MRU)
Dubai (DXB) – Melbourne (MEL) – Auckland (AKL)
Dubai (DXB) – Moscow (DME)
Dubai (DXB) – Munich (MUC)
Dubai (DXB) – New York (JFK)
Dubai (DXB) – Paris (CDG)
Dubai (DXB) – Rome (FCO)
Dubai (DXB) – Seoul (ICN)
Dubai (DXB) – Shanghai (PVG)
Dubai (DXB) – Singapore (SIN)
Dubai (DXB) – Sydney (SYD) – Auckland (AKL)
Dubai (DXB) – Toronto (YYZ)
Dubai (DXB) – Zurich (ZRH)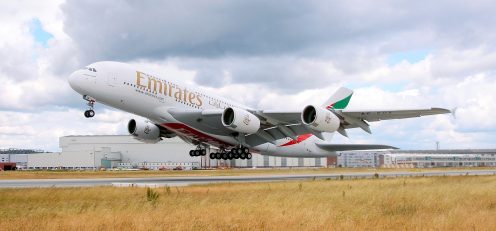 ---
Korean Air (KE)
Seoul (ICN) – Atlanta (ATL)
Seoul (ICN) – Hong Kong (HKG)
Seoul (ICN) – Los Angeles (LAX)
Seoul (ICN) – New York (JFK)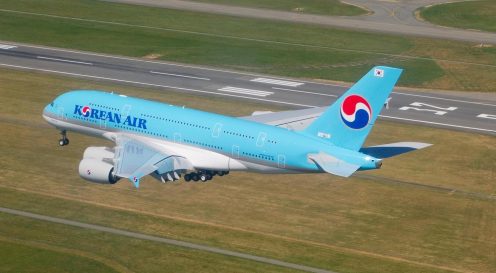 ---
Lufthansa (LH)
Frankfurt (FRA) – Houston (IAH)
Frankfurt (FRA) – Johannesburg (JNB)
Frankfurt (FRA) – Miami (MIA)
Frankfurt (FRA) – Shanghai (PVG)
Frankfurt (FRA) – Singapore (SIN)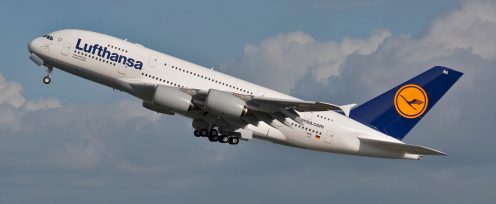 ---
Malaysia Airlines (MH)
Kuala Lumpur (KUL) – Hong Kong (HKG)
Kuala Lumpur (KUL) – London (LHR)
Kuala Lumpur (KUL) – Paris (CDG)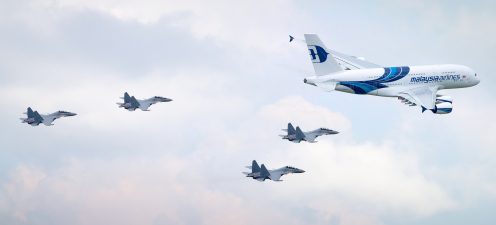 ---
Qantas (QF)
Melbourne (MEL) – Dubai (DXB) – London (LHR)
Melbourne (MEL) – Los Angeles (LAX)
Sydney (SYD) – Dubai (DXB) – London (LHR)
Sydney (SYD) – Hong Kong (HKG)
Sydney (SYD) – Los Angeles (LAX)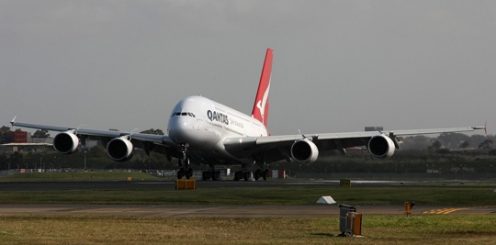 ---
Singapore Airlines (SQ)
Singapore (SIN) – Frankfurt (FRA) – New York (JFK)
Singapore (SIN) – Hong Kong (HKG)
Singapore (SIN) – London (LHR)
Singapore (SIN) – Melbourne (MEL)
Singapore (SIN) – Paris (CDG)
Singapore (SIN) – Shanghai (PVG)
Singapore (SIN) – Sydney (SYD)
Singapore (SIN) – Tokyo (NRT) – Los Angeles (LAX)
Singapore (SIN) – Zurich (ZRH)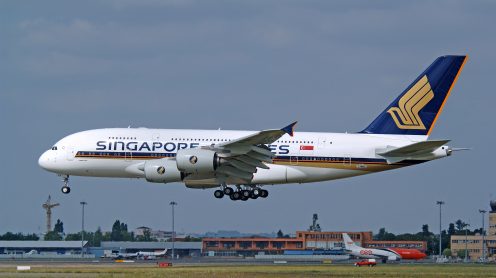 ---
Thai Airways International (TG)
Bangkok (BKK) – Frankfurt (FRA)
Bangkok (BKK) – Hong Kong (HKG)
Bangkok (BKK) – Osaka (KIX)
Bangkok (BKK) – Paris (CDG)
Bangkok (BKK) – Tokyo (NRT)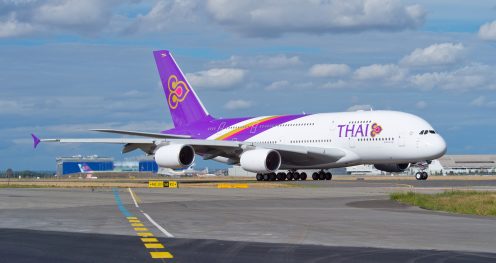 SCHEDULED AIRBUS A380 OPERATIONS BY AIRLINE (January 2014)

Rank

Airline

Available Seats

% Total A380 Capacity

Change vs Last Month

1

Emirates Airline (EK)

1,083,624

41.4 %

1.9 pp

2

Singapore Airlines (SQ)

430,494

16.4 %

(-0.7) pp

3

Qantas (QF)

216,832

8.3 %

0.2 pp

4

Thai Airways International (TG)

194,250

7.4 %

(-0.2) pp

5

Air France (AF)

150,672

5.8 %

(-0.9) pp

6

Lufthansa (LH)

149,910

5.7 %

0.4 pp

7

Malaysia Airlines (MH)

126,480

4.8 %

(-0.3) pp

8

Korean Air (KE)

125,452

4.8 %

(-0.2) pp

9

China Southern (CZ)

90,068

3.4 %

(-0.4)pp

10

British Airways (BA)

51,121

2.0 %

0.1 pp

TOTAL

2,617,993

-

-
TOP 20: SCHEDULED AIRBUS A380 OPERATIONS BY AIRPORT (non-stop departures; January 2014)

Rank (Jan-14)

Change (Dec-13)

Destination

Available Seats

% Total Capacity

Change vs Dec-13

1

-

Dubai (DXB)

541,192

20.7 %

1.0 pp

2

+1

Singapore (SIN)

216,984

8.3 %

(-0.2) pp

3

(-1)

London (LHR)

193,362

7.4 %

(-0.3) pp

4

-

Paris (CDG)

152,340

5.8 %

(-0.6) pp

5

-

Bangkok (BKK)

142,602

5.4 %

(-0.2) pp

6

-

Sydney (SYD)

137,823

5.3 %

0.1 pp

7

+1

Hong Kong (HKG)

132,756

5.1 %

0.4 pp

8

-1

Los Angeles (LAX)

131,343

5.0 %

(-0.1) pp

9

-

Frankfurt (FRA)

120,695

4.6 %

0.1 pp

10

-

Tokyo (NRT)

91,833

3.5 %

(-0.1) pp

11

+1

Seoul (ICN)

77,430

3.0 %

(-0.1) pp

12

+1

Melbourne (MEL)

74,927

2.9 %

(-0.1) pp

13

+1

New York (JFK)

73,532

2.8 %

(-0.1) pp

14

(-3)

Kuala Lumpur (KUL)

68,130

2.6 %

(-0.5) pp

15

+1

Auckland (AKL)

45,477

1.7 %

(-0.1) pp

16

(-1)

Guangzhou (CAN)

45,034

1.7 %

(-0.2) pp

17

+1

Johannesburg (JNB)

42,490

1.6 %

0.2 pp

18

(-1)

Shanghai (PVG)

39,834

1.5 %

(-0.1) pp

19

+2

Jeddah (JED)

32,763

1.3 %

0.4 pp

20

(-1)

Brisbane (BNE)

30,318

1.2 %

(-0.1) pp

TOTAL

2,617,993

-

-