ROUTES ASIA STRATEGY SUMMIT: Turboprop Sales Success Down to Basic Physics
There has been a recent renaissance in demand for turboprop airliners after its market was virtually written-off following the regional jet revolution of the 2000s. The commercial turboprop airliner market has seen significant fluctuations over the past three decades. Initially there was great interest as regional airlines started to grow and feed larger network carrier hubs in major markets across the world. What was initially a 19-seat market quickly grew to 30-seats, then 50-seats and now 70- to 90-seats.
Many predicted the demise of turboprops but environmental concerns coupled with raising fuel costs and outstanding performance across short sector city pairs has meant a renaissance and even talk of new 90-seater variants under production. "It's not down to marketing but simple physics," explained Mario Formica, vice president sales studies and marketing, ATR, during a sponsor's presentation at this year's Routes Asia Strategy Summit in Kuching, Sarawak, Malaysia.
The key advantage of turboprops when compared with regional jets is the low operating and maintenance costs. They can fly nearly as fast as jets while burning two-thirds as much fuel and cost much less to buy and maintain than regional jet equivalents. This has meant from just over 20 new turboprop delivers in 2003, the market has grown to over 100 aircraft a year since the late 2000s.
For small markets the benefits of turboprops are significant, noted Formica during his session. Propeller engines have a lower cruising altitude bringing significant performance efficiencies but are limited by speed so they perform best on routes of up to 500 nautical miles where flight time lost by their slower flight speed is no relevance when compared with the big fuel savings.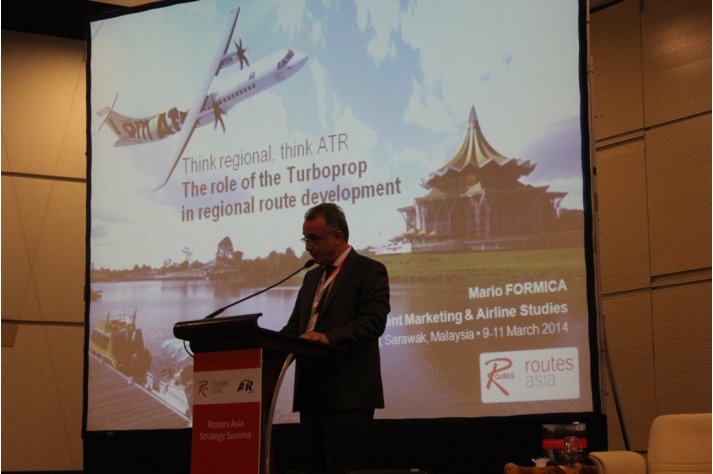 "Turboprops are the sustainable regional solution," said Formica. "They burn around 40 per cent less fuel and cost around a third less to operate on short distances. Even new generation 90-seat regional jets cannot compete effectively with the turboprops even with their 15 per cent fuel burn improvement across short distance sectors."
According to global data the potential for turboprops is huge and note a niche market like many perceive. Formica noted that around 50 per cent of passengers worldwide fly over distances of less than 500 nautical miles, while around 30 per cent fly much shorter sectors below 300 nautical miles, a market of around 900 million passengers a year. There value is particularly clear across Asia where about 35 per cent of Asian destinations are within the 300 nautical mile dynamic, rising to 51 per cent in South East Asia.
This information helps explain why ATR has had a lot of success in the market, with approximately 50 per cent of domestic short-haul traffic in the forum's home market, Malaysia, being flown with ATRs. Interestingly, in some markets the figure is considerably higher, for example in Myanmar 80 per cent of domestic traffic being flown on ATR equipment, including its new ATR 72-600 variant.
According to Formica the ATR 72-600 offers an unparalled short-filed performance versus regional jets and even its direct turboprop competitor, the Bombardier Dash 8-Q400, making it ideal for regional markets where infrastructure is limited. "Through an adapted aircraft choice, airlines and airports can start operations with limited investment. Traffic growth then enables infrastructure development to up-gauge capacity within same aircraft family," he explained.
ATR aircraft are now flying with 190 operators in 90+ countries serving both full service carriers and low-cost airlines both in mature and fast developing markets. In the Asia Pacific region over 270 aircraft are flying with 50 operators across 24 countries with 105 more due to enter service in the coming years. "ATRs have certainly become the preferred regional aircraft for stimulating traffic of new regional networks in fast developing markets," concluded Formica.
We spoke to Mario Formica, vice president sales studies and marketing, ATR following his sponsor's address at this year's Routes Asia Strategy Summit to learn more about the turboprop manufacturer's plans across the Asia Pacific market. You can watch our interview, below: