ROUTES SILK ROAD: Strategy Summit Review - Day One
Sponsored by the National Competitiveness Foundation of Armenia, the Routes Silk Road Strategy Summit brings together leading industry experts to debate air service and route development issues affecting commercial aviation across Silk Road area in a series of addresses, presentations and moderator led panel discussions.
The official business programme at this year's inaugural Routes Silk Road was launched with yesterday's afternoon session of the forum's Strategy Summit and it became clear from the engaging three and a half hours of addresses, presentations and discussion sessions that this part of the world certainly has ambitions to grow its share of international air services. And our host, Georgia, is at the forefront of developments as it seeks to maximise its geographical position and historic significance to develop a new Silk Road of air services between Europe in the west to Asia in the east.
"Although the Silk Road has been serving us for centuries there is still much to be discovered and developed in the modern era," explained former banker Giorgi Kvirikashvili, minister of economy and sustainable development of Georgia and the country's vice prime minister. A big step in the country's development has been the signing in the past week with Moldova and Ukraine of a partnrship agreement with the European Union (EU), which would bind the three countries more closely to the West both economically and politically.
Georgia and the EU have maintained relations since 1996 and although it does not have any official status as a candidate for future enlargement of the EU, in 2011 former Georgian president Mikheil Saakashvili did express a desire for his country to become a member state of the EU. This latest agreement, signed on June 27, 2014, could mark the next stop in Georgia's entry to the EU over the next five to ten years.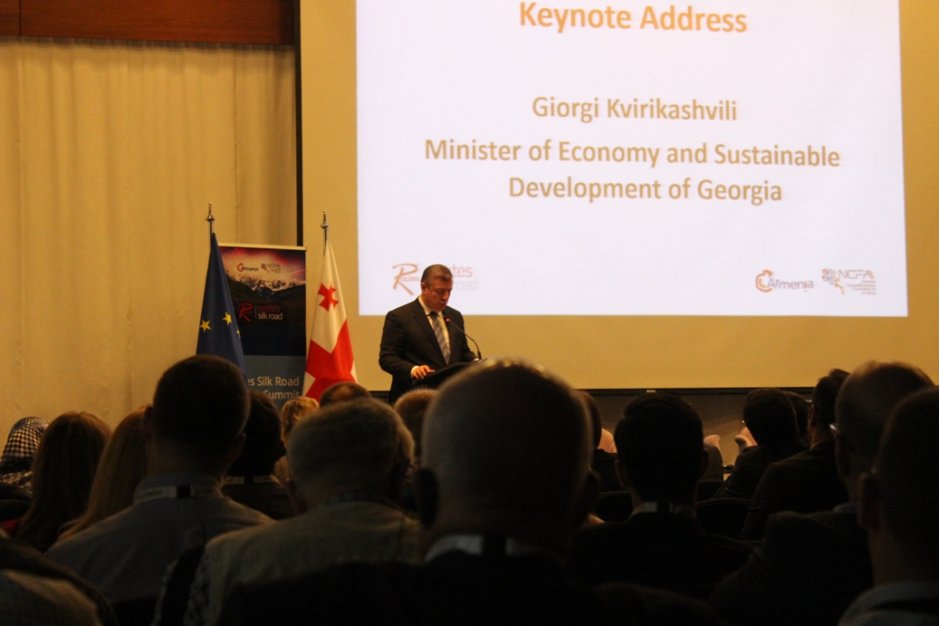 "Governments have strong supportive roles to play in facilitating accessibility and trade," Kvirikashvili explained and ongoing discussions with the EU could open the door for more Georgians to travel into Europe. In June 2012, the EU and Georgia began a visa liberalisation dialogue to allow for visa free travel of Georgian citizens to the European Union. Although EU citizens can get visa free access into Georgia, locals still require a visa to access the Schengen free market. "Visa free travel to Europe for Georgian citizens is one of the key topics on the agenda with the EU," he added.
As the global economy continues to develop there has been much talk of the global axis of trade shifting further to the south and east. The Gulf carriers have enjoyed being the centrepoint for accessibility between Europe and Asia over the past couple of decades, but many analysts believe in time the ideal global hub location will shift further towards India, and Georgia believes it is well positioned to take advantage in today's climate.
"We feel Georgia will become more important player in global aviation as the axis changes and just like the historic Silk Road we can become a modern crossroad between Europe and Asia," outlined Kate Aleksidze, chief executive officer, United Airports of Georgia in her welcome address, highlighting how the country's three international airports have developed different propositions to support demand. According to Aleksidze, Tbilisi support business and tourist demand into the capital, Batumi acts as a gateway to the west of the country and its popular leisure markets and the newly developed David the Builder Airport in Kutaisi has become a low-cost entry to attract cost-conscious visitors.
In fact the range of offerings and potential for leisure was highlighted in the premiers at Routes Silk Road of a brand new 'This is Life' international marketing video from the Georgian National Tourism Agency which was played during the Strategy Summit by director, Giorgi Sigua.
Georgia has elevated its position onto the aviation global map thanks to the aviation reforms it has made over recent years. Guram Jalaghonia, chief executive officer, Georgian Civil Aviation Authority described David the Builder Airport at Kutaisi as the "frontrunner" of development in the country and suggested its investment there could be replicated at other airports in the country, revealing plans to bring two additional facilities up to full international scheduled air service standards in the future.
These presentations provided an enlightening introduction to the local aviation market and the first panel session on Finding the right balance – How will different airline operating models bring success to the region? brought the views of some of the regions prominent airlines and airport operators together for a discussion moderated by Yuliya Crane, senior consultant for ASM, the world route development consultants, who highlighted Georgia as "a proactive and progressive aviation authority".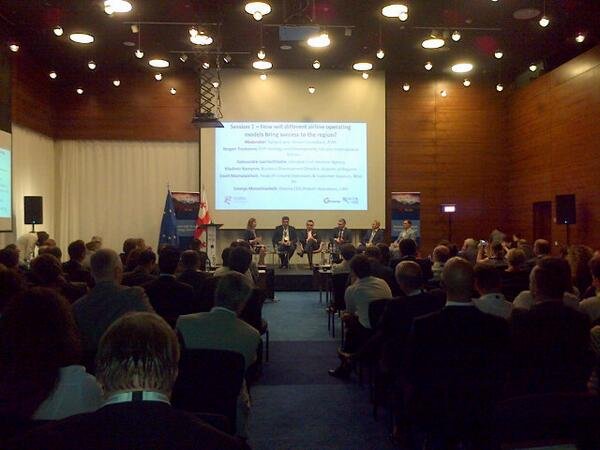 Aleksandre Gachechiladze, head of the air transport department of the Civil Aviation Agency of Georgia said he believed the country had secured a good balance of legacy and low-cost operators into the country which had enhanced competitiveness. He noted Wizz Air's arrival in the country and expanding operation at Kutaisi as a major endorsement of the potential for growth in Georgia.
In fact Routes can actually take some credit for the arrival of the budget airline in Georgia as Gachechiladze revealed that the agreement with the Central and Eastern European specialist was reached following "very fruitful discussions" at Routes Europe in Tallinn in May 2012.
Although Gachechiladze noted it is important to bring more airlines, new routes and growth in frequencies of scheduled services to the country, he also noted the potential for charter growth. "We are working to provide regulatory clearance within one hour for charter flight requests into Georgia," he said.
Davit Mamulaishvili, head of ground operations and customer service at Wizz Air believed Georgia has a solid platform to develop and could easily mirror the growth of aviation witnessed in Eastern Europe over the past decade. "We have faced challenges as we have developed our network further east," he explained. "Distribution has been one issue while we have come to airports that are not familiar with the 25 minutes turnarounds required for our low-cost model to enhance utilisation and ensure maximum rotations per day."
Wizz Air has achieved this at Kutaisi with the airport being developed with a low-cost model in mind, and Mamulaishvili highlights the way Georgian authorities have embraced the dynamics of the industry and importance of a joined-up business approach as a case study for the low-cost carrier. "The way Georgia has gone out and promoted the country in Poland is a great example of how to market air links, he said.
Yevgen Treskunov, executive vice president strategy and development, Ukraine International Airlines echoed the distribution and turnaround issues faced by Wizz Air but rather than hit out at the arrival of a competitor onto some of its routes, it has actually seen the budget carrier help it make long-required changes to the industry in the region and shake up regulatory authorities to potential of aviation development.
"Distribution has always been an issue as many people in this region simply don't want to use credit cards for fear of fraud, but the arrival of carriers such as Wizz Air has helped established operators like ourselves to grow and overcome legacy issues in the region's aviation business," he said.
Ukraine International Airlines has taken on a much more prominent role in Ukraine's aviation business over the past 18 months following the collapse of some of the country's other operators, most notably Aerosvit Airlines at the beginning of last year. According to Treskunov, that airline failed due to a lack of private-public partnership," but he feels his own airline has "the right balance" to develop. He said that for each one million passengers it flies in and out of Ukraine, support 1,000 direct and associated jobs across the country.
It is clear that the region will require a mix of carriers and operating models to improve connectivity within and outside the area. For airports this will mean developing the right strategy to attract the right airline. According to Vladimir Kamynin, aviation business development director for Russia's Airports of Regions, it is essential airports tailor their offering to demand. "You need to look at the airlines you want to serve and develop right strategy," he said, highlighting that the company has a different approach for each of the airports it controls.
One of these facilities is Nizhny Novgorod and Airports of the Regions continues to look at developing it as a low-cost alternative gateway into Moscow, where air capacity is currently squeezed into the three major airports of Domodedovo, Sheremetyevo and Vnukovo.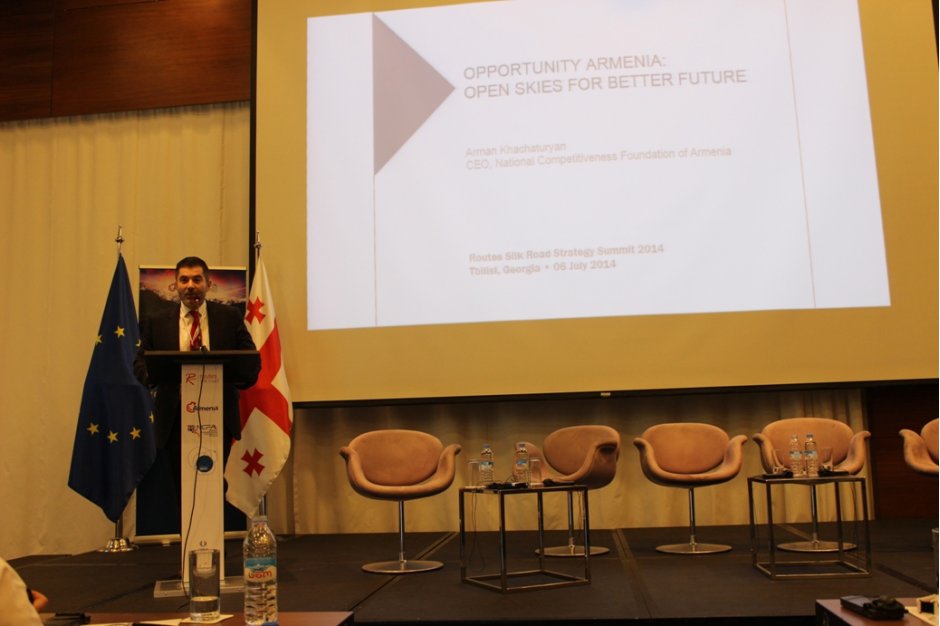 Ahead of the second Strategy Summit session, sponsor, National Competitiveness Foundation of Armenia, provided an enlightening presentation highlighting how the country has developed an open skies strategy to rebuild its air connectivity since the collapse of its former national carrier Armavia. We will have a standalone article on this topic in the final The HUB Daily e-newsletter on Tuesday morning following an exclusive interview with National Competitiveness Foundation of Armenia's chief executive officer, Arman Khachaturyan.
The second session of the Routes Silk Road Strategy Summit, Infrastructure- What will drive growth and expansion? provided the airports with a louder voice and looked if new airports are needed in the region for large scale route development, or if new routes were the only way to justify large expenditure.
According to Mete Erkal, general manager Georgia for TAV Airports, investment in infrastructure at Tbilisi International Airport, the group's initial foreign operation, has certainly helped grow passenger numbers. "If there is demand airlines will want to fly to a destination but if there is also capacity they are more inclined to make the decision," he said.
The arrival of low-cost carriers has certainly helped airports in Georgia grow, but is not necessarily the same elsewhere. Vasili Kornev , deputy managing director operations, Minsk National Airport said operations at the main gateway to Belarus are dominated by full service carriers, especially national airline Belavia, while Daria Street , head of aviation marketing department, Sheremetyevo International Airport, said it was the same at the Moscow airport where Aeroflot dominates and low-cost demand is in its infancy following the recent launch of Dobrolet.
According to Street, although Sheremetyevo Airport will facilitate the needs of its major based carrier, it has its own growth ambitions to expand traffic and bring new air services to one of the three major air gateways to the Russian capital. Despite being home to Aeroflot's hub, she said only around 25-to-28 per cent of traffic at the airport is transfer passengers and this is dominated by domestic to international connections and vice versa.
Mete Erkal also noted another key advantage for airports having a strong based carrier. "They have the advantage of balancing out seasonal demand," he said. "You also grow much faster with a based carrier," acknowledged Leonid Sergeev, chief executive officer, Basel Aero, a joint venture between Basic Element, Sberbank of Russia and Changi Airports International, a wholly-owned subsidiary of Changi Airport Group. However, he warned such carriers require "better deals" so it "costs more for an airport to support them".
Basel Aero manages airports in Krasnodar, Sochi, Gelendzhik, and Anapa and has seen passenger numbers during the first quarter of this year jump 45 per cent from 965,019 to 1,043,942. "This increase in passenger traffic in the first quarter was caused mainly by increased demand at Sochi International Airport during the Olympics. The main gateway to the Games successfully coped with the increased traffic in all aspects of the airport's operations: baggage handling, passenger services, security issues," said Sergeev.
"We've got new challenges ahead of us: Formula 1 Grand Prix race, International Investment Forum, World Robot Olympiad and other events in Sochi, but I believe the airport will successfully handle them," he added.
For Sergeev it is essential that airport operators work closely with local governments to ensure they are working with the same end goal. However, he warned that as airport investment programmes can last over a longer term than most political terms, it can be frustrating as politicians and their viewpoints change over time.
The formal programme for the day was completed with a presentation from Alla Peressolova, Programme Manager, UNWTO Silk Road, which is holding its 4th UNWTO Silk Road Task Force Meeting in collaboration with Routes Silk Road.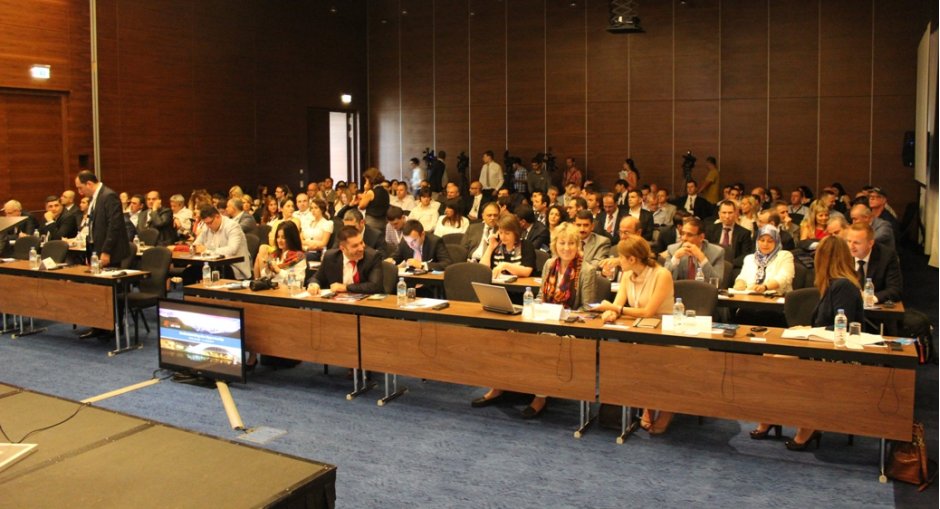 The UNWTO Silk Road Programme is a collaborative initiative designed to enhance sustainable tourism development along the historic Silk Road route. According to Peressolova, it aims to maximise the benefits of tourism development for local Silk Road communities, while stimulating investment and promoting the conservation of the route's natural and cultural heritage. Additionally, it is working to foster greater co- operation between Silk Road countries and regions, with the established aim of creating a seamless and memorable Silk Road travel experience, she said.
Last month it was successful in getting the World Heritage Committee to inscribe a section of the Silk Road network submitted by Kyrgyzstan, China and Kazakhstan on the World Heritage List. The Chang'an - Tianshan Corridor stretches 5,000 kilometres from Chang'an/Luoyang, the central capital of China in the Han and Tang Dynasties, to the Zhetysu Region of Central Asia.
"It took shape between the 2nd century BC and 1st century AD and remained in use until the 16th century, linking multiple civilisations, and facilitating far-reaching exchanges of activities in trade, religious beliefs, scientific knowledge, technological innovation, cultural practices and the arts," said Peressolova.
The UNWTO Silk Road Programme has just recently published its second Action Plan, launched to coincide with the 20th Anniversary of the Samarkand Declaration on Silk Road Tourism. This latest edition looks at the global trends that will impact Silk Road tourism over the coming years and outlines the priority actions for 2014/2015 based on the existing three key areas of work: marketing and promotion, destination management and capacity building and travel facilitation (you can download the Action Plan here).
The second day of the Strategy Summit will open at 09:35am on Monday morning with a keynote address from Davit Mamulaishvili, Head of Ground Operations & Customer Services, Wizz Air, a presentation from Mike St-Laurent , Senior Consultant, ASM and sessions on 'Visas - How do Governments influence Tourism' and 'How do destinations work with stakeholders to increase air services?'. Look out for the forthcoming review of day two!