Where Does the CRJ1000 Fly? August 2014 Network Update
Every month The HUB provides an update on the current schedules of four latest aircraft programmes, highlighting the routes the types are being deployed upon. We regularly look at the operations of the Airbus A380, Boeing 787 Dreamliner, Sukhoi SSJ100 Superjet and more recently the Boeing 747-8I. We also feature one guest type each month - last month this was the Airbus A340-300 and this month looks at the regional market with the Bombardier CRJ1000. We also reveal the network size of each operator and the top destinations served by the aircraft type. This list for August 2014 was compiled on July 31, 2014 and changes to planned routes are likely.
The data is all supplied by OAG Aviation using its OAG Schedules Analyser tool.
Data provided by

---
Britair (DB) for Air France (AF)
Paris (ORY) – Brest (BES)
Paris (ORY) – Biarritz (BIQ)
Paris (ORY) – Clermont-Ferrand (CFE)
Paris (ORY) – Lyon (LYS)
Paris (ORY) – Montpellier (MPL)
Paris (ORY) – Pau (PUF)
Paris (ORY) – Strasbourg (SXB)
Paris (ORY) – Toulon/Hyeres (TLN)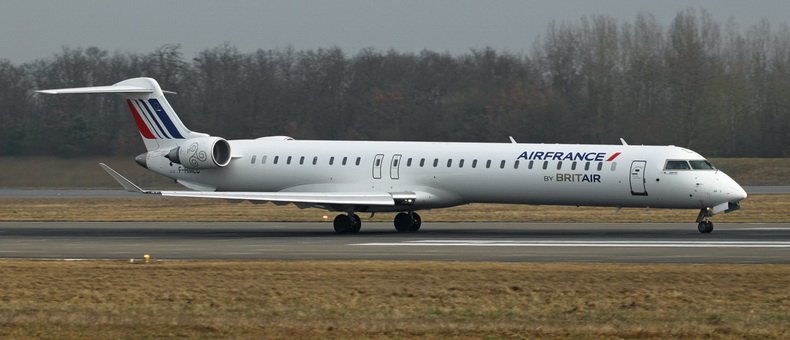 ---
Britair (DB) for Hop! (A5)
Brest (BES) – Nice (NCE) – Rennes (RNS)
Figari (FSC) – Lille (LIL)
Figari (FSC) – Nantes (NTE)
Lyon (LYS) – Bastia (BIA)
Lyon (LYS) – Biarritz (BIQ)
Lyon (LYS) – Brest (BES)
Lyon (LYS) – Lille (LIL)
Lyon (LYS) – Nantes (NTE)
Lyon (LYS) – Rennes (RNS)
Lyon (LYS) – Rome (FCO)
Lyon (LYS) – Strasbourg (SXB)
Lyon (LYS) – Venice (VCE)
Paris (ORY) – Lorient (LRT)
Paris (ORY) – Perpignan (PGF)
Strasbourg (SXB) – Ajaccio (AJA)
Strasbourg (SXB) – Figari (FSC)
Strasbourg (SXB) – Marseille (MRS)

---
Garuda Indonesia (GA)
Balikpapan (BPN) – Berau (BEJ)
Balikpapan (BPN) – Tarakan (TRK)
Balikpapan (BPN) – Yogyakarta (JOG)
Denpasar (DPS) – Kupang (KOE)
Denpasar (DPS) – Palembang (PLM)
Denpasar (DPS) – Semarang (SRG)
Denpasar (DPS) – Tambolaka (TMC)
Kupang (KOE) – Praya (LOP)
Kupang (KOE) – Tambolaka (TMC)
Manado (MDC) – Balikpapan (BPN)
Manado (MDC) – Sorong (SOQ)
Manado (MDC) – Ternate (TTE)
Manokwari (MKW) – Jayapura (DJJ)
Medan (KNO) – Banda Aceh (BTJ)
Medan (KNO) – Batam (BTH) – Bandar Lampung (TKG)
Medan (KNO) – Palembang (PLM)
Medan (KNO) – Sibolga (FLZ) – Jakarta (CGK)
Sorong (SOQ) – Jayapura (DJJ)
Sorong (SOQ) – Manokwari (MKW)
Surabaya (SUB) – Ambon (AMQ)
Surabaya (SUB) – Medan (KNO)
Surabaya (SUB) – Praya (LOP)
Surabaya (SUB) – Semarang (SRG)
Ujung Pandang (UPG) – Denpasar (DPS)
Ujung Pandang (UPG) – Kendari (KDI)
Ujung Pandang (UPG) – Manado (MDC)
Ujung Pandang (UPG) – Praya (LOP)
Ujung Pandang (UPG) – Sorong (SOQ)
Ujung Pandang (UPG) – Surabaya (SUB)
Ujung Pandang (UPG) – Ternate (TTE)
Ujung Pandang (UPG) – Yogyakarta (JOG)

---
Air Corsica (XK)
Figari (FSC) – Lyon (LYS)
Figari (FSC) – Marseille (MRS)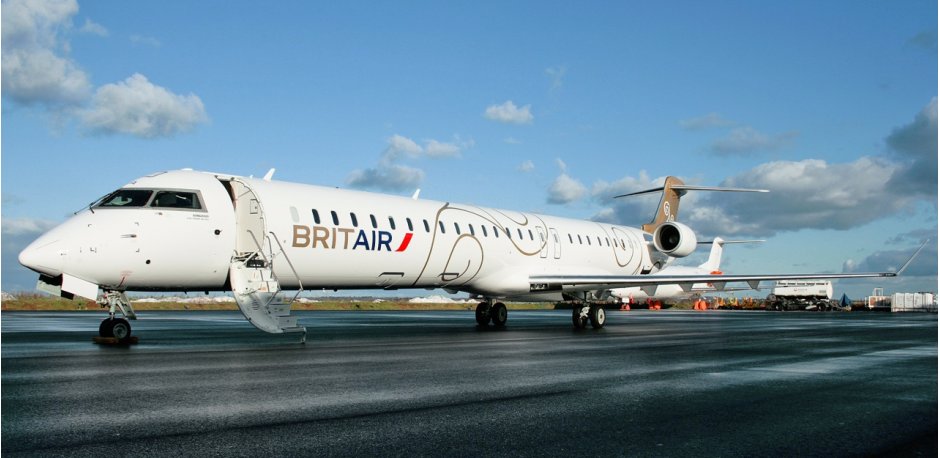 ---
Air Nostrum (YW) for Iberia (IB)
Bilbao (BIO) – Alicante (ALC)
Bilbao (BIO) – Funchal (FNC)
Bilbao (BIO) – Santiago de Compostela (SCQ)
Bilbao (BIO) – Valencia (VLC)
Madrid (MAD) – Alicante (ALC)
Madrid (MAD) – Almeria (LEI)
Madrid (MAD) – Bologna (BLQ)
Madrid (MAD) – Bordeaux (BOD)
Madrid (MAD) – Catania (CTA)
Madrid (MAD) – Funchal (FNC)
Madrid (MAD) – Granada (GRX)
Madrid (MAD) – Jerez (XRY)
Madrid (MAD) – Lyon (LYS)
Madrid (MAD) – Marrakech (RAK)
Madrid (MAD) – Marseille (MRS)
Madrid (MAD) – Menorca (MAH)
Madrid (MAD) – Nantes (NTE)
Madrid (MAD) – Naples (NAP)
Madrid (MAD) – Nice (NCE)
Madrid (MAD) – Olbia (OLB)
Madrid (MAD) – Palermo (PMO)
Madrid (MAD) – Pamplona (PNA) – Tenerife (TFN)
Madrid (MAD) – Porto (OPO)
Madrid (MAD) – Santander (SDR)
Madrid (MAD) – Tangier (TNG)
Madrid (MAD) – Toulouse (TLS)
Madrid (MAD) – Turin (TRN)
Madrid (MAD) – Valencia (VLC)
Menorca (MAH) – Alicante (ALC)
Menorca (MAH) – Bilbao (BIO)
Menorca (MAH) – Ibiza (IBZ)
Menorca (MAH) – Porto (OPO)
Menorca (MAH) – Valencia (VLC)
Valencia (VLC) – Lanzarote (ACE) – Malaga (AGP)
Valencia (VLC) – Las Palmas (LPA)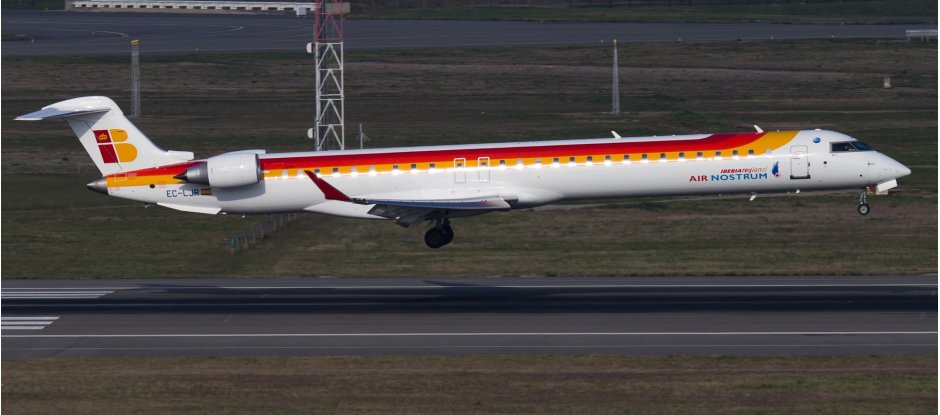 ---
Statistics
SCHEDULED BOMBARDIER CRJ1000 OPERATIONS BY AIRLINE (August 2014)

Rank

Airline

Seat Capacity

% Total Seats

Change vs Last Month

1

Garuda Indonesia (GA)

204,864

35.3 %

3.0 pp

2

Air Nostrum (YW)

195,400

33.7 %

0.7 pp

3

BritAr (DB)

179,600

31.0 %

(-3.7) pp

4

Air Corsica (XK)

400

0.1 %

0.1 pp

TOTAL

580,264

-

TOP 20: SCHEDULED BOMBARDIER CRJ1000 OPERATIONS BY AIRPORT (non-stop departures; August 2014)

Rank (August-14)

Change (July-14)

Destination

Available Seats

% Total Capacity

Change vs July-14

1

-

Madrid (MAD)

89,900

15.5 %

(-0.3) pp

2

-

Paris (ORY)


66,300

11.4 %

(-0.9) pp

3

+1

Ujung Pandang (UPG)

31,488

5.4 %

0.9 pp

4

(-1)

Lyon (LYS)

29,600

5.1 %

(-2.1) pp

5

-
Surabaya (SUB)

17,856

3.1 %

(-0.3) pp

6

-
Balikpapan (BPN)
16,896
2.9 %
(-0.1) pp
7
-
Sorong (SOQ)
15,360
2.6 %
-
8
+1
Manado (MDC)
13,632
2.3 %
-

9

(-1)
Nantes (NTE)
12,600
2.2 %
(-0.2) pp

10

+5
Denpasar (DPS)
11,808
2.0 %
0.4 pp

11

-
Brest (BES)
11,700
2.0 %
0.2 pp

12=

-
Perpignan (PGF)
11,200
1.9 %
0.2 pp

12=

+7
Valencia (VLC)
11,200
1.9 %
0.4 pp

14

+7
Nice (NCE)
10,800
1.9 %
0.5 pp

15

+2
Toulon/Hyeres (TLN)
10,300
1.8 %
0.2 pp

16

(-6)
Pau (PUF)
10,000
1.7 %
(-0.2) pp
17
(-3)
Biarritz (BIQ)
9,500
1.6 %
(-0.1) pp
18
(-5)
Medan (KNO)
9,120
1.6 %
(-0.1) pp
19
(-1)
Manokwari (MKW)
8,928
1.5 %
-

20

+14
Kupang (KOE)
8,832
1.5 %
0.7 pp

TOTAL

580,264

-

-