How Airlines use Social Media
Social media has become a popular choice of communication for airlines and their customers. We have taken a look at the top ten airlines (by frequency) and their use of social media.
A number of airlines have a very small social media presence, although it is clear that a lack of social media has not affected their customer popularity. However, this report investigates what is working well for airlines, and which airlines have strong ties with their social media, and use it effectively to attain customer engagement and satisfaction.
Routesonline studied the top ten airlines and the number of followers/likes they had on three separate social networks (Facebook, Twitter & Google+), to try and indicate their social activity.
As this graph shows, Southwest Airlines had the greatest amount of followers overall, but both American Airlines and Delta Air Lines had a more equal split across the three networks- perhaps suggesting an equal amount of time is spent producing content and updating each network. China Southern Airlines and China Eastern Airlines appeared to have the least social media following, although both have regularly updated websites. US Airways update their Twitter every few days but appeared not to have an official Facebook page. US Airways have however merged with American Airlines, and so are in the process of merging the brand completely under AA, which could explain the lack of Facebook page and investment in social media. Lufthansa and Air Canada both have regularly updated Facebook pages, and despite the smaller following, Ryanair's Twitter is one of the most interactive.
However, the number of followers/likes does not necessarily indicate a strong social media campaign. Routesonline studied each airlines social media presence, and formulated a top 3: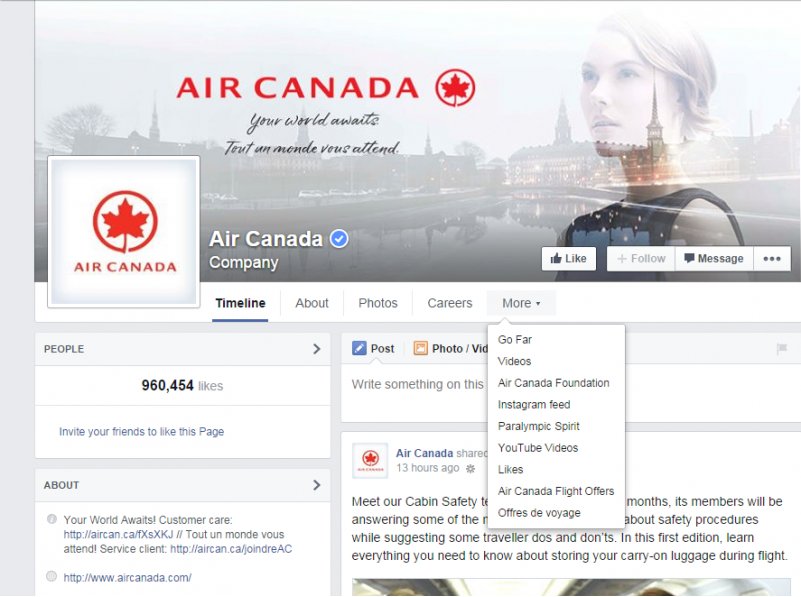 3. Air Canada
With a regularly updated Facebook, Twitter and Google+, it was easy to put Air Canada in the top three on that basis alone.
Their Twitter page is consistently updated in both English and Canadian-French, and there is a significant amount of customer engagement. The Twitter page offers some competitions and customer questions- all of which again improves customer engagement rates.
Their Facebook page is updated daily- again in English and French. However, only the posts in your respective language will be shown- as their Facebook page cleverly targets the language your Facebook is set to. Air Canada are clearly very engaged with their content and social media, as the airline contacted us with a correction required within this article the day after it went live, showing their commitment to their online community. The Facebook page also offers apps and links to useful external pages, such as their careers page, and the Air Canada Foundation page. It also offers direct tabs both their Instagram and YouTube pages, encouraging a widespread audience across all platforms.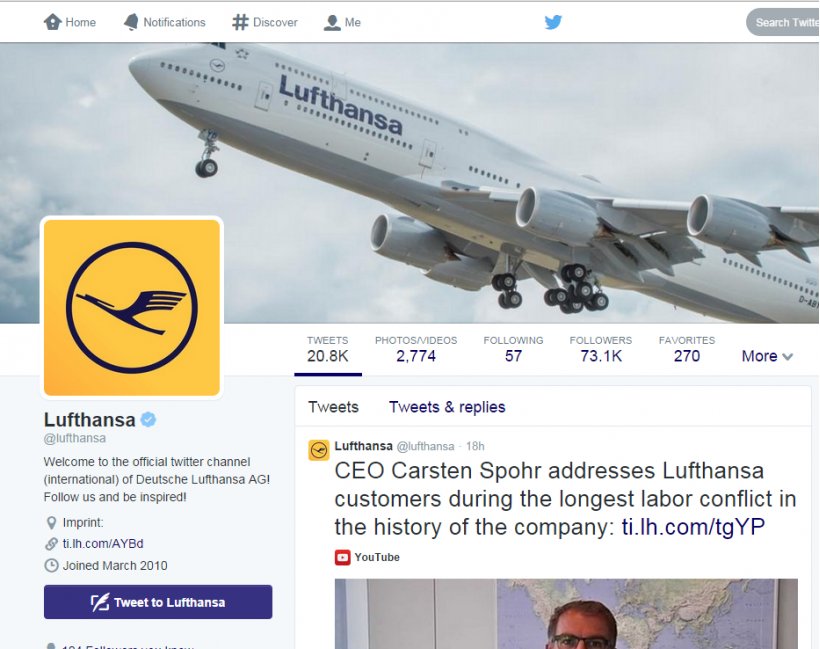 2. Lufthansa
Although the Lufthansa Google+ page isn't updated as regularly as their other pages, there are many reasons as to why their social media campaign is one of the strongest. Their Twitter is regularly updated, and customer engagement is evident. The content is varied, and considers flight change details, travel guides and information, and quirky blog posts, as well as customer travel photos and promotional videos.
The Lufthansa Facebook page is what really makes their campaign stand out. As well as the regular posts and customer engagement, Lufthansa offer a wide variety of independent tabs and apps to aid their customers, and to encourage even more engagement. The app that stands out the most is the Lufthansa 'Scenespotter'. This app allows customers to explore major cities all over the world- showing them places to eat, visit and stay, as well as highlighting locations suitable for the family, and ideal shopping locations.
The 'Blue Legends' App via the Facebook page is a goldmine for customer interactivity. It encourages customers to check-in via FourSquare, and allows them to see which of their Facebook friends fly regularly on their route, as well as offering 'badges'- such as the 'early-bird badge' for check-ins before 6am.
Amongst many other apps, the Lufthansa Facebook page offers and abundance of information and interactivity for their customers.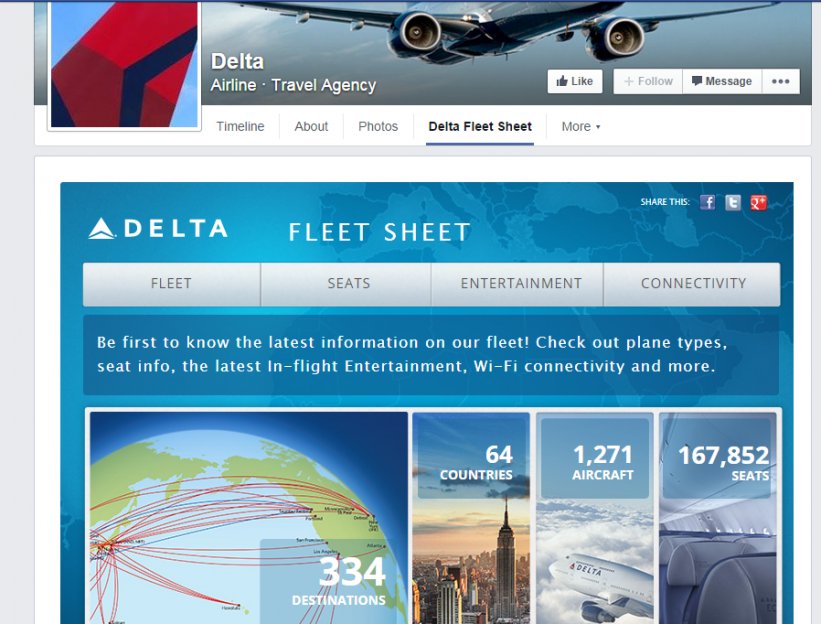 Delta Air Lines clearly have a near-equal following across all social media platforms, and this indicates a consistent social media campaign. Their Twitter, Facebook and Google+ inclusively, all have regular updates on each page and are operated on a daily basis. Their Twitter page is updated regularly with pictures and information, and Delta engage with customers- replying to their tweets and making an active effort to speak to their customers via the social network. This element is important in achieving a solid social media campaign.
Their Facebook page offers elements to it that other airlines don't necessarily have. The page has individual, purpose-built tabs and apps to cater to the airline and customer needs. For example, the Delta Facebook page offers the 'Delta Fleet Sheet'- this allows customers to examine the different features offered in each aircraft in the Delta fleet. It gives information on the seat capacity, model, speed, interior, and entertainment systems, as well as connectivity and power options.
The Facebook page also offers a 'Locations' tab so customers can see Delta's flight destinations, and there's a connection to their Instagram feed.
Not only this, but customer engagement is again clearly evident on Delta's Facebook page- with nearly every customer comment receiving a reply from one of the Delta team.
Finally, although their Google+ page is not as active as their Facebook and Twitter, it still offers regular updates and promotional offers once directed to the website.
Overall, Delta offer customer service and engagement through all of their social media platforms, and offer a host of useful information on their social networks, ranking them our number one of the top ten airlines (by frequency) for their social media campaign.