Belgian operator VLM Airlines will return to its roots and launch scheduled air services before the end of this year after a management buyout purchased the former CityJet business from new German owners Intro Aviation. The carrier has been presently focussing on charter and ACMI work but will begin to dip its toes back into the scheduled market using a mixed fleet of Fokker 50 turboprops and two Sukhoi SuperJets: it will be the European launch customer for the long-range SSJ100LR.
Over 20 years since the carrier made its debut in the Antwerp – London City market in 1993 and established itself as one of the most respected European regional airlines, its return to independent ownership will enable it to once again serve its original market with Antwerp International Airport, where the carrier's offices are based, set to be included in its scheduled network plans.
With a fleet of 50-seat Fokker 50 turboprops, since becoming part of Air France-KLM's Dublin-based CityJet business in 2009, VLM has been focussing on meeting the needs of the European charter market including ACMI / wet-lease contracts and charter operations for tour operators, travel agents, music & film, special events, incentives, sports teams, government and military, NGO's and emergency support.
"As an independent airline we will keep offering ACMI & charter services, but we will also start offering scheduled services in the near future," said Arthur White, chief executive officer and majority shareholder of VLM Airlines. "We strongly believe in VLM Airlines as a truly independent airline."
Alongside its former sister business, Irish carrier CityJet, VLM's management has been seeking to add a new aircraft type to its fleet and White has wasted no time since the management buyout by formalising a surprise deal to become the first European operator of the long-range Sukhoi Superjet 100 LR (SSJ100LR) regional aircraft.
VLM Airline has agreed a Letter of Intent (LoI) with Moscow-based lessor Ilyushin Finance Company (IFC) to acquire two SSJ100LRs for delivery in April 2015 on 12-year operating leases. The contract also includes the provision for two further options and purchase rights for up to ten aircraft in the future.
"While VLM Airlines will continue offering ACMI and charter services with our Fokker 50 fleet, we see an exciting opportunity as a niche scheduled operator. The Sukhoi Superjet 100 LR fits our new strategy perfectly, with its exceptional efficiency and performance, advanced fly-by-wire technologies and spacious cabin," said White.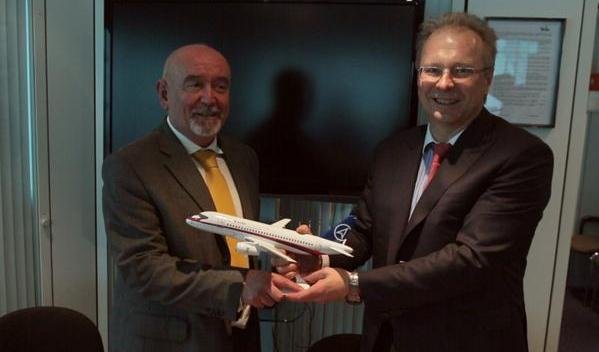 "We looked at a number of aircraft types in the 100-seat range to see which would give the best passenger experience, flexibility in short-to-medium range destinations and low operating costs – the SSJ100 LR won hands down," he added.
In an interview with Routesonline, White confirmed VLM Airlines will configure its SSJ100LRs in a two-class arrangement with 12 Business and 75 Economy seats and hopes to build on the strong legacy the Belgian carrier developed during its previous scheduled operations.
"We plan to offer a true two-class service to our customers and the product we will offer onboard our aircraft, particularly the Superjets, will provide comfort and efficiency and reliability to travellers. We don't plan to compete with LCCs and high-speed rail but provide important point-to-point regional operations into airports close to city centres that are performance and noise restricted and cannot be served by larger airliners such as the A320 and 737," said White.
According to the former DHL executive, VLM will offer a "modest" scheduled operation that will complement its ACMI activities and will serve a network "measured to support the size and capability of the business". By the end of 2015, White expects up to seven city pairs could be served, four using three or four Fokker 50s transferred from its charter fleet and three others dedicated to the Superjets. The first turboprop route could be launched as early as next month.
Although VLM Airlines remains tight-lipped on its exact scheduled plans, White has confirmed that it will look to fly from the Antwerp International Airport base. "We are already studying a number of possible new routes from Antwerp International Airport. We will communicate this as soon as the deals have been concluded," he confirmed.
Air services from Antwerp, the second most populous city of Belgium, are currently limited by its location just 50 minutes drive away from the capital city, Brussels and the short runway length at Antwerp International Airport which limits flight operations to regional jet and turboprop types.
Alongside a CityJet flight to London City, inherited from VLM Airlines and currently flown by the Belgian carrier under an ACMI contract, Stobart Air currently offers the only other scheduled flight with a route to London Southend which was introduced in July this year under its new Flybe franchise operation.
From April 2015 local Belgian leisure carrier jetairfly will introduce a network of 15 weekly flights from Antwerp to popular city break and holiday destinations including Alicante (2x weekly), Barcelona (3x weekly), Berlin (3x weekly), Malaga (2x weekly), Milan (3x weekly) and Palma (2x weekly) in a major boost for the facility.
Under the terms of its contract with Ilyushin Finance, VLM Airlines has requested that certification work is completed for the Sukhoi Superjet to get access to London City Airport, but White said the carrier has no plans to compete with CityJet on the Antwerp – London City route. "We do not want to compete with our ACMI customers. Our scheduled business will complement our existing activities," he said.
In our analysis, below, we look at O&D passenger flows from Antwerp International Airport over the past ten years. During this period the London City Airport link has been the dominant market accounting for 77.0 per cent of the total passenger traffic to and from Antwerp over the period between 2004 and 2013. The route accounted for 83.9 per cent of O&D demand from/to Antwerp in 2013.
Data provided by