Where Does the Boeing 787 Dreamliner Fly? November 2014 Network Update
With an increasing number of airlines now operating the Boeing 787 Dreamliner, every month The HUB provides an update on the current Dreamliner flight schedule and the routes the aircraft is being deployed upon. This list for November 2014 was compiled on October 31, 2014 and changes to planned routes are likely. In the table below we also feature the Boeing 787 network size of each operator and the top destinations served by the aircraft.
The data is all supplied by OAG Aviation using its OAG Schedules Analyser tool.
NOTE: Xiamen Airlines is also operating the Boeing 787-8 on flights linking Beijing to Fuzhou and Xiamen but these do not currently appear in the OAG database.
---
Aeromexico (AM)
Mexico City (MEX) – Cancun (CUN)
Mexico City (MEX) – London (LHR)
Mexico City (MEX) – Madrid (MAD)
Mexico City (MEX) – Monterrey (MTY) – Tokyo (NRT)
Mexico City (MEX) – New York (JFK)
Mexico City (MEX) – Paris (CDG)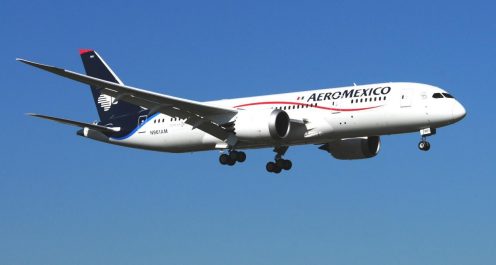 ---
Air Canada (AC)
Toronto (YYZ) – Copenhagen (CPH)
Toronto (YYZ) – London (LHR)
Toronto (YYZ) – Paris (CDG)
Toronto (YYZ) – Tel Aviv (TLV)
Toronto (YYZ) – Vancouver (YVR)
Toronto (YYZ) – Zurich (ZRH)
Vancouver (YVR) – Shanghai (PVG)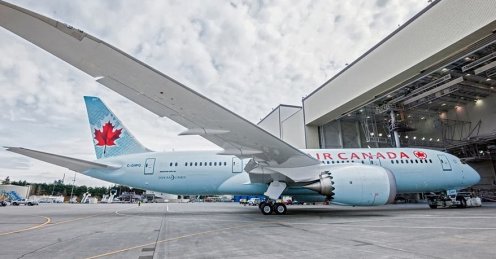 ---
Air India (AI)
Amritsar (ATQ) – Delhi (DEL) – Birmingham (BHX)
Chennai (MAA) – Singapore (SIN)
Delhi (DEL) – Bangalore (BLR)
Delhi (DEL) – Bangkok (BKK)
Delhi (DEL) – Dubai (DXB)
Delhi (DEL) – Frankfurt (FRA)
Delhi (DEL) – Hong Kong (HKG) – Osaka (KIX)
Delhi (DEL) – Hong Kong (HKG) – Seoul (ICN)
Delhi (DEL) – Kolkata (CCU)
Delhi (DEL) – London (LHR)
Delhi (DEL) – Melbourne (MEL) – Sydney (SYD)
Delhi (DEL) – Milan (MXP)
Delhi (DEL) – Moscow (DME)
Delhi (DEL) – Mumbai (BOM)
Delhi (DEL) – Paris (CDG)
Delhi (DEL) – Rome (FCO) – Milan (MXP)
Delhi (DEL) – Shanghai (PVG)
Delhi (DEL) – Singapore (SIN)
Delhi (DEL) – Sydney (SYD) – Melbourne (MEL)
Delhi (DEL) – Tokyo (NRT)
Mumbai (BOM) – Bangkok (BKK)
Mumbai (BOM) – London (LHR)
Mumbai (BOM) – Singapore (SIN)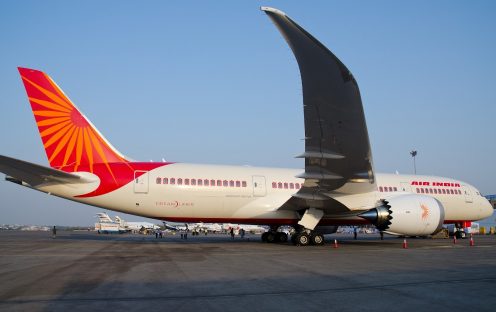 ---
Air New Zealand (NZ)
Auckland (AKL) – Perth (PER)
Auckland (AKL) – Shanghai (PVG)
Auckland (AKL) – Sydney (SYD)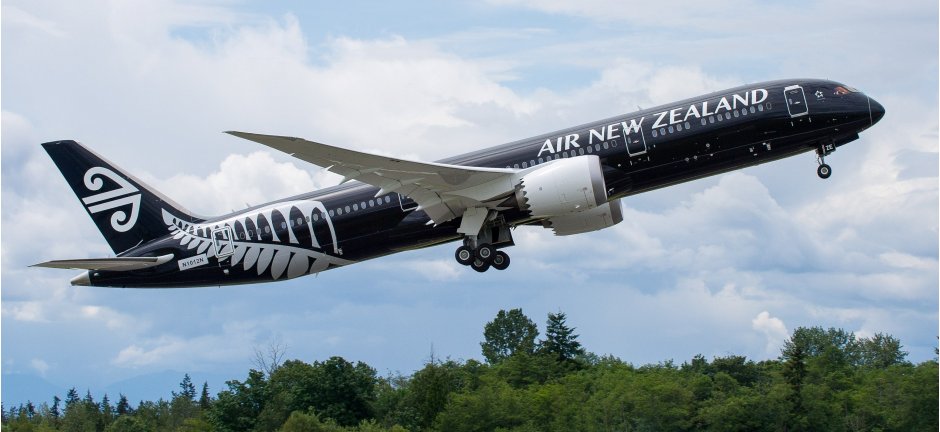 ---
All Nippon Airways (NH)
Tokyo (HND) – Akita (AXT)
Tokyo (HND) – Bangkok (BKK)
Tokyo (HND) – Frankfurt (FRA)
Tokyo (HND) – Fukuoka (FUK)
Tokyo (HND) – Hanoi (HAN)
Tokyo (HND) – Hiroshima (HIJ)
Tokyo (HND) – Jakarta (CGK)
Tokyo (HND) – Kagoshima (KOJ) – Osaka (ITM)
Tokyo (HND) – Komatsu (KMQ)
Tokyo (HND) – Kumamoto (KMJ)
Tokyo (HND) – Matsuyama (MYJ)
Tokyo (HND) – Miyazaki (KMI)
Tokyo (HND) – Munich (MUC)
Tokyo (HND) – Okayama (OKJ)
Tokyo (HND) – Okinawa (OKA)
Tokyo (HND) – Osaka (ITM)
Tokyo (HND) – Sapporo (CTS)
Tokyo (HND) – Singapore (SIN)
Tokyo (HND) – Taipei (TSA)
Tokyo (HND) – Takamatsu (TAK)
Tokyo (HND) – Toyama (TOY)
Tokyo (HND) – Ube (UBJ)
Tokyo (NRT) – Bangkok (BKK)
Tokyo (NRT) – Dusseldorf (DUS)
Tokyo (NRT) – San Jose (SJC)
Tokyo (NRT) – Seattle (SEA)
Tokyo (NRT) – Shanghai (PVG)
Tokyo (NRT) – Singapore (SIN)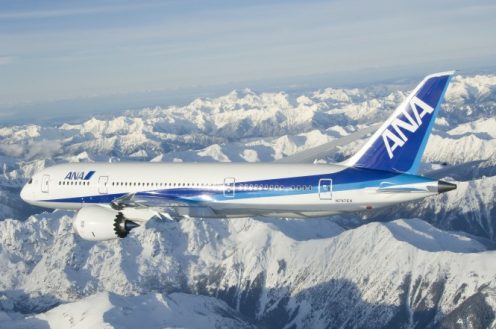 ---
ArkeFly (OR)
Amsterdam (AMS) – Aruba (AUA)
Amsterdam (AMS) – Bonaire (BON)
Amsterdam (AMS) – Curacao (CUR)

---
British Airways (BA)
London (LHR) – Austin (AUS)
London (LHR) – Calgary (YYC)
London (LHR) – Chengdu (CTU)
London (LHR) – Chennai (MAA)
London (LHR) – Hyderabad (HYD)
London (LHR) – Newark (EWR)
London (LHR) – Toronto (YYZ)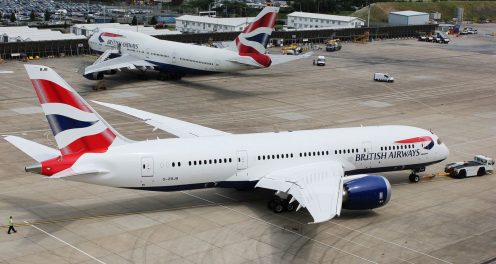 ---
China Southern Airlines (CZ)
Guangzhou (CAN) – Auckland (AKL)
Guangzhou (CAN) – Beijing (PEK)
Guangzhou (CAN) – London (LHR)
Guangzhou (CAN) – Vancouver (YVR)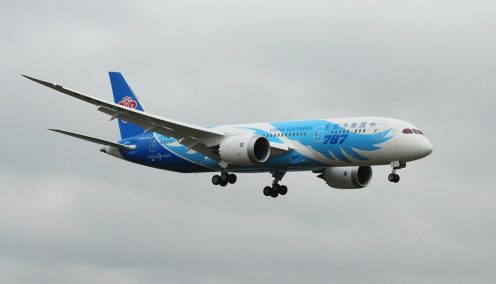 ---
Ethiopian Airlines (ET)
Addis Ababa (ADD) – Abuja (ABV)
Addis Ababa (ADD) – Accra (ACC)
Addis Ababa (ADD) – Douala (DLA)
Addis Ababa (ADD) – Dubai (DXB)
Addis Ababa (ADD) – Frankfurt (FRA)
Addis Ababa (ADD) – Harare (HRE)
Addis Ababa (ADD) – Hong Kong (HKG) – Seoul (ICN)
Addis Ababa (ADD) – Lome (LFW) – Sao Paulo (GRU)
Addis Ababa (ADD) – London (LHR)
Addis Ababa (ADD) – Lusaka (LUN) – Harare (HRE)
Addis Ababa (ADD) – Malabo (SSG)
Addis Ababa (ADD) – Mumbai (BOM)
Addis Ababa (ADD) – N'djamena (NDJ)
Addis Ababa (ADD) – Paris (CDG) – Brussels (BRU)
Addis Ababa (ADD) – Rome (FCO) – Toronto (YYZ)
Addis Ababa (ADD) – Shanghai (PVG)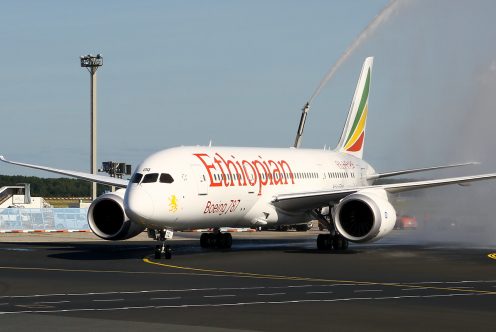 ---
Hainan Airlines (HU)
Beijing (PEK) – Boston (BOS)
Beijing (PEK) – Changsha (CSX)
Beijing (PEK) – Chengdu (CTU)
Beijing (PEK) – Chicago (ORD)
Beijing (PEK) – Guangzhou (CAN)
Beijing (PEK) – Haikou (HAK)
Beijing (PEK) – Hangzhou (HGH)
Beijing (PEK) – Hohhot (HET)
Beijing (PEK) – Kunming (KMG)
Beijing (PEK) – Sanya (SYX)
Beijing (PEK) – Seattle (SEA)
Beijing (PEK) – Shanghai (SHA)
Beijing (PEK) – Toronto (YYZ)
Beijing (PEK) – Wuhan (WUH)
Beijing (PEK) – Xiamen (XMN)
Beijing (PEK) – Xi'an (XIY)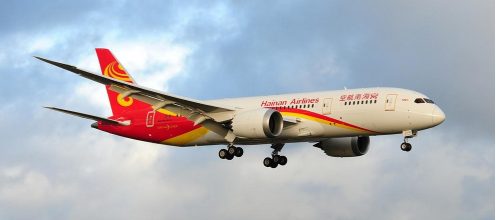 ---
Japan Airlines (JL)
Tokyo (HND) – Beijing (PEK)
Tokyo (HND) – San Francisco (SFO)
Tokyo (HND) – Taipei Songshan (TSA)
Tokyo (NRT) – Boston (BOS)
Tokyo (NRT) – Helsinki (HEL)
Tokyo (NRT) – Honolulu (HNL)
Tokyo (NRT) – Moscow (DME)
Tokyo (NRT) – New York (JFK)
Tokyo (NRT) – Paris (CDG)
Tokyo (NRT) – San Diego (SAN)
Tokyo (NRT) – Vancouver (YVR)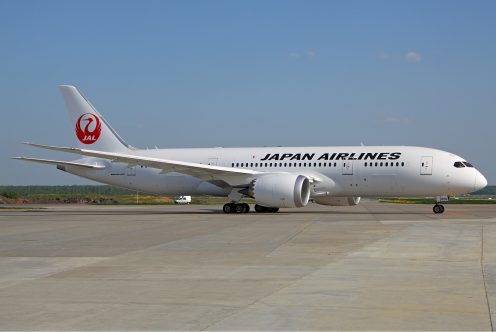 ---
Jetairfly (TB)
Brussels (BRU) – Punta Cana (PUJ) – Montego Bay (MBJ)
Brussels (BRU) – Santo Domingo (SDQ) – Punta Cana (PUJ)
Brussels (BRU) – Varadero (VRA) – Cancun (CUN)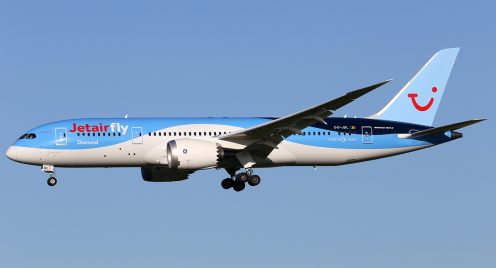 ---
Jetstar Airways (JQ)
Brisbane (BNE) – Denpasar (DPS)
Cairns (CNS) – Osaka (KIX)
Cairns (CNS) – Tokyo (NRT)
Gold Coast (OOL) – Tokyo (NRT)
Melbourne (MEL) – Bangkok (BKK)
Melbourne (MEL) – Cairns (CNS)
Melbourne (MEL) – Denpasar (DPS)
Melbourne (MEL) – Phuket (HKT)
Melbourne (MEL) – Sydney (SYD)
Melbourne (MEL) – Tokyo (NRT)
Sydney (SYD) – Denpasar (DPS)
Sydney (SYD) – Phuket (HKT)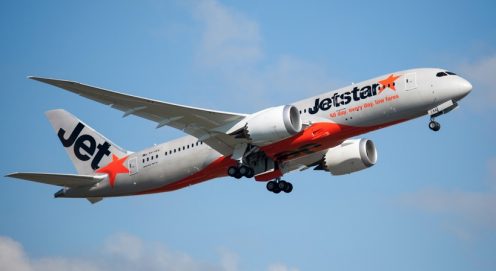 ---
Kenya Airways (KQ)
Nairobi (NBO) – Bangkok (BKK) – Guangzhou (CAN)
Nairobi (NBO) – Bangkok (BKK) – Hong Kong (HKG)
Nairobi (NBO) – Dubai (DXB)
Nairobi (NBO) – Guangzhou (CAN)
Nairobi (NBO) – Johannesburg (JNB)
Nairobi (NBO) – KInshasa (FIH)
Nairobi (NBO) – Paris (CDG)

---
LAN Airlines (LA)
Santiago (SCL) – Buenos Aires (EZE)
Santiago (SCL) – Cancun (CUN)
Santiago (SCL) – Lima (LIM)– Los Angeles (LAX)
Santiago (SCL) – Madrid (MAD) – Frankfurt (FRA)
Santiago (SCL) – Miami (MIA)
Santiago (SCL) – New York (JFK)
Santiago (SCL) – Punta Cana (PUJ)
Santiago (SCL) – Sao Paulo (GRU)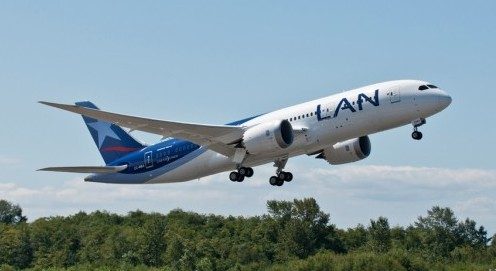 ---
LOT Polish Airlines (LO)
Warsaw (WAW) – Beijing (PEK)
Warsaw (WAW) – Chicago (ORD)
Warsaw (WAW) – New York (JFK)
Warsaw (WAW) – Toronto (YYZ)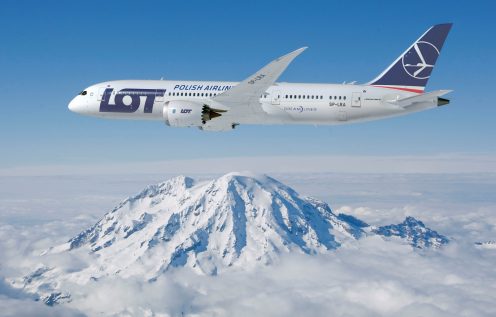 ---
Norwegian (DY)
Copenhagen (CPH) – Ft Lauderdale (FLL) - operated by LOT Polish Airlines
Copenhagen (CPH) – Los Angeles (LAX)
Copenhagen (CPH) – New York (JFK) - some flights operated by LOT Polish Airlines
London (LGW) – Ft Lauderdale (FLL)
London (LGW) – Los Angeles (LAX)
London (LGW) – New York (JFK)
Oslo (OSL) – Bangkok (BKK)
Oslo (OSL) – Ft Lauderdale (FLL)
Oslo (OSL) – New York (JFK)
Oslo (OSL) – Orlando (MCO)
Stockholm (ARN) – Bangkok (BKK)
Stockholm (ARN) – Ft Lauderdale (FLL)
Stockholm (ARN) – New York (JFK)
Stockholm (ARN) – Oakland (OAK)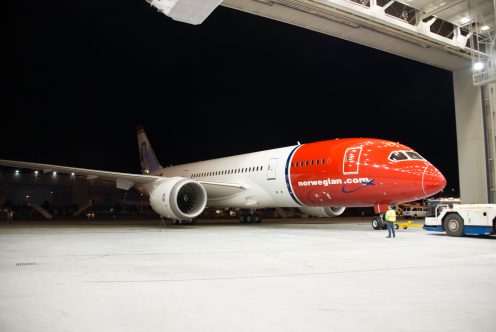 ---
Qatar Airways (QR)
Doha (DOH) – Amman (AMM)
Doha (DOH) – Bahrain (BAH)
Doha (DOH) – Bangalore (BLR)
Doha (DOH) – Brussels (BRU)
Doha (DOH) – Copenhagen (CPH)
Doha (DOH) – Delhi (DEL)
Doha (DOH) – Denpasar (DPS)
Doha (DOH) – Dubai (DXB)
Doha (DOH) – Edinburgh (EDI)
Doha (DOH) – Jeddah (JED)
Doha (DOH) – Johannesburg (JNB) – Maputo (MPM)
Doha (DOH) – Johannesburg (JNB) – Cape Town (CPT)
Doha (DOH) – Kuwait (KWI)
Doha (DOH) – Moscow (DME)
Doha (DOH) – Munich (MUC)
Doha (DOH) – Muscat (MCT)
Doha (DOH) – Oslo (OSL)
Doha (DOH) – Riyadh (RUH)
Doha (DOH) – Singapore (SIN)
Doha (DOH) – Stockholm (ARN)
Doha (DOH) – Tokyo (HND)
Doha (DOH) – Vienna (VIE)
Doha (DOH) – Zurich (ZRH)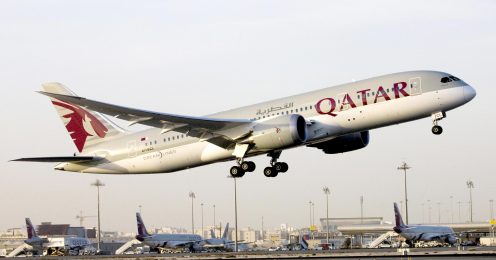 ---
Royal Brunei Airlines (BI)
Bandar Seri Begawan (BWN) – Dubai (DXB) – London (LHR)
Bandar Seri Begawan (BWN) – Kuala Lumpur (KUL)
Bandar Seri Begawan (BWN) – Melbourne (MEL)
Bandar Seri Begawan (BWN) – Singapore (SIN)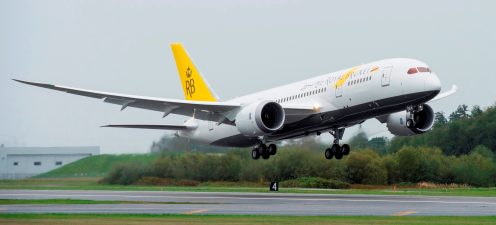 ---
Royal Jordanian (RJ)
Amman (AMM) – Abu Dhabi (AUH)
Amman (AMM) – Bangkok (BKK) – Hong Kong (HKG)
Amman (AMM) – Bangkok (BKK) – Kuala Lumpur (KUL)
Amman (AMM) – Chicago (ORD)
Amman (AMM) – Dubai (DXB)
Amman (AMM) – Jeddah (JED)
Amman (AMM) – London (LHR)
Amman (AMM) – New York (JFK)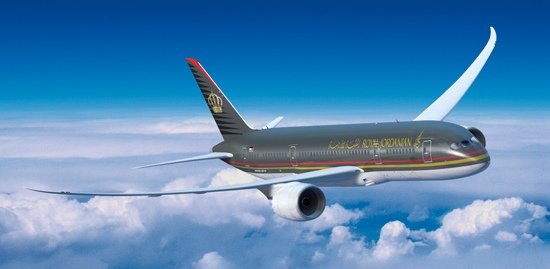 ---
Thai Airways International (TG)
Bangkok (BKK) – Fukuoka (FUK)
Bangkok (BKK) – Hanoi (HAN)
Bangkok (BKK) – Ho Chi Minh City (SGN)
Bangkok (BKK) – Tokyo (NRT)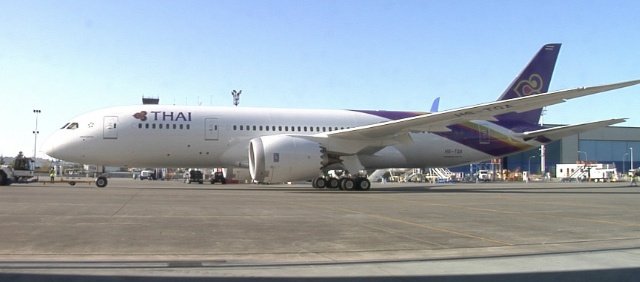 ---
Thomson Airways (TOM)
Birmingham (BHX) – Barbados (BGI)
Birmingham (BHX) – Cancun (CUN)
Birmingham (BHX) – Montego Bay (MBJ)
Birmingham (BHX) – Orlando (SFB)
London (LGW) – Barbados (BGI)
London (LGW) – Cancun (CUN)
London (LGW) – Goa (GOI)
London (LGW) – Mauritius (MRU)
London (LGW) – Mombasa (MBA)
London (LGW) – Montego Bay (MBJ)
London (LGW) – Orlando (SFB)
London (LGW) – Phuket (HKT)
London (LGW) – Puerto Plata (POP)
London (LGW) – Puerto Vallarta (PVR)
London (LGW) – Punta Cana (PUJ)
Manchester (MAN) – Barbados (BGI)
Manchester (MAN) – Cancun (CUN)
Manchester (MAN) – Goa (GOI)
Manchester (MAN) – Montego Bay (MBJ)
Manchester (MAN) – Orlando (SFB)
Manchester (MAN) – Puerto Plata (POP)
Manchester (MAN) – Puerto Vallarta (PVR)

---
United Airlines (UA)
Denver (DEN) – Tokyo (NRT)
Houston (IAH) – Dallas (DFW)
Houston (IAH) – Denver (DEN)
Houston (IAH) – Lagos (LOS)
Houston (IAH) – London (LHR)
Houston (IAH) – Los Angeles (LAX)
Houston (IAH) – San Francisco (SFO)
Houston (IAH) – Tokyo (NRT)
Los Angeles (LAX) – Denver (DEN)
Los Angeles (LAX) – Melbourne (MEL)
Los Angeles (LAX) – San Diego (SAN)
Los Angeles (LAX) – Shanghai (PVG)
Los Angeles (LAX) – Tokyo (NRT)
San Francisco (SFO) – Chengdu (CTU)
San Francisco (SFO) – Osaka (KIX)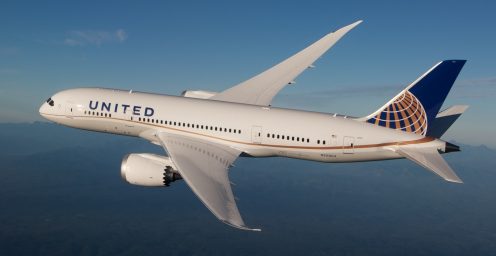 ---
Virgin Atlantic (VS)
London (LHR) – Boston (BOS)

---
Statistics
SCHEDULED BOEING B787 OPERATIONS BY AIRLINE (November 2014)

Rank

Airline

Seat Capacity

% Total B787 Seats

Change vs Last Month

1

All Nippon Airways (NH)

871,132

26.6 %

(-1.5) pp

2

Qatar Airways (QR)

355,854

10.9 %

+0.8 pp

3

Air India (AI)

352,000

10.7 %

+0.1 pp

4

Ethiopian Airlines (ET)

179,154

5.5 %

(-0.8) pp

5

Hainan Airlines (HU)

155,608

4.7 %

+2.7 pp

6

Jetstar Airways (JQ)

146,060

4.5 %

(-0.1) pp

7

LAN Airlines (LA)

132,000

4.0 %

+0.7 pp

8

Japan Airlines (JL)

126,294

3.9 %

(-0.2) pp

9

United Airlines (UA)

116,088

3.5 %

(-0.5) pp

10

Royal Jordanian (RJ)

85,707

2.6 %

-

11

Norwegian (DY)

83,808

2.6 %

(-0.6) pp

12

Thomson Airways (BY)

80,607

2.5 %

(-0.7) pp

13

British Airways (BA)

80,250

2.4 %

(-0.3) pp

14

Kenya Airways (KQ)

76,752

2.3 %

-

15

Thai Airways International (TG)

68,640

2.1 %

+1.1 pp

16

Aeromexico (AM)

61,722

1.9 %

+0.1 pp

17

Air Canada (AC)

56,951

1.7 %

+0.4 pp

18

Royal Brunei Airlines (BI)

56,388

1.7 %

(-0.1) pp

19

China Southern Airlines (CZ)

54,504

1.7 %

(-1.2) pp

20

LOT Polish Airlines (LO)

42,588

1.3 %

(-0.5) pp

21

Air New Zealand (NZ)

40,468

1.2 %

+0.2 pp

22

Arkefly (OR)

23,946

0.7 %
(-0.1) pp

23

Jetairfly (TB)

23,400

0.7 %
+0.1 pp

24

Virgin Atlantic Airways (VS)

7,392

0.2 %
+0.2 pp

TOTAL

3,277,313

-

-
TOP 20: SCHEDULED BOEING 787 OPERATIONS BY AIRPORT (non-stop departures; November 2014)

Rank (Nov-14)

Change (Oct-14)

Destination

Available Seats

% Total Capacity

Change vs Oct-14

1

-

Tokyo (HND)

421,922

12.9 %

(-0.7) pp

2

-

Doha (DOH)

174,244

5.3 %

+0.5 pp

3

+1

Delhi (DEL)

141,728

4.3 %

-

4

(-1)

Tokyo (NRT)

141,164

4.3 %

(-0.1) pp

5

+1

Bangkok (BKK)

110,439

3.4 %

+0.8 pp

6

(-1)

London (LHR)

99,055

3.0 %

(-0.1) pp

7

+3

Beijing (PEK)

87,062

2.7 %

+1.2 pp

8

(-1)

Addis Ababa (ADD)

69,940
2.1 %
(-0.3) pp

9

(-1)
Singapore (SIN)
61,086
1.9 %
-

10


+6

Dubai (DXB)

56,762

1.7 %

+0.5 pp

11


-

Kagoshima (KOJ)

50,250

1.5 %

(-0.1) pp

12

+1
Melbourne (MEL)

49,426

1.5 %

(-0.1) pp

13

+4

Santiago (SCL)

49,000

1.5 %

+0.3 pp

14

(-5)

Guangzhou (CAN)

48,048

1.5 %

(-0.3) pp

15

+7

Fukuouka (FUK)

46,890

1.4 %

+0.4 pp

16

(-1)

New York (JFK)

43,764

1.3 %

-

17

(-3)

Toronto (YYZ)

39,802

1.2 %

(-0.1) pp

18

+11

Matsuyama (MYJ)

37,855

1.2 %

+0.3 pp

19

+11

Shanghai (PVG)

37,715

1.2 %

+0.3 pp

20


(-2)

Paris (CDG)

37,534

1.1 %

(-0.1) pp

TOTAL

3,277,313