China Eastern Airlines is to introduce a direct air connection between Kunming's Changshui International Airport and Vancouver International Airport in Canada, the first regular scheduled air link from Yunnan Province into North America. The news of the route was revealed just ahead of Routes Asia, but was confirmed by representatives from both sides of the Pacific during the forum in China.
The three times weekly route will launch from June 26, 2015 and will operate as an extension of the existing twice daily offering from the Chinese major between its Shanghai base and Vancouver. On Tuesdays, Fridays and Sundays, the 'MU597' late night departure from Shanghai will originate in Kunming, while the 'MU598' overnight return service from the Canadian city on Mondays, Wednesdays and Saturdays will continue through to Kunming after arriving back in China.
Vancouver will be the first North American destination to be linked to Kunming, one of China's premier tourism regions and the new long-haul connection follows the successful introduction last year from Yunnan Province to Europe, via China Eastern to Paris Charles De Gaulle Airport.
"This new service marks another step toward achieving our mission of connecting British Columbia to the world," Craig Richmond, president and chief executive officer, Vancouver Airport Authority, told Routesonline after arriving in the Chinese city for Routes Asia.
"Kunming is a key gateway destination and is the largest city in Yunnan Province, with a rich and vibrant history and a great future as a transportation hub. Having service to Kunming from YVR opens up exciting new tourism and business opportunities for Canadians and further establishes Vancouver as a gateway hub between Asia and the Americas," he added.
Known as the City of Eternal Spring due to its mild climate, Kunming has a population of 7.2 million and is a renowned tourism destination, as well as a significant connecting point to major South East Asia locations. The new direct service to Vancouver compliments the recent agreement between China and Canada to provide 10-year multiple-entry visas to Canadian and Chinese citizens for business, tourism or family purposes.
In addition to increased passenger flow and economic opportunities between the two cities, foreign passport holders connecting to a third country via Kunming can enjoy the 72-hour visa free transit in Kunming before departure. And passengers originating from Vancouver or Kunming can have their bags checked through to either end.
Vancouver International Airport has strong linkages to China with more than 70 flights per week during the summer and 59 flights per week currently. It is the only airport in North America with service from four mainland China carriers and was the first North American airport selected by Sichuan Airlines for its long-haul flights into the region. Traffic to the Asia-Pacific region reached almost three million passengers in 2014, up 9.8 per cent over 2013, with traffic to Mainland China up 6.7 per cent.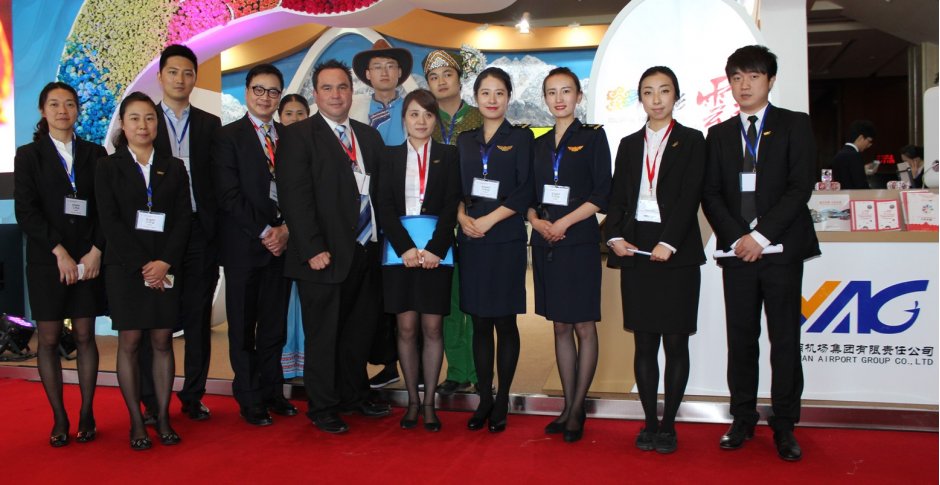 "Vancouver International Airport looks forward to working with China Eastern and Yunnan Airport Group to ensure the success of this ground-breaking air service between Kunming and Vancouver. Vancouver International Airport and its business partners are committed to developing opportunities and strengthening trade, tourism and business links with the markets serviced from both airports," added Richmond.
As Canada's second busiest airport, Vancouver International is expecting over 20 million passengers this year. And its five-year goal is to reach 25 million by 2020. In 2010 the airport generated $5.3 billion in total GDP and $11.7 billion in total economic output into the Canadian economy and it anticipates the five million passenger growth between now and 2020 would result in 5,000 – 7,000 new jobs in British Columbia and up to $500 million in additional GDP to the local economy.
"The economic impact of these new flights is huge. Every international flight to YVR generates the equivalent of 200 direct jobs. These passengers take taxis, rent cars or hop on the Canada Line," said Carl Jones, director air service development, Vancouver International Airport. A shining example, he said, was All Nippon Airways (ANA's) 2014 service to Tokyo Haneda, which produced 356 jobs, contributing $21 million to GDP and $7.4 million in tax revenue. And early estimates of 2015's flights show over 500 jobs—more than $29 million in GDP and more than $10 million in tax revenue.
"We enhanced our presence in Asia by expanding our office in Hong Kong. The goal of the office is to increase passenger and cargo growth between Asia and Vancouver, generating economic growth and jobs. We recently signed an agreement with Shanghai Pudong International Airport to collaborate on improving the perishable goods supply chain between Vancouver and Shanghai. This could expand our growing cargo service, which included over 256,000 tonnes of cargo in 2014—an increase of eleven per cent over the previous year and the highest volume in over a decade," added Jones.