Alex Cardona, manager of traffic development at Malta International Airport, says the airport will continue to invest in its product.
What new destinations are you looking to add to your network and why?
Malta is well connected to over 80 destinations in Europe and North Africa – having developed a relatively good route network when one takes our island's size into consideration. Our traffic growth continues to outperform that achieved at other European airports of similar size and as we continue to grow our route network further, we are looking at improving our connectivity with a number of strategically important markets.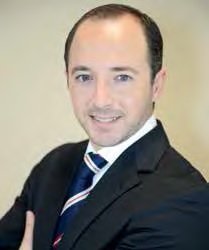 We expect to expand in Eastern Europe and Russia further, as demand for air travel from these significant markets continues to rise. Scandinavia is another key focus for Malta International Airport, since Nordic tourists look for a favourable climate and cultural experiences when travelling – a good fit for what Malta has to offer. Also, as the market conditions in Spain continue to improve we expect to see traffic resume from the Iberian Peninsula.
What are the main challenges in winning new airline business?
Naturally, since our traffic is largely for leisure, the demand is stronger during the warmer months. Our focus is to keep developing our tourism product and attracting more visitors, even during the lean season. Promoting Valletta in its own right, especially with its European Capital of Culture status on the horizon, is one of the ways in which we, together with other tourism stakeholders, are working towards this goal.
Malta International Airport also waives its winter landing fees, meaning that there are no fixed costs for airlines to operate here during this period. To attract new business in line with our growth objectives, our airport fees have also remained unchanged since 2007 and we have devised incentive schemes to assist airlines in developing new routes to accelerate our traffic growth.
How long does it take for an airline to open a new route? Can you give us a typical example from Malta Airport?
We have no set formula in attracting new airlines and opening new routes, and we have seen varied timeframes. Our focus goes beyond just attracting new airlines or opening new routes. We work hard to secure the capacity, but also put a lot of effort into retaining and sustaining it. We invest heavily in the success of all our new routes, holding regular meetings at the airline headquarters to review the route's performance, and discuss ways in which to improve the results being achieved. This ensures that we continue to grow our existing business sustainably, while also attracting new traffic, which we consider strategic for managing the airport's growth and business mix.
How closely do you work with the tourism board and other organisations to market Malta?
Our airline marketing activity is not done in isolation. We are well aligned with Malta Tourism Authority's efforts and we share a common vision on a number of initiatives. We work in parallel in promoting Malta as an all-year-round destination and focus on developing strategic markets as mentioned above. We also work together in managing our market mix – identifying the most fitting airline partner when developing a specific route. Over the years we have also attended Routes conferences together with the Malta Tourism Authority, which we have found to be very effective. This, together with our synchronized efforts when attracting new routes and airlines, has proved to be crucial in leading towards the positive results achieved in recent years.
How will you develop the airport as you grow?
Malta International Airport is constantly investing in its product offering. We have recently inaugurated a new VIP terminal – open to commercial aviation passengers – which will also help position Malta as an aviation industry player and enhances the island's commercial aviation product. Works are underway to expand the terminal by enlarging the Non- Schengen area, aiming to improve the passenger experience.