Digital marketing has evolved immensely over time, and with over 40 per cent of the world now connected to the internet, it has never been more important. Joshua Alexander, Digital Business Development Manager for Routesonline gave us a snapshot of the aviation marketing landscape and how it has evolved since it began in 1986 to delegates at Routes Middle East & Africa in Manama, Kingdom of Bahrain.
EasySabre, which offered booking class and fare basis information, is where it all began though it was not until 1996 that the first online ticket booking system was available. "Did you know that in 1995 less than one percent of people had an Internet connection," explained Alexander.
In 1998 we saw the launch of the Routesonline platform, but its basic form is unrecognisable to the site we use today and it was 2004 when social media began to play a part in the digital marketing landscape.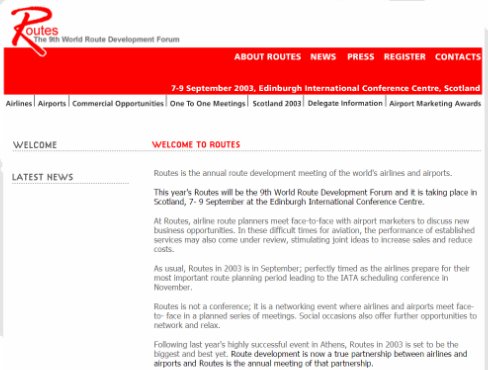 "The number of Internet users actually increased ten-fold between 1999 and 2013 highlighting the rapid growth of online," said Alexander. "Over 40 per cent of the world's population is now connected to the Internet."
The current landscape of digital marketing is vast, with over 3.1 billion people now connected to the Internet and engaging online. But with a further 60 per cent left to break into the online world, Alexander explained to delegates how airlines, airports and aviation professionals appeal to this market.
"The Internet is now mobile," he said. "Mobile/tablet is the platform to engage with right now. Last year mobile data traffic was nearly 30 times the size of the entire global Internet in 2000 and grew 69 per cent in 2014 alone. Looking at an example closer to home, Routesonline traffic has doubled since January 2013."