The arrival of its new Bombardier CSeries airliners in 2016 will enable Latvian national carrier airBaltic to better serve a number of destinations across its network, especially markets across the Silk Road corridor, according to the airline's chief commercial officer, Christophe Viatte.
Speaking at the Routes Silk Road Strategy Summit in Tbilisi, Georgia, Viatte highlighted how the improved efficiency of the new generation aircraft will enable it to serve markets on a more sustainable basis and add frequencies to develop a more competitive product offering against industry rivals.
The executive, who joined the Baltic carrier in February last year following senior management positions with Malev, Porter Airlines, Air Canada and most recently as executive director at Czech Airlines, suggested the Georgian market as an excellent example of a destination that could gain from the deployment of its CSeries jets.
"We currently offer five flights per week between our main base at Riga International Airport and Tbilisi. We are satisfied with the growth of this market and have clearly stimulated local traffic into Georgia from Latvia to establish a significant point to point flow, but we don't currently have the right aircraft to take this to the next level," said Viatte.
The problem, he said, is competition from Georgia's neighbouring country of Turkey, where the growing network of the fast expanding Turkish Airlines means it is able to offer more convenient transfer flows to and from Tbilisi from across Europe, providing the additional traffic to supports the O&D demand.
"We don't even have a daily schedule between Riga and Tbilisi, while Turkish Airlines has three flights per day between Istanbul and the Georgian capital offering excellent connectivity across its wider route network in Europe and beyond," said Viatte.
"It is difficult for an airline to build traffic when competition is highly aggressive. We need to see maximum support from the destination and local and national stakeholders, to make the routes work and are doing all we can from our perspective through our fleet renewal," he added.
airBaltic has an order for 13 CS300s, the first of which is due to arrive in the third quarter of 2016 and is understood to be considering converting options for a further seven aircraft. It plans to use the aircraft for a mix of short- and medium-haul flying, including its Riga – Abu Dhabi route which it serves in partnership with Etihad Airways. While the aircraft will be configured in a 160-seat arrangement for European flying other arrangements of between 95- and 110-seats are being considered for longer missions.
According to Viatte, the CSeries will enable the carrier to expand more profitably in markets such as Tbilisi and other destinations in the Caucuses. "We have lots of plans with the new aircraft to develop in this region," he said, noting that with Gulf carriers growing traffic between Europe and Asia, the Silk Road could offer a more convenient link to many destinations, especially those in North Asia. "There is huge potential for airlines to grow via Central Asia," he added.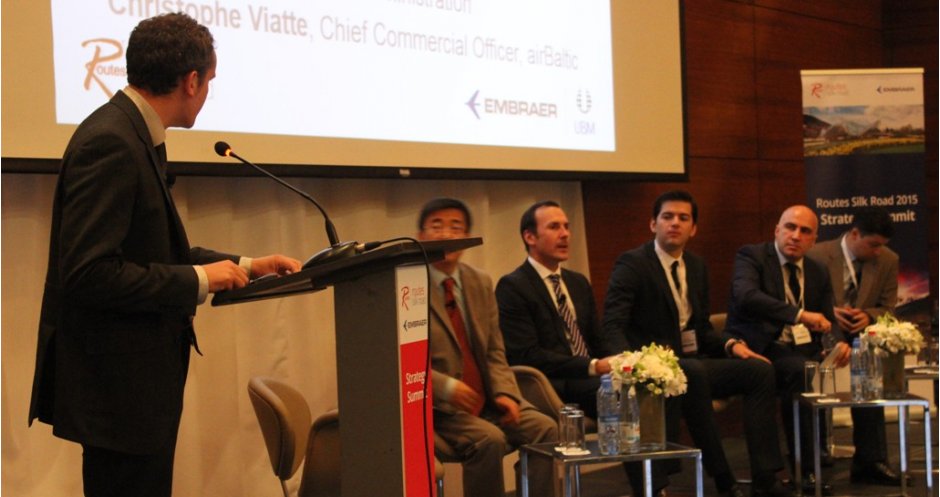 The Latvian carrier has recently readjusted its route network to take into account the economic crisis in Russia and depreciation of the Rouble. The Russian Federation has been a key part of its strategy for a number of years supporting not just demand from its home Baltic market, but also from across Europe via Riga International Airport.
"As a small carrier from a European perspective we have been able to adapt quickly and move capacity into new markets. We have seen a decline in passenger demand between Russia and Latvia and across our network so we will continue to look at other markets in the short-term. However, by 2017 we believe Russia will rebound. I don't think the current situation will remain," explained Viatte.
The revised strategy could see airBaltic strengthen its position not just in Latvia, but also neighbouring Estonia and Lithuania. It has again boosted its presence at Tallinn International Airport over recent years and will later this year add flights from Vilnius International Airport following the recent collapse of Air Lituanica.
This closure of another Lithuanian airline once again raises the question if the Baltic market is sufficient enough to support three national entities but as a home to a market of around seven to eight million people would be better served with a single airline operator like the status SAS Scandinavian Airlines has in Denmark, Norway and Sweden.
"We believe we are well placed to do this," said Viatte. "One strong airline is certainly better than three smaller airlines. We serve a small region but there is a lot of politics. We believe it could move in this direction but it needs the respective governments to decide which route to take."