Russian carrier Transaero Airlines is among the many global operations that will introduce the Airbus A321 into its network this year. In just a matter of days, the airline will accept its first example of the largest member of the Airbus A320 Family and it plans to initially deploy the aircraft from Moscow Vnukovo before the month is out.
Transaero announced plans to debut the Airbus A320 Family variant into its fleet from July 2015 in March last year when it confirmed a deal with ICBC Leasing, part of the Industrial and Commercial Bank of China, to introduce six A321 aircraft on operating leases for delivery through March 2016. These are the first of up to 30 A321s that are due to enter the Russian carrier's fleet within the next five years.
Its arrival will mark the first time it has accepted delivery of an Airbus short-haul model and is believed to be only the second Airbus jet it has flown in its 25 year history, having previously operated a former Pan American, Delta Airlines and Aerolineas Argentinas A310 between November 2000 and November 2004.
Although Transaero initially communicated messages that its A321 fleet will be configured in a three-class arrangement to include four seats in Imperial class, eight seats in Business class and 158 seats in Economy, changing market conditions are understood to have influenced a layout change. Instead the aircraft is believed to be set in a denser two-class arrangement with eight Business Class and 176 Economy seats.
According to latest updates of the airline's summer 2015 and winter 2015/2016 flight inventory, it will introduce the A321 into passenger operation on July 31, 2015 on a twice daily flight between Moscow Vnukovo and Almaty in Kazakhstan. The schedules show the type reducing to a single daily rotation on this route from October 25, 2015 when it will also be used on daily flights from Moscow Vnukovo to Astana in Kazakhstan and Paris Orly in France.
Certain schedule listing show the A321 could also operate flights to Astana and Paris from late July 2015, as well as the Czech capital, Prague. However, this was not reflected in the airline's schedule listing as this story was uploaded.
The airline's first four A321s are believed to be in the production process at the Airbus German assembly facility at Finkenwerder in Hamburg. In fact, at least one of the aircraft has already been photographed in partial Transaero livery after rolling out of the hangar (image via Twitter's @newaviator).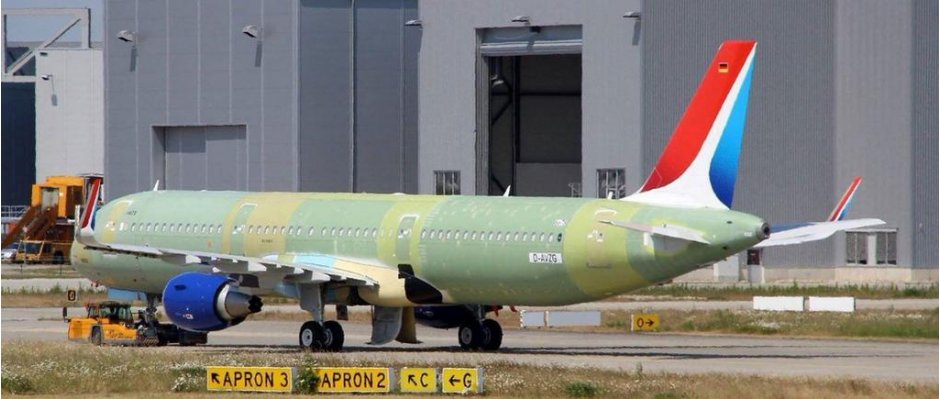 These will all be registered in the Republic of Ireland and Russian airport related markings have been reserved for them ('EI-VKO': Moscow Vnukovo; 'EI-LED': St Petersburg Pulkovo; 'EI-OVB': Novosibirsk Tolmachevo and 'EI-SVX': Ekaterinburg Koltsovo).
The acquisition of the A321s is another important step forward in Transaero's fleet development and renewal. The airline has recently taken delivery of a new Boeing 737-800, the first aircraft to wear its new corporate branding, and it will be the launch customer for the new A320neo in Russia and Eastern Europe when it starts to receive the aircraft in late 2017/early 2018.
Transaero was also due to expand its long-haul fleet with the arrival of its first A380s and 747-8Is later this year but it is unclear what its current intentions are due to the current economic recession in Russia which has resulted in it posting a net loss of around $255 million for the 2014 financial year.
At the recent IATA AGM in Miami, USA, Airbus president, Fabrice Brégier, told The Wall Street Journal that the current economic conditions could result in the delivery of its first two of four SuperJumbos being deferred to a later date.
"We have to face reality; when we have a customer who is really facing commercial issues, hopefully temporarily, but based on the rouble devaluation and the Russia tourist market shrinking, we need to look at what can be done," he told the publication.
During a presentation detailing the current dynamics of the Russian air transport market and its fleet and operational composition at the Routes Silk Road Strategy Summit in Tbilisi, Georgia, Evgeny F. van der Geest, senior analyst risk advisory at Ascend Flightglobal Consultancy, believed that Transaero would add both the A380 and 747-8I to its fleet in the future, but suggested deliveries could be delayed a year or two until its local market recovers.