Polish growth helps drive Wizz Air to 100 million passenger milestone
The Polish market has contributed significantly to Wizz Air's success with around 40 per cent of its phenomenal growth linked to Polish customers and visitors in and out of the country. Next year it will again play host to Routes Europe.
Central and Eastern European low-cost specialist, Wizz Air this past week celebrated carrying its 100 millionth passenger across in network during its eleven years of operations. During this period the carrier has flown more than 650,000 flights and its fleet of Airbus A320 jets has been in the air for more than 138 years flying a total of 840 million kilometres.
The airline's most popular route over this period has been its link between the Polish capital, Warsaw and London Luton, the largest point across its network, according to capacity and its wide network is clearly highlighted through the fact it has carried more than 245 different nationalities of passengers.
You can view a video highlighting some of the festivities to celebrate the 100 million passenger milestone by clicking on the image below...
https://www.facebook.com/wizzaircom/videos/871926759551411/
"We operated our first flight in 2004 between Poland and the UK, and today, eleven years later, we celebrate a total of 100 million passengers carried from over 110 airports across 38 countries," said József Váradi, Chief Executive Officer, Wizz Air.
According to Váradi, the Polish market has contributed significantly to the airline's success with around 40 per cent of its phenomenal growth linked to Polish customers and visitors in and out of the country.
"This milestone has been achieved through our cost discipline and by passing on savings to our customers in form of low fares and a great service. We remain committed to grow passenger traffic in all Polish regions we fly to, and to continuously offer our customers new opportunities to travel, whether on business, leisure or to unite with their families," he added.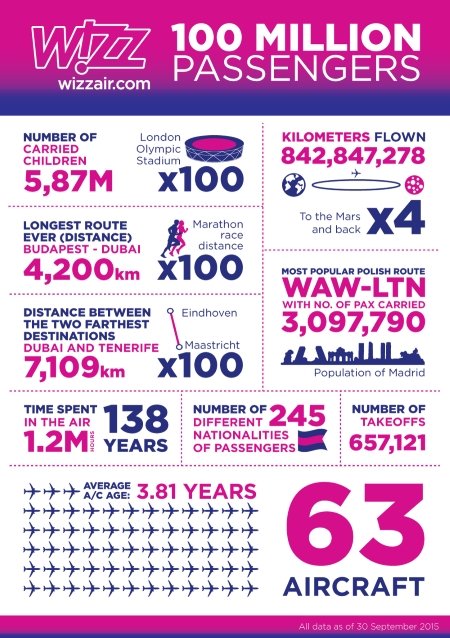 The Polish market will next year again play host to Routes Europe as the forum returns to the country next year having made its first ever appearance in Warsaw in 2006. Now celebrating its eleventh event, the forum will take place at the International Exhibition and Convention Centre EXPO Krakow between April 23-26, 2015, hosted by Kraków Airport and its partners, the Małopolska Kraków Region and the City of Kraków.
Routes Europe brings together around 500 airports, airlines and tourism authorities as well as high-level policy-makers and aviation stakeholders to discuss where airlines will fly in the future. During the three-day event, thousands of pre-scheduled face-to-face meetings are held to develop new air services to, from and within Europe. All of Europe's major network and low-cost carriers as well as leading global airlines took part in 2015.
Kraków's attractions are world-famous, and we are looking forward to visiting this historic city," said Katie Bland, Director Routes, UBM EMEA. "Kraków Airport has seen continuous growth with more and more routes to major cities across Europe. The airport is in the middle of a major investment programme to increase its capacity to 8 million passengers per year. Routes Europe 2016 will provide an excellent opportunity to showcase the airport's new facilities and the city's attractions to over one hundred airlines from Europe and beyond."
You can find out all you need to know about the event on our special Routes Europe 2016 landing page.