Indian carrier, Jet Airways has confirmed the selection of Amsterdam's Schiphol Airport as its new European gateway following the closure of itsscissor hub operations from the sub-continent and onward to North America from Brussels Airport in neighbouring Belgium. The airline will end its Brussels operation at the end of March 2016, at which time it will add daily links to Amsterdam from Delhi, Mumbai and an onward service to Toronto.
Jet Airways currently offers a mini hub operation at Brussels Airport with daily flights from Delhi and Mumbai in India connecting in the Belgian capital to daily continuation flights to Newark, USA and Toronto, Canada, but changes to its business strategy after United Arab Emirates (UAE) national carrier, Etihad Airways became an equity partner mean this demand is being more efficiently handled via Abu Dhabi International Airport.
It has now confirmed that these flights will end from March 27, 2016, and will be replaced with daily flights from both its Delhi and Mumbai hubs to Amsterdam. The onward connection to Toronto will be retained via the Dutch airport, although flights to Newark will be suspended. The flights will all be operated using Airbus A330-300 equipment with 34 seats in Premiere and 259 seats in Economy.
"We are delighted to announce the launch of new services to Amsterdam. This is a significant step for Jet Airways and demonstrates our continuous endeavour to provide greater choice and better connections for our guests," said Cramer Ball, Chief Executive Officer, Jet Airways.
Jet Airways' two daily flights between India and Amsterdam are sure to facilitate further growth in business and tourism between India and the Netherlands, which has emerged as a top financial centre and tourism destination in Europe. India's trade relations with the Netherlands go back over 400 years and have continued to prosper in the modern age.
With the objective of providing convenient connections for its guests to key destinations across Europe and North America over Amsterdam, Jet Airways has also entered into a strategic agreement with KLM Royal Dutch Airlines and Delta Air Lines to codeshare to eleven destinations beyond Amsterdam including New York JFK, Newark, Washington DC, Chicago, San Francisco, Los Angeles, Vancouver and Montreal.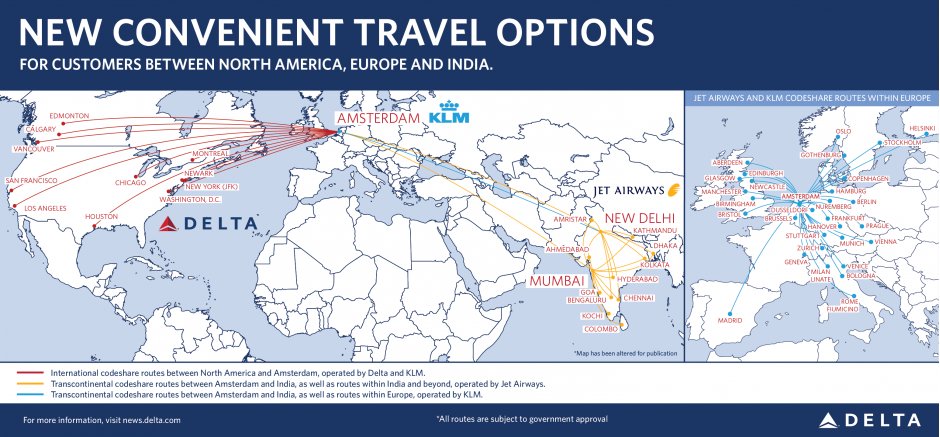 Delta Air Lines has said the arrangement will enable it to better compete witht he major hub carriers in serving the Indian market and Indian sub-continent. "With around 11,000 passengers flying between North America and the Indian subcontinent each day, India is a white spot in Delta's network and a missed revenue opportunity," it said in a statement.
Under this agreement and subject to government and regulatory approvals, Jet Airways will also codeshare to 30 European destinations for travel between India and Europe via Amsterdam. This will maintain connectivity into the Brussels market but also provide one-stop options to destinations such as Berlin, Copenhagen, Munich, Madrid, Geneva and Vienna through the KLM network.
"Amsterdam Airport Schiphol's position as one of the largest gateways in Europe with seamless connectivity to sea, rail and road transportation provides greater options for our customers," said Ball. "We will be able to provide our guests with one stop access to a wider array of destinations across Europe and North America together with our partners KLM and Delta."
Jet Airways has served Brussels since August 2007 when it first started using the Belgian capital as a stopover on flights between Mumbai and Newark. Flights from Delhi to Toronto, via Brussels, started in September 2007, while links were also offered to Chennai and New York from October 2007. Bangalore was also served from October 2008 to January 2009. The Chennai and New York services ended in late 2012, albeit Chennai flights did return briefly between March and May 2014.
When Jet Airways first came to Brussels Airport, the airport invested heavily so that the airline could make a large number of simultaneous arrivals and departures during the busiest period of the day. But, these investments also helped to increase the number of long-distance flights to Brussels Airport and strengthen the Star Alliance network.
"Ever since the end of 2013 there has been a strategic cooperation between Jet Airways and Etihad Airways and as a result of that, cooperation with the Star Alliance network has been reduced drastically. It was therefore to be expected that Jet Airways was going to re-evaluate their flights to Brussels Airport," said Arnaud Feist, Chief Executive Officer, Brussels Airport.
During the last few years Brussels Airport's intercontinental network has expanded significantly with the arrival of US Airways (now American Airlines), Air Canada, United Airlines (from Chicago), a doubling of the activities of Etihad Airways, Qatar Airways, Thai Airways International, Emirates Airline, and All Nippon Airways (ANA) and a doubling of the number of long-distance flights of local carrier, Brussels Airlines from four to eight. The airport says it is "looking at several different options" in terms of starting new routes into North America and India.
The revised Amsterdam operation and agreement with KLM will enable Jet Airways to increase its coverage of the European market, albeit on a codeshare basis. Alongside its existing Brussels services the carrier currently only serves two other European points: London Heathrow (daily from Delhi and twice daily from Mumbai) and Paris Charles De Gaulle (daily from Mumbai).
The India – Netherlands market is currently only served by a single daily KLM flight between Delhi and Amsterdam, so Jet Airways will effectively triple capacity in this market when it introduces its new flights in the summer 2016 schedule. The Netherlands was the eighth largest O&D market for passengers between Europe and India last year, according to MIDT data.
Interestingly, the estimated average annual daily demand of 602 passengers between the countries is ahead of that of Belgium (432 passengers), highlighting the important role the onward flights to North America had played in supporting Jet Airways' flights into Brussels.