How Asia is relevant for the Latin America & Caribbean markets and why you should be at World Routes 2016 to capitalize
With World Routes 2016 heading to Chengdu, China this September (24-27 September, 2016), you could be forgiven for thinking that the event is irrelevant for the Latin America and Caribbean regions.
It turns out that you couldn't be further from the truth.
Not a day passes by, of late, without reading about an element of Chinese investment in the Latin America and Caribbean region. If it's not a train project in Mexico, a new canal in Nicaragua, a new hotel complex in the Bahamas or an airport hub development project in Bolivia, you can be sure there will be another new partnership being created somewhere throughout the region and there really is no denying the importance of these investments to the long-term overall development of Latin America and the Caribbean.
In terms of air passenger traffic between the two regions, the numbers really do mirror this increase in recent collaboration which has resulted in the need for increased air services and connection opportunities to continue to maximize the potential of economic development for the Latin America and the Caribbean region.

When analysing the market evolution between the two regions and studying passenger movements from 2012 to 2015, the flows between Latin America/Caribbean and Asia (Middle East, Gulf, Central, South-East, Far East Asia and Asia Sub-Continent) have grown quite significantly over the years.
The overall Origin & Destination (O&D) passenger growth between the markets has increased over 77% when comparing 2012's total annual passengers to 2015 which has resulted now in over 3 million passengers a year travelling between Latin America/Caribbean and Asia. This equates to almost 9,000 passengers per day that are flying between the two regions; which is the equivalent of over 10 full A380-800s.

The potential therefore to develop new air services really does exist and, for these reasons, attending the 22nd World Route Development Forum in China will help to understand what really is driving this growth between the two markets and it will get you closer to the main players within the region in order to learn/understand how to best capitalize on it for your destination: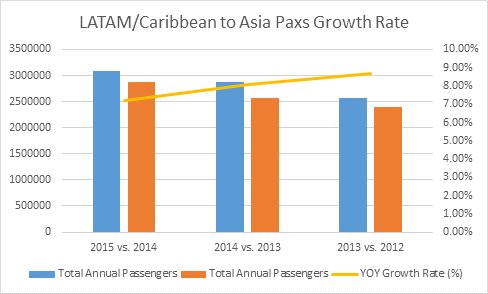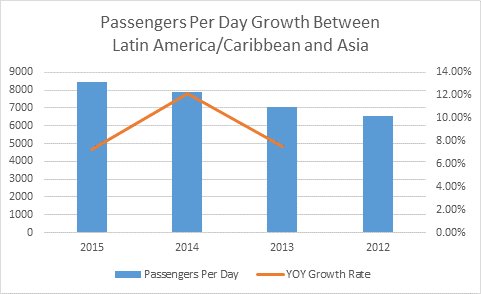 Amongst the findings were other interesting trends that continue to show strong development on a more regional and country-level scale; an example of this was the Caribbean to the Middle-East. This specific market, maybe unknown to many, has surprisingly grown over 100% in just three years.
70,000 passengers a year are now flying between the Caribbean region and the Middle East today whereas in 2012 these numbers we just 34,000.
The same can be said for the Far East… over 50,000 annual passengers are travelling today between the Caribbean and the Far East whereas in 2012 the amount was only 30,000 passengers.
When taking a look at a specific country within the Latin America region to continue to analyse and understand these interesting trends in more detail, in terms of Colombia, every major airport throughout the nation has shown positive growth to the Asian market even over a period of just one year (2014 - 2015). Bogota saw growth of over 6% whereas Medellin, Cali and Cartagena averaged passenger growth travelling to/from Asia at almost 70%, between them.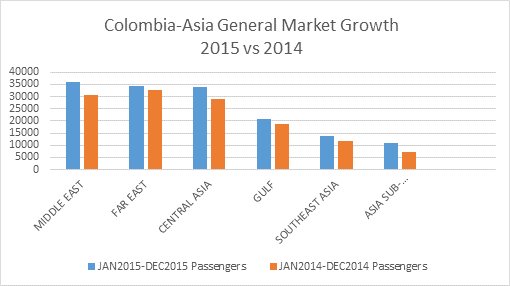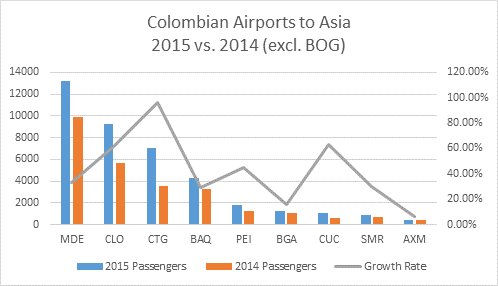 Even in terms of Mexico City - Benito Juarez International Airport (MEX), the only airport within Latin America that offers direct non-stop service to Far-East Asia via flag-carrier Aeroméxico's successful operations to Tokyo and Shanghai, still over 120,000 passengers a year are connecting to destinations in Asia via airports that are outside of Mexico which, again, shows the urgent need for an increase in new air services to/from the Asian region.

This is all extremely positive news for the Latin America/Caribbean regions and a clear argument as to why your presence in Chengdu, China really is important to keep building on this growth in order to obtain new investments for the region.

New air services, as we know, bring about so many great economic benefits including increased levels of tourism/business visitors, exportation of local produce, creation of employment and much more. With the ever-advancing aircraft technologies to link the two regions together, this really is a great time to be looking to the Asian markets for the future growth of your destination.
We hope to see you in Chengdu in September.