Within ten years China's domestic air traffic will become the world's largest, manufacturers Airbus and Boeing once again reinforced in the latest editions of their Global Market Forecast and Current Market Outlook released at the Farnborough International Airshow this week.
The two manufacturers both agree that Asia market, including China, will continue to lead the way in total airliner deliveries over the next two decades requiring just as many aircraft as the European and North American markets together.
"While established European and North American markets continue to grow, Asia-Pacific is the engine powering growth in the next 20 years. China will soon be the world's biggest aviation market and together with emerging economies, further population concentration, and wealth creation, together these will help to fuel strong air traffic growth," said John Leahy, chief operating officer, customers, Airbus.
Airbus said that whilst GDP remains a key driver in traffic growth, it sees private consumption (a component of GDP) becoming a more significant economic variable on some important flows including domestic China and domestic India. Middle classes in emerging markets will double to 3.5 billion people by 2035.
In total over the next 20 years (2016-2035), its Global Market Forecast predicts total passenger traffic will grow at an average 4.5 percent a year, driving a need for over 33,000 new aircraft above 100 seats (32,425 passenger and 645 freighters greater than 10 tonnes) worth US$5.2 trillion. By 2035, the world's aircraft fleet will have doubled from today's 19,500 aircraft to almost 40,000. Some 13,000 passenger and freighter aircraft will be replaced with more fuel efficient types.
Urbanisation and increased wealth in emerging economies particularly in Asia is powering air traffic growth. With a combined population of over six billion people, these economies will grow at 5.6 percent per year, predicts Airbus and the propensity to travel will triple to 75 percent of its population. In comparison economies like Western Europe or North America, air traffic growth will be 3.7% percent, according to the manufacturer.
Airbus also believes that globally, by 2035, 62 percent of world population will be city dwellers and the number of aviation mega cities will rise from 55 to 93 by 2035. These centres of wealth creation many of which are already schedule constrained airports will account for 35 percent of world GDP. In 20 years the number of daily long-haul passengers travelling to, from, or via aviation mega cities, will more than double to 2.5 million, the manufacturer predicts.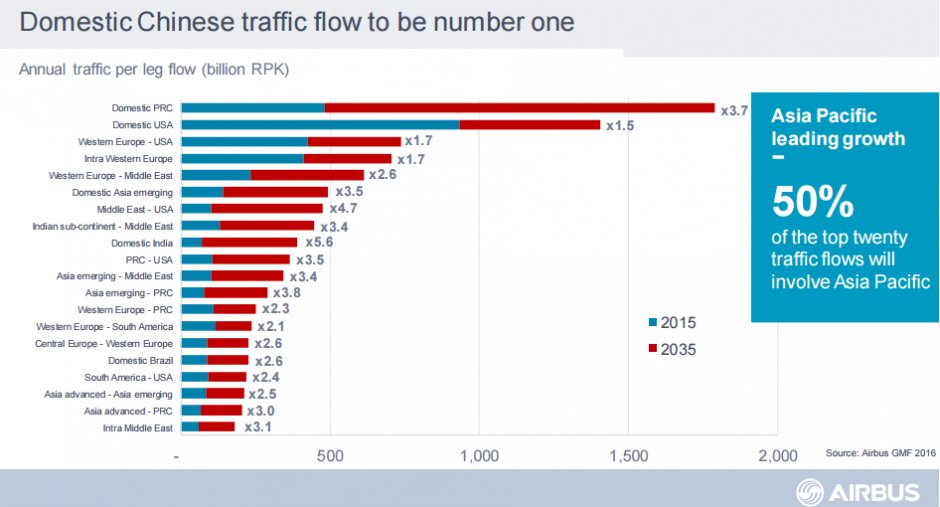 Boeing projects a larger demand for 39,620 new airplanes over the next 20 years in its Current Market Outlook, an increase of 4.1 percent over last year's forecast with annual growth of 4.8 percent, valuing future aircraft deliveries at $5.9 trillion.
"Despite recent events that have impacted the financial markets, the aviation sector will continue to see long-term growth with the commercial fleet doubling in size," said Randy Tinseth, vice president of Marketing, Boeing Commercial Airplanes. "We expect to see passing, passenger traffic grow 4.8 percent a year over the next two decades."
The single-aisle market will be especially strong, according to Boeing, with low-cost carriers and emerging markets driving growth. 28,140 new airplanes will be needed in this segment, an increase of more than 5 percent over last year. On the widebody side, 9,100 airplanes are in the forecast, with a large wave of potential replacement demand in the 2021- 2028 timeframe as airlines begin to replace their current day jets. Boeing projects a continued shift from very large airplanes to small and medium widebodies such as the 787, 777 and 777X.
Driven by China and India as the main engines of growth, the Asia Pacific region's share of world GDP is projected to rise from 31 percent today to 39 percent by 2035, reports Boeing and as such the significant growth rate in this emerging market is expected to continue. Demand in commercial aviation is also coming from the continuing expansion of the middle class in Asia, where a greater sector of the population is reaching income levels that make flying more affordable.
Despite the presence of geopolitical conflict and currency fluctuation, Asia's airlines are estimated to have earned a net profit of $5.8 billion in 2015 and are projected to earn a net profit of $6.1 billion in 2016, according to the US manufacturer.
Air Connectivity Key to Regional Development
Regional manufacturer ATR also highlighted the important role turboprops will play in supporting future regional air connectivity in its own 20 year market forecast released at Farnborough. The Franco-Italian business said that populations, living standards and therefore connectivity needs are growing and regional dynamics are changing in both mature and emerging markets.
"Turboprops have a key role to play in that expansion, promoting community development with links between secondary and tertiary airports as well as regional access into/out of the main hubs," it said.
Over the coming 20 years, ATR anticipates an average growth rate in annual regional traffic of around 3.9 percent, which means 2,800 turboprop aircraft will be needed worldwide. Among those 2,800 aircraft, ATR predicts that 1,000 turboprops (35%) will be replacing older aircraft, keeping the flying fleets up to and beyond required safety and environmental standards. The other 65% will come from fleet growth.
Half of the fleet growth will come from route creation, according to the manufacturer's team of analysts, as growing numbers of cities and regions connect directly – 3,000 new routes are forecast by the manufacturer across the two decades, almost half of which will be launched across the Asia Pacific region. The other half of the fleet growth will come from the growth in existing regional markets and increasing rates of conversion to turboprop technology.
Regional connectivity is clearly becoming more and more of a priority all over the world and like the producers of the big jets, ATR sees China and India as key markets, but also Iran and Japan, while the USA still needs to develop new routes or re-open regional routes.